Testing methods
Our test bench for this flash drive roundup is a desktop computer running Windows 7 Enterprise 64-bit and consisting of an Intel Core i3-2100 CPU, ASUS P8H61-I (Rev. 3.0) mini-ITX motherboard with two USB 3.0 ports using an ASMedia ASM1042 USB 3.0 controller, 2 x 2GB Patriot DDR3-1333, one Intel 320 Series (G3) 80GB SSD, one Western Digital 2TB Caviar Green HDD, and one LITE-ON IHAS124-04 optical drive.
Iometer is a standard storage drive benchmarking software capable of testing mechanical, platter-based hard disc drives, flash-based solid state drives, and USB-interface flash drives. We provide a number of measurements for each drive. However, since the vast majority of users writes data to a flash drive, and then read off of it, the most important measurements for each drive are the sequential write and read speeds. While this might seem obvious, it should be noted this is different from a boot (OS) and application drive. OS/app drives typically do not see many frequent, sustained writes after initial installation. Furthermore, random writes/reads of smaller files are very common for an OS drive – this is where SSDs truly shine over mechanical HDDs, giving an SSD-based system spectacular snappiness compared to platter drive-based rigs. Random write/read performance is not particularly important for a flash drive unless it is being used as a ReadyBoost device. However, given how cheap DDR3 currently is, if you can afford a motherboard with USB 3.0 ports, you can afford enough system memory to not need a ReadyBoost drive! Furthermore, all of the USB 3.0 flash drives in this roundup are fast enough to support ReadyBoost in Windows 7.
That said, software virtualization applications like Ceedo, which act as a portable 'OS on a flash drive' certainly benefit from improved read/write performance, though thorough benchmarking and real-world performance tests of a program like Ceedo installed on a USB 3.0 flash drive are outside the scope of this article.
In addition to Iometer readings, we provide real-world usage scenario data for the drives. The first test writes 3,364 PDFs totaling 3.20GB from the SSD to the flash drive, then reads those same PDFs from the flash drive back to the SSD. The second scenario first copies 100 MP3 albums containing 1,133 files totaling 7.94GB from the SSD to the flash drive, and then those same MP3s from the flash drive to the SSD. The third and final test writes a single 4.16GB DVD image file (ISO of Fear & Loathing in Las Vegas) to the flash drive and then back to the SSD.
All drives were formatted to NTFS with a 4KB allocation unit prior to benchmarking, and all tests in Iometer were run also using a 4KB block size. While default file system and block size are variable between manufacturers, NTFS allows files larger than 4GB to be written to the flash drive (critical for DVD and BRD ISOs, among other file types), and it allows drives larger than 32GB to be used under Windows XP (unlike FAT32).
Samples
We were graciously provided the following samples by their respective manufacturers: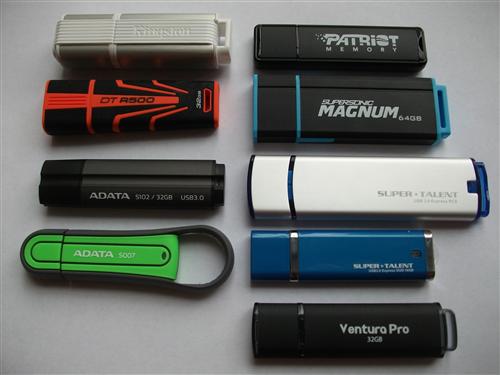 Kingston must have a die-hard Cincinnati Bengals fan on their design team!
| | | | |
| --- | --- | --- | --- |
| Product | Usable Capacity | Price | $/1GB |
| ADATA S007 32GB USB 2.0 | 29.8GB | $44 | $1.47 |
| ADATA S102 32GB USB 3.0 | 29.2GB | $50 | $1.71 |
| Kingston DT Ultimate G2 32GB USB 3.0 | 29.8GB | $85 | $2.85 |
| Kingston DT R500 32GB USB 2.0 | 29.8GB | $62 | $2.08 |
| Mushkin Ventura Pro 32GB USB 3.0 | 29.4GB | $75 | $2.55 |
| Patriot Supersonic 64GB USB 3.0 | 60.5GB | $150 | $2.48 |
| Patriot Supersonic Magnum 64GB USB 3.0 | 58.9GB | $196 | $3.33 |
| Super Talent Express DUO 16GB USB 3.0 | 14.6GB | $28 | $1.92 |
| Super Talent Express RC8 64GB USB 3.0 | 51.2GB | $145 | $2.83 |
These are the prices as of the time of this article's writing, and are absolutely not static. Be sure to keep this in mind when determining their comparative costs and considering their bang for the buck. As you can see, the USB 3.0 drives have a wide dollar per GB cost, from ADATA's S102 at $1.71/GB to Patriot's $3.33/GB Supersonic Magnum. Find out how these flash drives performed on the next few pages!