Silicon: Dual-Core Only
The biggest disappointment to me personally with the 13-inch rMBP announcement was the lack of any quad-core CPU options. Although they carry the same Core i5/i7 branding as the chips offered in the 15-inch rMBP, these parts are strictly dual-core. With a smaller chassis, the amount of heat Apple's cooling solution can effectively dissipate goes down. While the thermal budget in the 15-inch rMBP was 45W, the move to a 13-inch chassis drops it to 35W. Thankfully, Intel does offer 35W quad-core CPUs, a first for Intel starting with the Ivy Bridge introduction. Unfortunately Apple didn't seem keen on using them. For starters, having a quad-core upgrade option would likely add complexity to the lineup, and secondly the 35W quad-core parts are cost prohibitive. At almost 70% more expensive than the dual-core Core i5 Apple used in the standard configuration 13-inch rMBP, I can see why Apple wouldn't want to throw a 35W quad-core CPU in for free. At the same time, I would've at least liked to see a build-to-order quad-core option.
13-inch MacBook Pro with Retina Display CPU Comparison
2.5GHz dual-core
2.9GHz dual-core
Standard On
13-inch rMBP
Optional Upgrade
Intel Model
Core i5-3210M
Core i7-3520M
Base Clock Speed
2.5GHz
2.9GHz
Max SC Turbo
3.1GHz
3.6GHz
Max DC Turbo
2.9GHz
3.4GHz
L3 Cache
3MB
4MB
AES-NI
Yes
Yes
TXT
No
Yes
VT-x
Yes
Yes
VT-d
Yes
Yes
TDP
35W
35W
Processor Graphics
Intel HD 4000
Intel HD 4000
GPU Clock (Base/Max)
650/1100MHz
650/1250MHz
By default both configurations of the 13-inch rMBP come with an Intel Core i5 3210M. That puts base clock at 2.5GHz with max single core turbo at 3.1GHz. Max turbo with both cores active is 2.9GHz. Hyper Threading is enabled on the chip, which presents OS X with the ability to schedule to four logical cores despite there only being two physical cores on the CPU.

Apple offers a single BTO CPU upgrade to a Core i7 3520M. Frequencies go up with the i7 upgrade (2.9GHz base, 3.6GHz max), which can definitely come in handy in keeping the system feeling as snappy as possible. The shared L3 cache is also a bit larger on the 3520M (4MB vs. 3MB).
Both CPU options integrate Intel's HD 4000 graphics core. Base and turbo GPU clocks are nearly identical to the HD 4000 in the 15-inch model (650/1100MHz).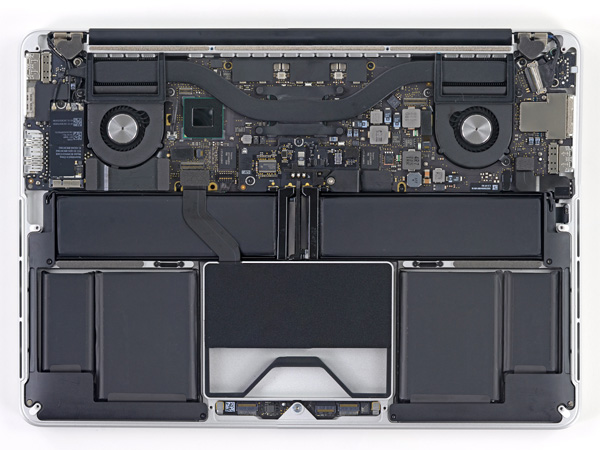 The 13-inch rMBP, image courtesy iFixit
The move to the smaller chassis also meant ditching the discrete GPU. Although Apple could have technically included a discrete GPU, it would've come at the cost of a smaller battery (dGPU needs more PCB area which would take real estate away from the battery). The loss of the discrete GPU isn't actually as big of a deal as you'd normally think. Intel's HD 4000, the only processor graphics option on the 13-inch rMBP, is clearly capable of driving a 5MP display since it does just that in the 15-inch rMBP. That very same GPU, running at similar clocks (1.1GHz vs. 1.25GHz max GPU turbo), only has to drive 4MP with the 13-inch rMBP.
The bigger issue with ditching the discrete GPU is gaming performance. Although Intel's processor graphics have come a long way since the days when it was unusable, we're still roughly two years out from Intel's graphics being what I'd consider desirable. Although it's possible to game on the 13-inch rMBP, most modern titles won't be able to post good frame rates on any reasonable resolution. Although the GeForce GT 650M in the 15-inch rMBP could actually drive some titles at the display's native resolution, the same really can't be said for Intel's HD 4000 in the 13-inch system.
I firmly believe that Apple designed the rMBPs with Haswell in mind, and the 13-inch model is the embodiment of that. With Haswell, the lack of a discrete GPU shouldn't matter as much although if you're not a gamer I'm not sure the lack of a dGPU is really an issue today either.