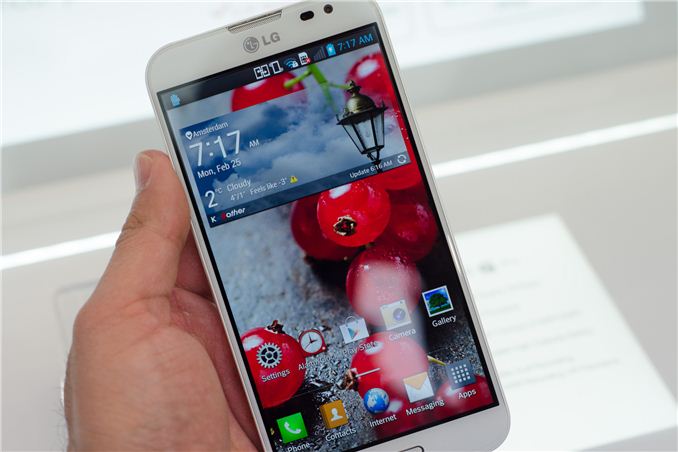 We began our day at Mobile World Congress with a visit to LG's booth, where it offered hands on with its 1H 2013 lineup of smartphones. Among them is the new 5.5" Optimus G Pro, the larger brother of last year's Optimus G - the basis for the Nexus 4.
The Pro adds a 5.5" 1080p display, driven by Qualcomm's Snapdragon 600 SoC (quad-core Krait 300 running at 1.7GHz paired with an Adreno 320 GPU. Internally there's 2GB of LPDDR2 memory, and storage expansion is provided via a microSD card slot beneath the battery cover. The 3400mAh battery is removable.
The Optimus G Pro is mostly made out of plastic but the device felt good in hand. It's pretty impressive what can be done with plastic these days although it seems like metal and/or glass are necessary for the ultra high end device feel. When it comes to ensuring that a device feels rugged, there's no real replacement for plastic however.
The Pro features an IR emitter as well as an extendable DMB antenna, the latter should obviously disappear if and when this thing hits the US market.
The display itself looked wonderful at the show. The 1080p panel is very sharp, bright and contrasty. Subjectively, colors looked good at the show but we'll have to run it through our suite to get a feel for just how accurate the colors are.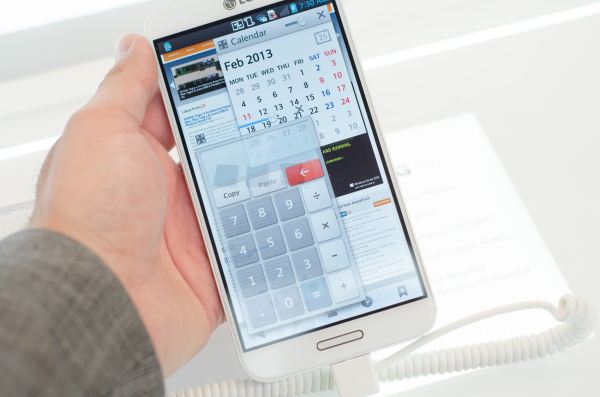 The demo units at the show were running Android 4.1.2. They also featured LG's own software customizations, including the ability to view multiple apps on the screen at the same time (QSlide) and set their transparency so you can do things like have a video or calendar visible while reading a web page. The QSlide feature is clearly geared towards multitasking, similar to what Samsung has done on its Galaxy Note line. You launch QSlide enabled apps via the LG customized notifications shade, and then control their transparency using a slider at the top of each QSlide app. While semi-transparent, the app will ignore touch input allowing you to continue to interact with the app behind it. In opaque mode however you can interact with the foreground QSlide app. Although it is possible to open multiple QSlide apps at the same time, you quickly run out of screen real estate.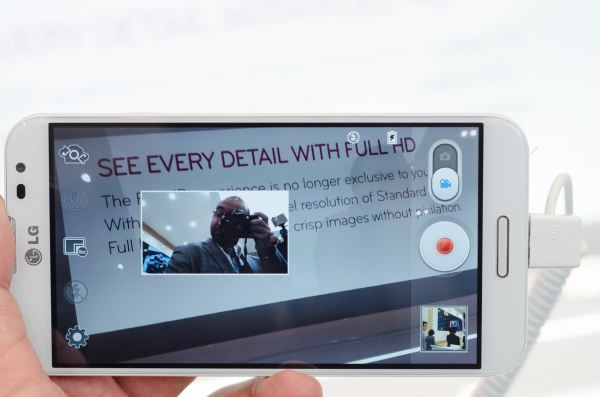 Another neat feature of LG's latest Android build is Dual Recording, which is a camera customization that allows you to simultaneously record from both the front and rear facing cameras. The 13MP primary camera is limited to 720p recording in this mode.
The Optimus G Pro felt extremely quick and responsive during our hands on time at the show. Scrolling and UI performance was all very smooth. Given that we haven't had much experience with Snapdragon 600 and its Krait 300 CPU cores I ran a few tests here at the show to get a feel for what is in store from Qualcomm's performance mainstream quad-core SoC for 2013: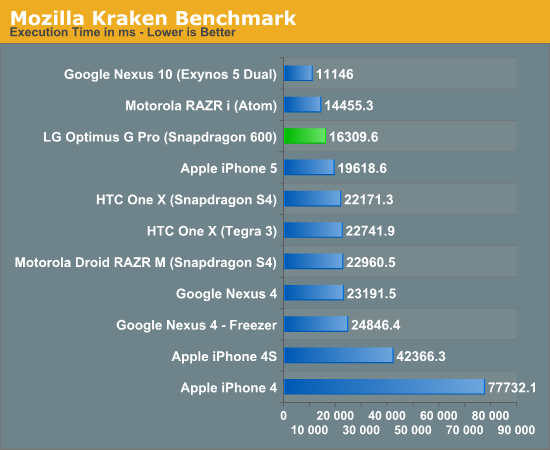 Using Chrome, Kraken showed some great performance on the Optimus G Pro. While not quite as fast as Intel's Atom Z2460, it's a big step forward compared to the APQ8064 (Krait 200) based Nexus 4. If this data is representative of the sort of improvement we can expect from Snapdragon 600, I'll be happy.
On the graphics side, Adreno 320 is still powering things on the G Pro, although we don't know what clocks the platform at the show was using: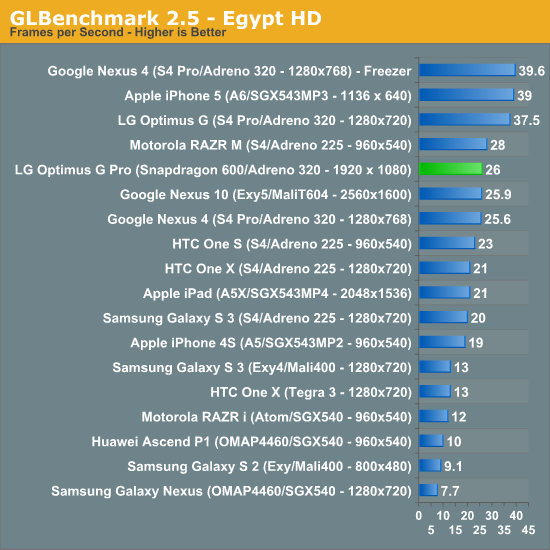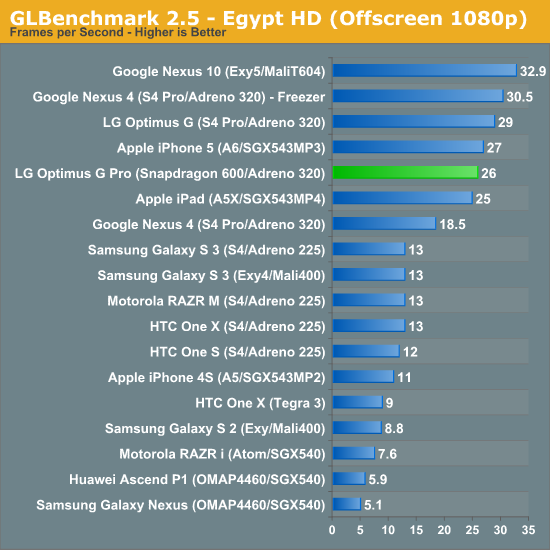 Since the Optimus G Pro uses a full HD/1080p display, the on and off-screen results are very similar. Frame rates are low enough in Egypt HD that the lack of vsync in the offscreen tests doesn't have a real impact on performance. Although respectable, I suspect that the 26 fps here is a bit lower than we'd see on production hardware since the 320 should be clocked higher in Snapdragon 600 than in the S4 Pro from last year.