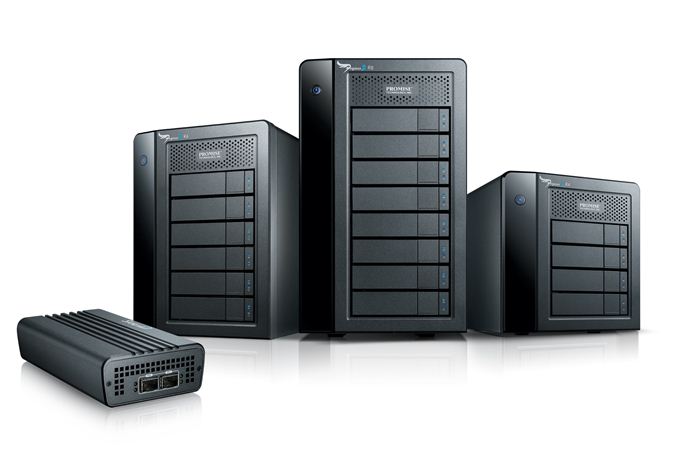 We've seen Thunderbolt products from Promise before, and we've even heard about some of their upcoming Thuderbolt 2 offerings. Today, Promise is formally announcing four upcoming Thunderbolt 2 products. These range from a 4-bay enclosure (R4) up to an 8-bay enclosure (R8), with the Pegasus2 R8; the Pegasus2 is also available in a 6-bay (R6) variant. Of note is that all of the current solutions continue to use hard drives for storage; the target is primarily video and image editing workflows where large amounts of portable storage are important as opposed to ultra-high-speed external storage using SSDs – specific mention of 3D and 4K video is made, and raw 4K video can chew through storage at an alarming rate (up to 15Gbps).
As discussed previously, Thunderbolt 2 effectively doubles the transfer rate of Thunderbolt, up to 20Gbps; it does this by bonding two 10Gbps channels into a single channel. That means aggregate bandwidth for a single Thunderbolt controller remains unchanged, but if you're primarily reading or writing you effectively double your transfer rate. Interesting to note is that Promise also has their SANLink2 product, which is a portable bridge with dual 8Gbps Fibre Channel ports and dual 20Gbps Thunderbolt 2 ports. This allows the use of the new Thunderbolt-enabled systems with existing high-speed Fiber Channel SANs (e.g. the Promise VTrak x30).
All of the Pegasus2 products support RAID 5. Pricing has not been revealed, but the new Pegasus2 products will be available at the Apple store in November and will either replace or augment the existing Promise Thunderbolt offerings. The Pegasus2 R4 is the entry-level solution with four 2TB hard drives. The Pegasus2 R6 is available with either 2TB (12TB total) or 3TB (18TB total) hard drives, while the R8 will ship with 3TB (24TB total) and 4TB (32TB total) drives. The SANLink2 will be available starting in December, again via the Apple store. Below are the highlights for the new devices.
Pegasus2:
Supports maximum throughput allowed by Thunderbolt 2 interface
Supports simultaneous streaming, editing, and backup of 4K video
Dual Thunderbolt ports for daisy chaining
Hot-swappable drive bays for effortless drive access and serviceability
Portable hardware RAID protection for offsite shoots
Massive storage capacity for backing up creative projects and digital libraries
Thunderbolt cable included
SANLink2:
Enables Fibre Channel connectivity on systems with a Thunderbolt 2 port
Dual 8Gbps Fibre Channel Ports
Dual 20Gbps Thunderbolt 2 ports with DisplayPort and device daisy-chain support
Supports OS X and OS X Server
Supports Xsan and StorNext filesystems
Supports all VTrak storage subsystems (4Gbps 8Gbps Fibre Channel)
Thunderbolt cable included
Source: Promise Technology News Release