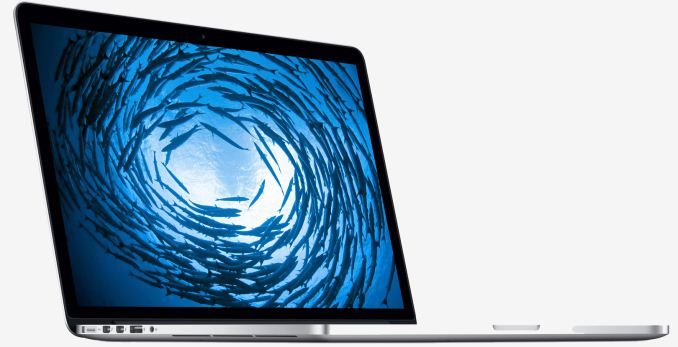 Earlier this month Intel introduced new models in their lineup of Haswell mobile CPUs. With the Haswell manufacturing process having matured since its initial launch, Intel was able to bump clock speeds by 200MHz on a handful of their laptop CPUs and those chips have found their way into a refreshed lineup of Macbook Pro laptops from Apple. This update brings CPU speed boosts, and more RAM in the base 13" and 15" models. The new CPU and memory specifications for Apple's new lineup are shown below.
MacBook Pro with Retina Display Lineup
Model
13-inch (base and mid-tier)
13-inch (flagship)
15-inch (base)
15-inch (flagship)
Old CPU
2.4GHz Core i5-4258U
2.6GHz Core i5-4288U
2.0GHz Core i7-4750HQ
2.3GHz Core i7-4850HQ
New CPU
2.6GHz Core i5-4278U
2.8GHz Core i5-4308U
2.2GHz Core i7-4770HQ
2.5GHz Core i7-4870HQ
Old Memory
4GB DDR3L
8GB DDR3L
8GB DDR3L
16GB DDR3L
New Memory
8GB DDR3L
8GB DDR3L
16GB DDR3L
16GB DDR3L
The first thing to make note of is that the CPU speed has been increased by 200MHz across the board. The highest end CTO (configure-to-order) 15" model which is not shown now comes with Intel's Core i7-4980HQ with a base clock of 2.8GHz and max turbo clock of 4.0GHz. The other important thing to note is that the amount of RAM in the entry-level models has been doubled from 4GB to 8GB on the 13", and from 8GB to 16GB on the 15". This is a change that is nice to see brought to the 13" Macbook Pro with Retina display. Originally the entire 13" line had 8GB of RAM and the 4GB model was introduced to reach a lower price point during Apple's Haswell refresh. Now the entry level model once again has 8GB of RAM like the higher end versions.
The new models are available to purchase now on Apple's website for the same prices as the previous generation and are all available to ship within 24 hours.
Source: Apple Online Store