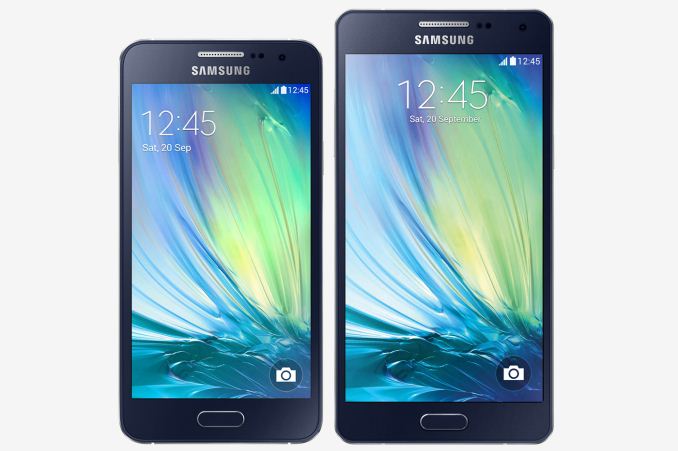 Today Samsung announced two new smartphones that fit into their portfolio of mid-range devices. They are the Galaxy A3 and A5. Normally there's not a lot to get excited about when it comes to the launch of mid-range phones, but there's something very unique about these two new phones from Samsung. Samsung has long been criticized for their primarily plastic construction on their phones and tablets. This was improved with the designs of the Galaxy Alpha and the Note 4 which sported a metal band that went around the edges of the device. The Galaxy A3 and A5 take this even further with full metal unibody designs, much like what HTC has been doing for quite some time now. Before getting into the design, I've laid out the specifications that Samsung has revealed in a chart below. Some of their listed specs like the CPU are unfortunately very vague.
Galaxy A5
Galaxy A3
SoC

1.2GHz Quad Core

1.2GHz Quad Core

RAM/NAND

2 GB RAM, 16GB NAND + MicroSDHC

1GB RAM, 16GB NAND + MicroSDHC
Display
5.0" HD Super AMOLED
4.5" qHD Super AMOLED
Network
2G / 3G / 4G LTE (Category 4)
2G / 3G / 4G LTE (Category 4)
Dimensions
139.3 x 69.7 x 6.7mm, 123g
130.1 x 65.5 x 6.9mm, 110.3g
Camera

13MP

Rear Camera, 5MP Front Camera

8MP Rear Camera, 5MP Front Camera
Battery

2300 mAh

1900 mAh
OS
Android 4.4 KitKat
Android 4.4 KitKat
Connectivity
802.11a/b/g/n + BT 4.0, USB2.0, GPS/GNSS, NFC
802.11b/g/n/ac + BT 4.0, USB2.0, GPS/GNSS, DLNA, NFC
SIM Size
NanoSIM
NanoSIM
As you can see, there's nothing too extraordinary with regards to the specifications. There's really no concrete way to determine if they use something like a Qualcomm Snapdragon 400 part, or one of Samsung's own Exynos SoCs. Samsung has also not specified the exact resolution for the Galaxy A5, but based on its position in their lineup, and their past distinction between HD and Full HD Super AMOLED displays, it would make sense that the Galaxy A5 has a resolution of 1280x720. For connectivity both devices omit 802.11ac support, which is not surprising for devices in this segment of the market. Samsung is advertising their support for Cat4 LTE and Bluetooth 4.0.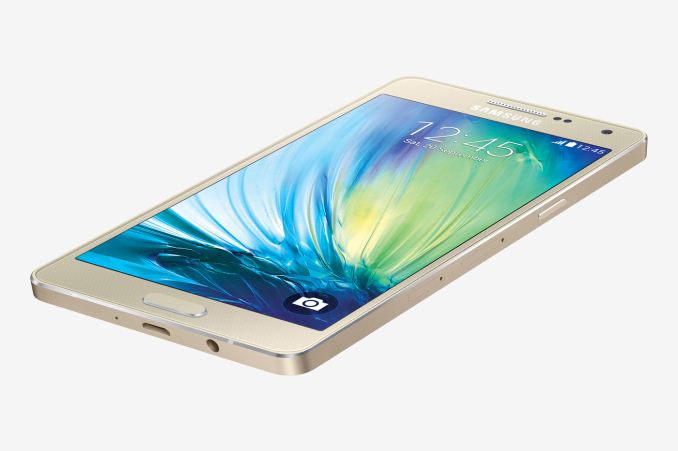 The appeal of these phones is the design and materials. Both devices look similar to the Galaxy Alpha, with chamfered edges, flat sides, and a textured bezel surrounding the display. They both come in five colors, Champagne Gold, Light Blue, Pearl White, Midnight Black, Platinum Silver, and Soft Pink. Despite being budget devices, both the Galaxy A3 and A5 sport a metal unibody construction which is a major shift in Samsung's design for smartphones, and a shift that I never expected to see first made in Samsung's mid-range smartphones. It will definitely be interesting to see how this is extended to future flagship smartphones from Samsung.
Samsung hasn't stated the expected price for the Galaxy A3 and A5, and have only stated that it will be coming to select markets including China in November of this year.
Source: Samsung via Android Police