AnandTech Storage Bench - The Destroyer
The Destroyer is an extremely long test replicating the access patterns of very IO-intensive desktop usage. A detailed breakdown can be found in this article. Like real-world usage, the drives do get the occasional break that allows for some background garbage collection and flushing caches, but those idle times are limited to 25ms so that it doesn't take all week to run the test. These AnandTech Storage Bench (ATSB) tests do not involve running the actual applications that generated the workloads, so the scores are relatively insensitive to changes in CPU performance and RAM from our new testbed, but the jump to a newer version of Windows and the newer storage drivers can have an impact.
We quantify performance on this test by reporting the drive's average data throughput, the average latency of the I/O operations, and the total energy used by the drive over the course of the test.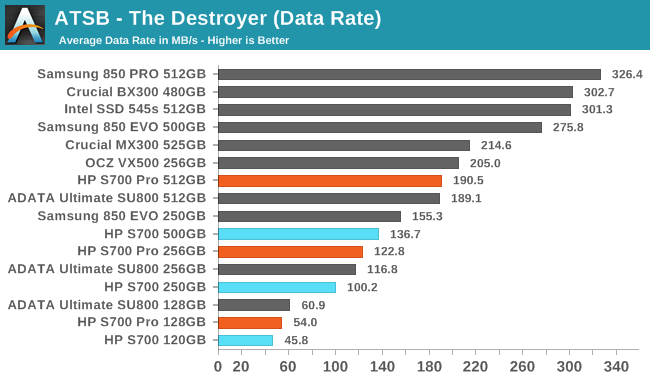 The average data rates of the S700 Pros on The Destroyer are slightly faster than the ATATA SU800 except at the 128GB capacity. The S700's disadvantage relative to the S700 Pro is more pronounced at higher capacities, growing from a 15% gap at the 120GB/128GB capacity range to almost 30% between the 500GB S700 and 512GB S700 Pro.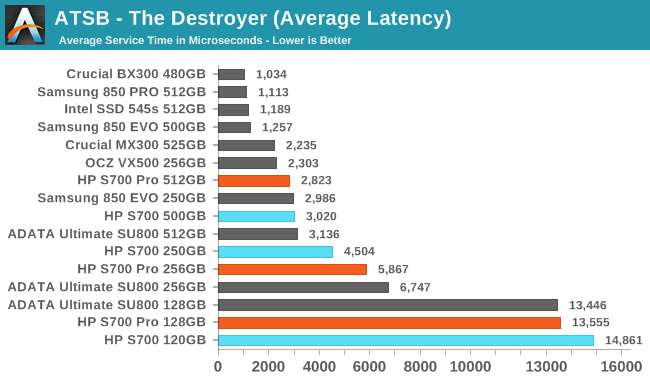 The 250GB S700 surprises with a lower average latency than the 256GB S700 Pro, and at this capacity point and the 500GB/512GB capacity point both HP drives score better than the ADATA SU800. The 99th percentile latency scores aren't as good, with the S700 coming in last place at every capacity point and the S700 Pro only beating the ADATA SU800 in the 256GB capacity.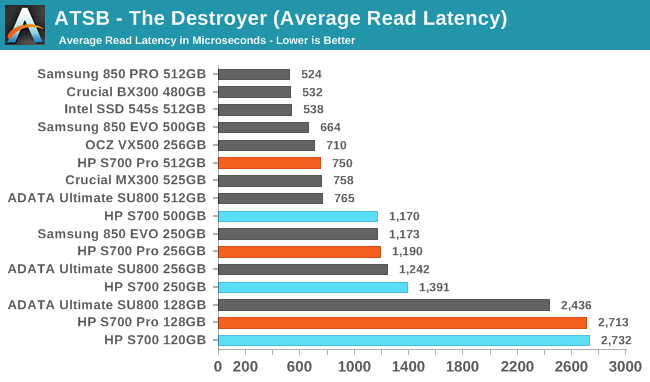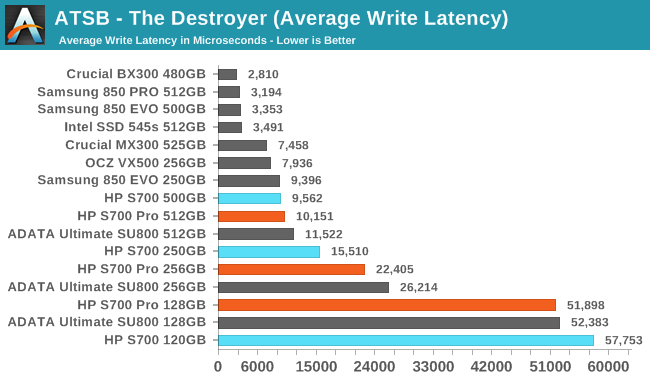 The average read latencies of the HP S700s are almost tied with the S700 Pro at the smallest capacity configuration, but the larger drives show a substantial gap. Average write latencies for the S700 are actually better than the S700 Pro and the ADATA SU800 except for the 120GB capacity.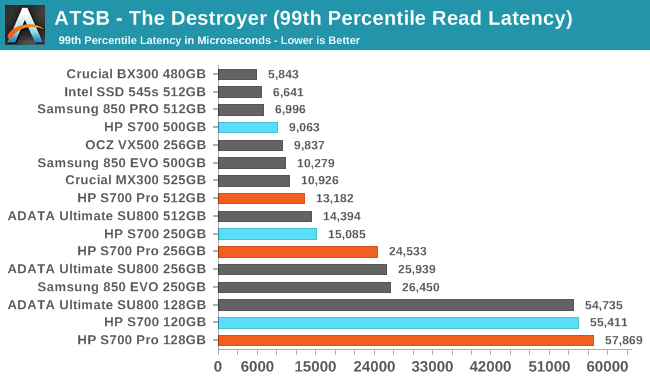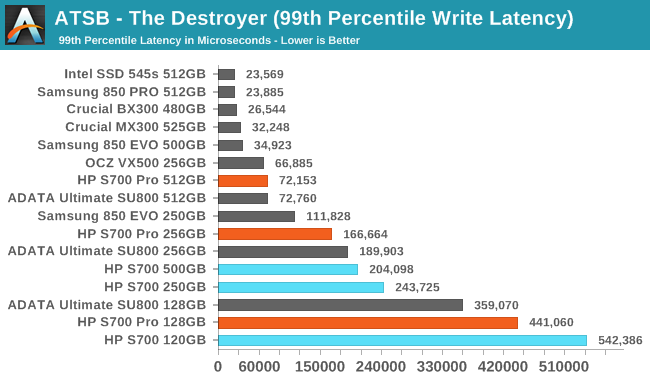 The HP S700 does not have a particular problem with garbage collection getting in the way of read operations as its 99th percentile read latency scores are better than the S700 Pro's scores and are reasonable even when compared to mid-range SATA drives and even drives using MLC. The 99th percentile write latency scores are poor for both the S700 and S700 Pro, but the ADATA SU800 is no better except for its 128GB capacity.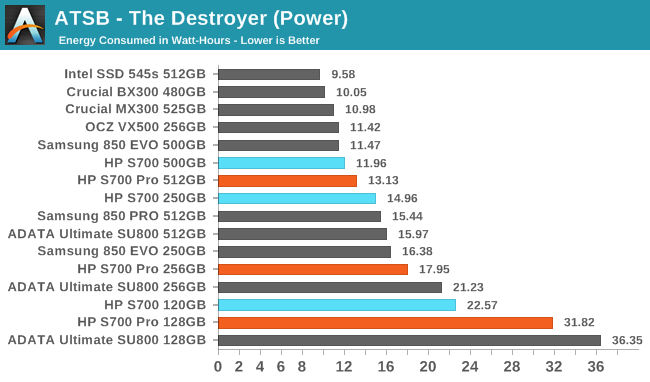 The DRAMless HP S700 is more energy-efficient on The Destroyer than the faster HP S700 Pro, and both beat the ADATA SU800. All of these drives obey the usual pattern of higher capacities offering better efficiency under load thanks to their higher performance being more than enough to offset higher overall power levels.