Board Features
ASUS designed the ROG Zenith Extreme to be the most feature-packed AMD X399 motherboard for Ryzen Threadripper processors available. The company's engineers had to use an E-ATX motherboard layout to fit everything and even that was not enough, as they were forced to move two of the M.2 slots to a vertical daughterboard and reduce the SATA ports to six. Despite these sacrifices, the ASUS X399 ROG Zenith Extreme is the most feature-packed motherboard that we have reviewed to this date.
ASUS X399 ROG Zenith Extreme
Warranty Period
3 Years
Product Page
Link
Price
Link
Size
E-ATX
CPU Interface
TR4 / SP3r2
Chipset
AMD X399
Memory Slots (DDR4)
Eight DDR4
Supporting 128GB
Dual Channel
Up to 3600+ MHz
Video Outputs
N/A
Network Connectivity
1 × ASUS AREION 10Gbit
1 x Intel I211-V
1 x Atheros QCA9008 AC+AD
Onboard Audio
Realtek S1220
PCIe Slots for Graphics
(from CPU)
4 × PCIe 3.0 (×16 / ×8 / ×16 / ×8)
PCIe Slots for Other
(from PCH)
1 × PCIe 2.0 (×4)
1 × PCIe 2.0 (×1)
Onboard SATA
Six, RAID 0/1/5/10
Onboard SATA Express
None
Onboard M.2
3 × PCIe 3.0 (×4)
Onboard U.2
1 × U.2 Connector (×4)
USB 3.1 Gen 2
1 × Type-C + 1 × Type-A (Rear panel)
1 × Type-C (via headers)
USB 3.1 Gen 1
8 × Type-A Rear Panel
4 × Type-A via headers
USB 2.0
2 × via headers
Power Connectors
1 x 24-pin ATX
1 x 8-pin CPU
1 x 4-pin CPU
Fan Headers
1 x CPU (4-pin)
1 x Pump/Aux (4-pin)
4 x System (4-pin)
3 x System (4-pin) on supplied Extension Card
IO Panel
8 x USB 3.0 (USB 3.1 Gen 1)
1 x USB 3.1 Type-A
1 x USB 3.1 Type-C
1 x Network RJ-45
3 x Antenna connectors
5 x 3.5 mm Audio Jacks
1 x Optical SPDIF Out Port
2 x Clear/Flashback CMOS button(s)
Some of the features, such as the 802.11ad WiGig support and LN2-specific hardware options, are unique to this Ryzen Threadripper motherboard at the time of this review. The price tag of the ASUS X399 ROG Zenith Extreme is hefty, retailing at over $500 at the time of this review, and yet it does not seem unreasonable with such a features list.
In The Box
We get the following:
USB Flash Drive with Drivers & Software
User's manual
Sheet with numerous ROG stickers
Sheet with 10 cable labels
Metal ROG badge
ROG coaster
M.2 DIMM 2 vertical board
ASUS AREION 10G PCIe ×4 LAN adapter
Three black SATA cables
WiGig 802.11ad antenna
2T2R dual-band Wi-Fi antennas
ROG VGA Holder
Three thermocouples
Extension Cable for RGB strips (80 cm)
Extension cable for Addressable LED
SLI/Crossfire Bridge (2-3-4 Way)
Fan Extension Card (3 x 4-pin fan out)
Fan Extension card screw pack
Fan Extension card cable
Case connector quick plug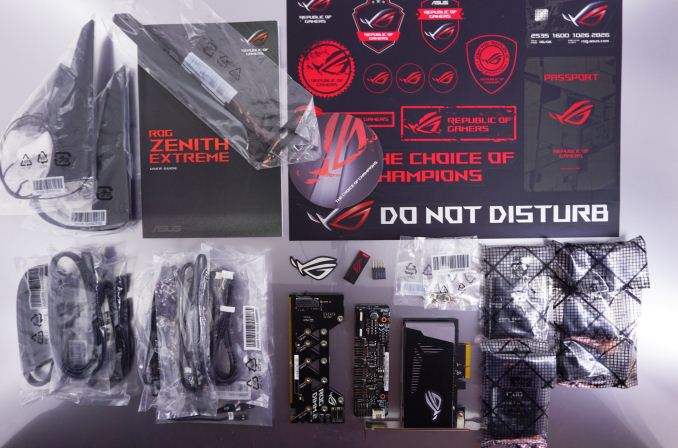 The bundle of the ASUS X399 ROG Zenith Extreme is rich, as expected from a motherboard of this class. Besides the standard manual and a lot of stickers/cosmetic items that include even a (cardboard) drink coaster, we also found three SLI/Crossfire bridges for any possible (2-way, 3-way, or 4-way) SLI/Crossfire configuration, extension cables for RGB LED strips, a metallic support for PCIe cards, and antennas for the Wi-Fi/Bluetooth/WiGig interfaces. ASUS supplies the drivers and software into a USB flash disk instead of an optical disk, which is a reasonable move nowadays that many users are not using optical drives at all. Furthermore, ASUS supplies a "fan extension card" that adds another three fan headers if the six onboard headers are not enough for someone, plus three thermocouples that can be placed anywhere.
The ROG AREION 10G PCIe ×4 card is an interesting part of the bundle. Although it is based on the well-known AQUANTIA AQC107 chipset that other manufacturers are using as well, the PCIe card has a very large heatsink attached to it. Besides the AQC107 chipset, we only found a couple of clock generators and passive components on the AREION 10G card, components that do not warrant any kind of cooling. The AQC107 chipset on other motherboards that we have previously reviewed never had any additional cooling. We are unsure what drove ASUS's engineers to install a heatsink on the AREION 10G card, especially such a hefty one that is enough to keep cool a low-power CPU.
Despite the otherwise overwhelming bundle, ASUS does not supply any cable straps and only three SATA cables are included. There is no I/O shield pictured because it is permanently attached to the motherboard itself.