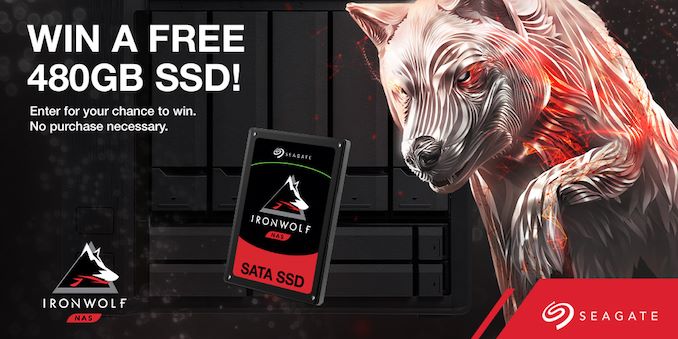 We haven't yet given away any hardware this summer, so let's change that. Earlier this year Seagate announced that they'd be expanding their Ironwolf family of NAS-focused drives to include SATA SSDs, and to that end the company has sent over a 480GB drive for us to give away.
As noted by Ganesh earlier this year when the drives launched, the Ironwolf 110 family the recent drop in NAND pricing has opened the door to SSDs becoming increasingly viable for NASes, especially as cache drives. SMBs and SMEs have already been using enterprise SSDs for this purpose, and Seagate believes that there is a market for SSDs specifically targeting the NAS market, as long as it is at the right price point.
With capacities ranging from 240GB to 3.84TB, Seagate is offering a fairly expansive family with the Ironwolf 110. The drives, based on 3D TLC NAND with sustained performance numbers of 560 / 535 MBps sequential reads / writes, support a relatively hearty 1 DWPD endurance, despite the usual read-heavy scenarios that NASes drive. Fittingly, since SSDs offer higher reliability due to a lack of moving parts, the rated nonrecoverable read errors rate is 1 per 10E17, 2 orders of magnitude better than the typical Ironwolf HDD.
Seagate Ironwolf 110 Series Specifications
Capacity
240 GB
480 GB
960 GB
1920 GB
3840 GB
Form Factor
2.5" 7mm SATA
NAND Flash
3D TLC
Sequential Read
560 MB/s
Sequential
Write
345 MB/s
535 MB/s
Random Read
55k IOPS
75k IOPS
90k IOPS
90k IOPS
85k IOPS
Random
Write
30k IOPS
50k IOPS
55k IOPS
50k IOPS
45k IOPS
Idle Power
1.2 W
Active Power
2.3 W
2.7 W
3.2 W
3.4 W
3.5 W
Warranty
5 years
Write
Endurance
435 TB
1 DWPD
875 TB
1 DWPD
1750 TB
1 DWPD
3500 TB
1 DWPD
7000 TB
1 DWPD
Ultimately, Seagate is hoping to sell the IronWolf SSDs to prosumers, creative pros, SMB, and SME NAS users. Prosumers and creative professionals with 10G-capable NAS units stand to benefit from the bandwidth benefits of flash-equipped bays. While enterprise SSDs are the way to go for all-flash arrays with write-heavy workloads, other SSD-in-NAS use-cases in the SMB and SME space can benefit from SSDs such as the IronWolf 110.
This giveaway is running through July 26th and is open to all US residents. To enter, please visit our Gleam.io contest entry page.
Source: Giveaway