Radeon RX 5600 For OEMs, & Radeon RX5600M For Mobile
While the biggest part of today's Radeon RX 5600 series launch is the retail desktop for obvious reasons, this is not the only market AMD will be addressing. The company believes they have a winning part in the works, and to that end they are going to extend the Radeon RX 5600 series over the entire market, covering OEM desktop and mobile as well.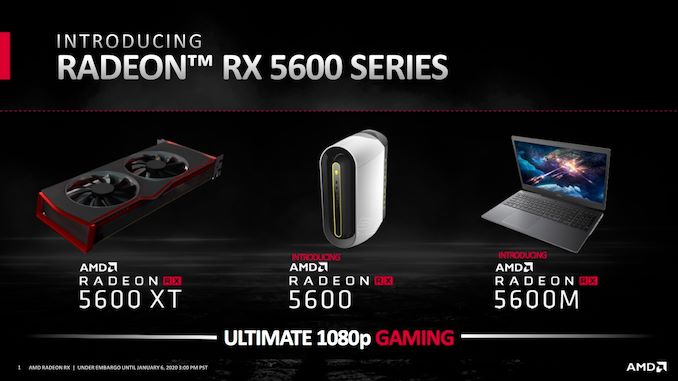 Starting things off for the OEM desktop side, AMD will also be releasing the Radeon RX 5600 for that market. Similar to what we saw with the OEM-only Radeon RX 5500, the Radeon RX 5600 is a similar, but slightly slower part. The big difference here is that while clockspeeds and TBPs remain unchanged, these OEM parts will only ship with 32 CUs enabled instead of 36 CUs enabled.
AMD Radeon RX OEM Specification Comparison
AMD Radeon RX 5600 (OEM)
AMD Radeon RX 5600 XT
AMD Radeon RX 5500 (OEM)
AMD Radeon RX 5700
CUs
32
(2048 SPs)
36
(2304 SPs)
22
(1408 SPs)
36
(2304 SPs)
Texture Units
128
144
88
144
ROPs
64
64
32
64
Base Clock
1265MHz?
1265MHz?
?
1465MHz
Game Clock
1375MHz
1375MHz
<=1670MHz
1625MHz
Boost Clock
1560MHz
1560MHz
<=1845MHz
1725MHz
Throughput (FP32)
6.4 TFLOPs
7.2 TFLOPs
<=5.2 TFLOPs
7.95 TFLOPs
Memory Clock
12 Gbps GDDR6
12 Gbps GDDR6
14 Gbps GDDR6
14 Gbps GDDR6
Memory Bus Width
192-bit
192-bit
128-bit
256-bit
VRAM
6GB
6GB
4GB/8GB
8GB
Transistor Count
10.3B
10.3B
6.4B
10.3B
Typical Board Power
150W
150W
150W
180W
Manufacturing Process
TSMC 7nm
TSMC 7nm
TSMC 7nm
TSMC 7nm
Architecture
RDNA (1)
RDNA (1)
RDNA (1)
RDNA (1)
GPU
Navi 10
Navi 10
Navi 14
Navi 10
Launch Date
01/21/2020
01/21/2020
Q4 2019
07/07/2019
Launch Price
N/A
$279
N/A
$349
On paper, this gives the Radeon RX 5600 somewhere around 90% of the retail Radeon RX 5600 XT's performance. The precise performance gap will vary with games and whether they're compute/shader bound or pixel/bandwidth bound, but again, it's a ballpark figure.
Meanwhile in the mobile space, the 5600 series will be rounded out by the Radeon RX 5600M. Unlike the OEM desktop card, AMD isn't holding back any punches here, and the 5600M will ship with the same 36 CUs as the retail card.
AMD Radeon RX Series Mobile Specification Comparison
AMD Radeon RX 5600M
AMD Radeon RX 5500M
AMD Radeon Vega Pro 20
AMD Radeon RX 560X
CUs
36
22
20
14/16
Texture Units
144
88
80
64
ROPs
64
32
32
16
Game Clock
<=1375MHz
<=1448MHz
N/A
N/A
Boost Clock
<=1560MHz
<=1645MHz
1300MHz
1275MHz
Throughput (FP32)
<= 7.2 TFLOPs
<=4.6 TFLOPs
3.3 TFLOPs
2.6 TFLOPs
Memory Clock
12 Gbps GDDR6
14 Gbps GDDR6
1.5 Gbps HBM2
7 Gbps GDDR5
Memory Bus Width
192-bit
128-bit
1024-bit
128-bit
Max VRAM
6GB
4GB
4GB
4GB
Typical Board Power
N/A (Min: 60W)
85W
?
?
Architecture
RDNA (1)
RDNA (1)
Vega
(GCN 5)
GCN 4
GPU
Navi 10
Navi 14
Vega 12
Polaris 11
Launch Date
01/21/2020
10/2019
10/2018
04/2018
But, like AMDs other Navi mobile parts, the clockspeeds and TDPs are up to the OEMs. So OEMs will be free to dial them up and down (to a degree) to hit the specific performance/power consumption they're looking for in a laptop. Consequently, AMD doesn't have a maximum TBP here, but they have set a minimum: 60 Watts. Radeon RX 5600M will not be a light chip.
It won't be a small chip either, which is what makes this announcement particularly interesting. Since this is all based on Navi 10, any OEM using the RX 5600M will have to accommodate the moderately sized chip and its accompanying 6 GDDR6 chips. This shouldn't be a challenge for OEMs, who already regularly include NVIDIA's even larger chips, but to date AMD's laptop wins have almost exclusively been their mobile-focused GPUs like Polaris 11 and Navi 14, which are available in low z-height packages. So the RX 5600M will require a greater commitment from laptop partners than what we've seen in the past, both with respect to power/cooling as well as sheer board space.
The OEM Radeon RX 5600 and the Radeon RX 5600M should be available soon. And with CES in full swing, there shouldn't be any shortage of partners announcing systems with the new video cards over the next couple of days.