Power Supply Quality
As part of our testing, we also check output parameters are within specifications, as well as voltage ripple and line noise.
Main Output
Load (Watts)
151.04 W
376.73 W
562.06 W
747.72 W
Load (Percent)
20.14%
50.23%
74.94%
99.7%
Amperes
Volts
Amperes
Volts
Amperes
Volts
Amperes
Volts
3.3 V
1.81
3.39
4.53
3.35
6.8
3.3
9.07
3.29
5 V
1.81
5.1
4.53
5.04
6.8
5
9.07
4.94
12 V
11.25
12.06
28.11
12.05
42.17
11.99
56.23
11.97
Even though they complied with the design power quality guidelines, earlier SFX PSU designs displayed poor power quality figures. However, more recent models, like the SilverStone SX700-LPT and Corsair's SF450, were greatly improved. Lian Li's even more powerful SP750 now delivers excellent power quality figures, easily comparable with those of very good ATX units.
Line
Regulation
(20% to 100% load)
Voltage Ripple (mV)
20% Load
50% Load
75% Load
100% Load
CL1
12V
CL2
3.3V + 5V
3.3V
3%
8
10
12
14
12
18
5V
3.15%
10
14
16
18
12
18
12V
0.75%
8
12
18
38
36
12
We recorded a maximum voltage ripple of 38 mV on the 12V line under maximum load but much lower figures at lower loads, suggesting that the components were getting thermally stressed. Ripple figures on the 3.3V and 5V lines are lower, barely reaching 18 mV. The voltage regulation of the 12V line is impressive, at just 0.75%, but Lian Li somewhat neglected the 3.3V and 5V lines, the regulation of which is slightly above 3%.
Conclusion
Lian Li took a very strange approach for their first SFX entrance into the power supply market with the development of a premium PSU with a very high-power output. The SP750 is an SFX design meant to power systems that could even be featuring an RTX 3090 – assuming that one can find and afford such a card in the market today. The use for small form factor 750W units powering big cards is small, as few users actually build very powerful yet compact machines, however there are only a few companies that develop and market similar high-output SFX PSUs, meaning that the SP750 does not have as much competition as an ATX PSU would. The use of Helly Technology as the OEM is also a question mark, as we do not often see them used for consumer power supplies.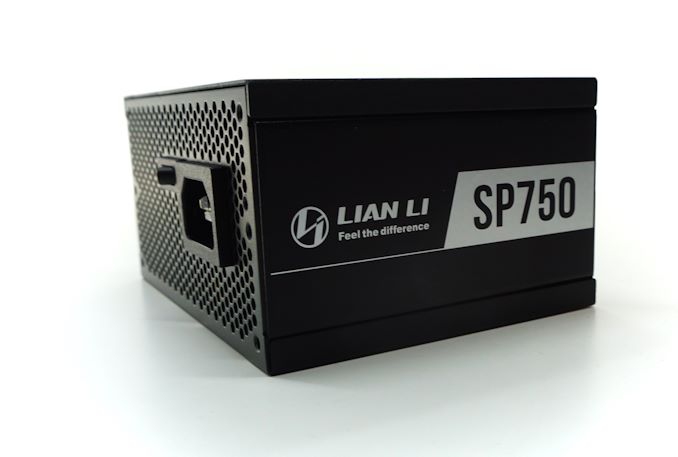 The quality of the Lian Li SP750 is excellent. Both externally and internally, Lian Li's designers were very careful with their selection of components and with the manufacturing process. As a result, the SP750 is not just reliable but also very aesthetically pleasing. It is actually strange that Lian Li only covers the SP750 with a 5-year warranty, whereas most other manufacturers offer up to 10 years for products of just as good quality.
When it comes to performance, the Lian Li SP750 does not disappoint. It offers excellent electrical performance, with power quality figures that we expect to see only with top-tier PSU designs. The energy conversion efficiency is exceptional, with the unit easily justifying its 80Plus Gold certification. What is even more impressive is its resilience to high internal temperatures, which hardly affect the unit's conversion efficiency. The only troubling performance aspect of the SP750 is the cooling fan, which will easily become audible when the PSU is heavily loaded, even with the unit inside a relatively cool system.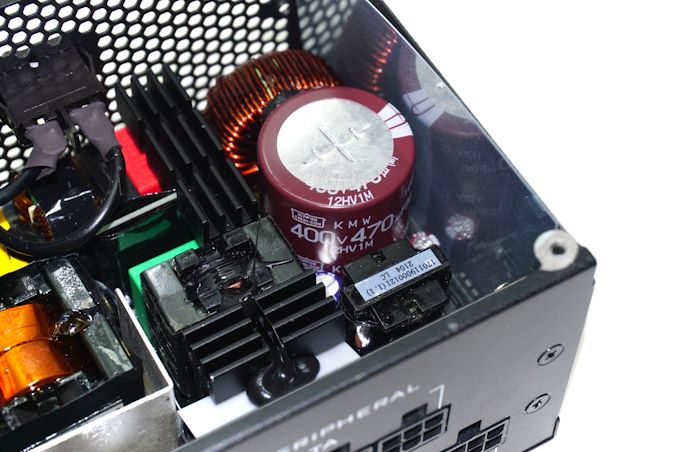 Lian Li is targeting a niche market with the release of the SP750 and we believe that the company expects most of their sales to be in conjunction with their own SFX-compliant cases – after all, the SP750 aesthetically is a perfect match for them. Even though the high-performance SFX PSU market is very small, there are also very few competitors right now, meaning that Lian Li only has to worry about a handful of other products and not hundreds of them. The retail price of the SP750 is $140, a very reasonable tag for an SFX PSU with that high a power output.