Expansion: More than a MacBook Air
Even today, whenever I pull out my MacBook Air I still get people amazed at how small it is, but it's the thinness that gets them - the footprint of the notebook is no different than your standard MacBook. Hold a netbook up to it and the MacBook Air starts to look rather large: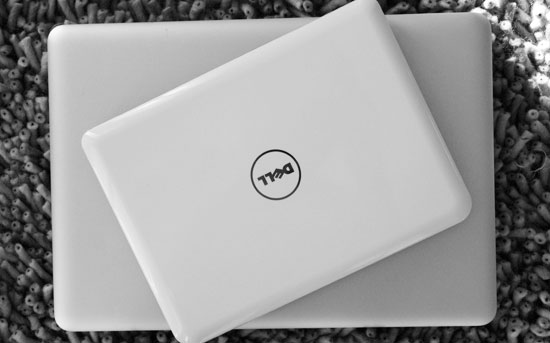 Apple MacBook Air (on bottom) vs. Dell Inspiron Mini 9 (on top)
You give up the thin profile of the Air, but you get something that's more comfortable to carry around (despite being more of a pain to type on). A side effect of the thicker chassis is that there's actually room for some expansion on the Mini. You get three USB ports, a 4-in-1 card reader (SD/SDHC/MMC/MS), VGA out and built in 10/100 Ethernet.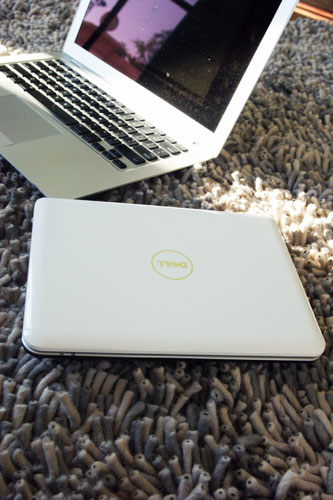 Unfortunately there's no room for an optical drive, and while Dell offers an external one you're better off saving the money and using the network or USB drives to get data on/off the machine. The hardware is fast enough to watch DVDs, but there's no hardware H.264 acceleration so most high resolution/high bitrate HD content (720p/1080p) is out of the question.
Below is a quick spec comparison between the Eee PC 901 and the Inspiron Mini, as well as the MacBook Air just for kicks.
ASUS Eee PC 901
Dell Inspiron Mini 9
MacBook Air
Dimensions
H: 1.5"
W: 8.9"
D: 6.9"
H: 1.07 - 1.25"
W: 9.13"
D: 6.77"
H: 0.16-0.76"
W: 12.8"
D: 8.94"
Weight
2.5 lbs
2.28 lbs
3.0 lbs
Screen Size/Resolution
8.9" / 1024 x 600
8.9" / 1024 x 600
13.3" / 1280 x 800
CPU
Intel Atom N270 - 1.6GHz (45nm Diamondville)
Intel Atom N270 - 1.6GHz (45nm Diamondville)
Intel Core 2 Duo 1.6 - 1.8GHz (65nm Merom)
GPU
Intel GMA 950
Intel GMA 950
Intel GMA X3100 (144MB UMA)
Memory
1GB or 2GB DDR2-533
512MB or 1GB DDR2-533
2GB DDR2-667 (fixed)
HDD
4GB on board SSD + 8GB (XP) or 16GB (Linux) removable SSD
4GB (Linux only), 8GB or 16GB SSD
80GB 1.8" HDD
or 64GB 1.8" SSD
Optical Drive
Optional External USB
Optional External USB
Optional External USB SuperDrive
Networking
802.11b/g/n
10/100 Ethernet
802.11b/g
10/100 Ethernet
802.11a/b/g/n
Built in Camera
Yes
Optional
Yes
Battery
48WHr
32WHr
37WHr
Price
$599
$349
$1799