Dell Inspiron 15 Application Performance
Given the 4GB of memory and powerful quad-threaded Intel Core i5-520M processor, it's reasonable to expect our Inspiron 15 review unit will tear through most processor-related tasks with relative ease. To refresh, here's how our Inspiron 15 is configured:
Dell Inspiron 1564 Testbed
Processor
Intel Core i5 520M
(2x2.4GHz, 32nm, 3MB L3, Turbo to 2.83GHz, 35W)
Memory
2x2GB DDR3-1066 (Max 2x4GB)
Graphics
ATI Mobility Radeon HD 4330 512MB GDDR3
(80 SPs, 450/1.2GHz Core/RAM clocks)
Display
15.6" LED Glossy 16:9 768p (1366x768)
Hard Drive(s)
320GB 5400RPM HDD
Optical Drive
8x DVDR SuperMulti
Battery
6-Cell, 12V, 48Wh battery
"Up to 4 Hours"
Operating System
Windows 7 Home Premium 64-bit
Pricing
$979 as configured
For basic performance we've tested the Inspiron 15 in PCMark05 and PCMark Vantage, and in both programs you'll see it simply excels, blowing past the Intel Core 2 powered competition. We've also included results for video encoding, 3D rendering, and web browser performance.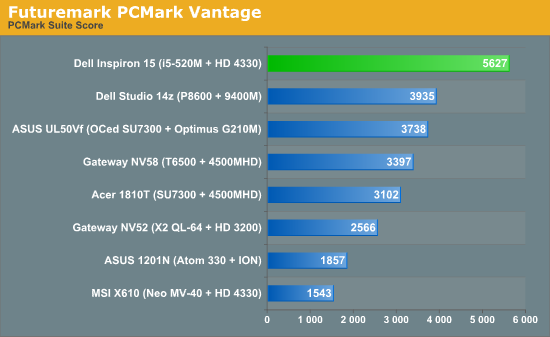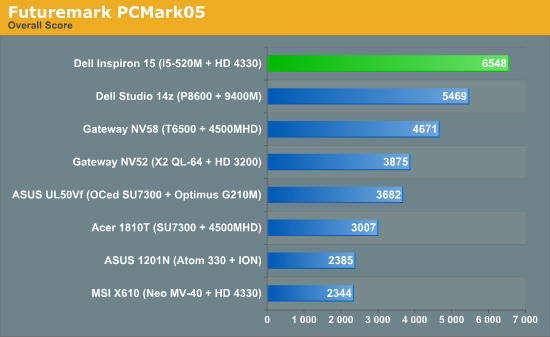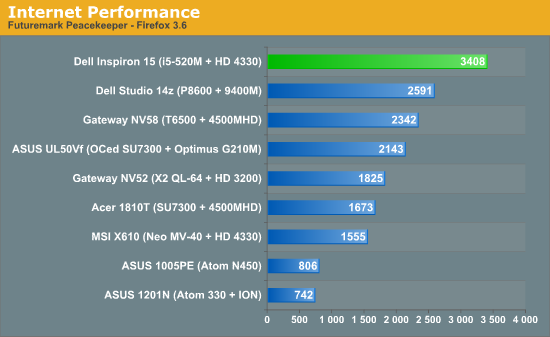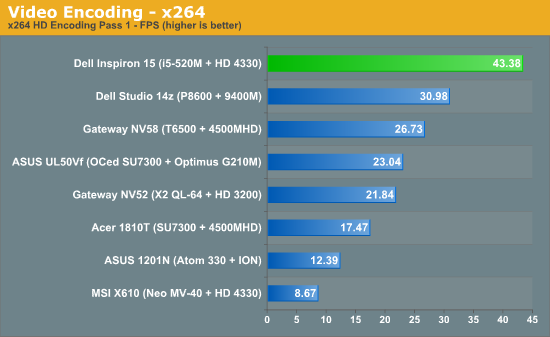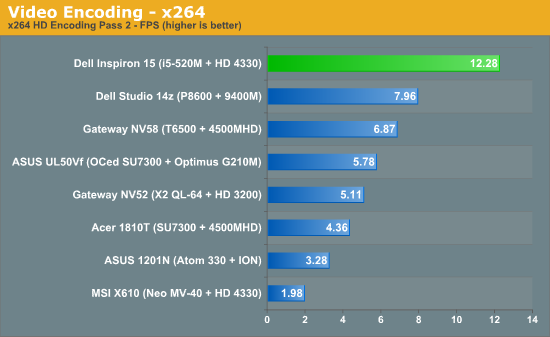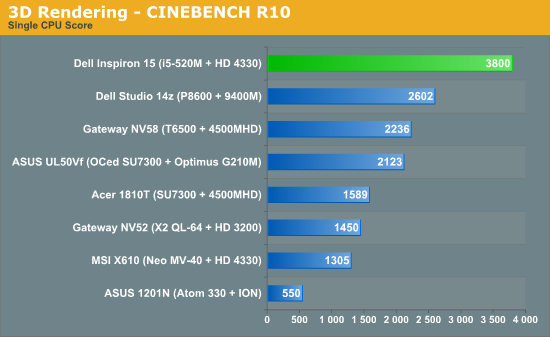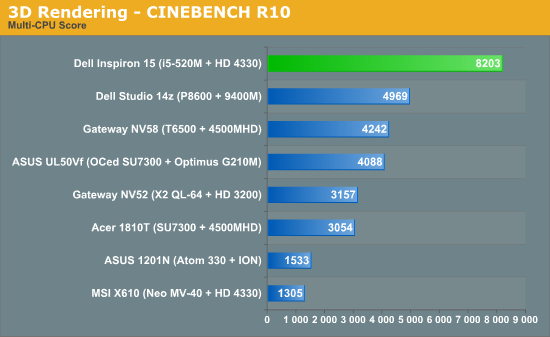 Intel made some very big strides with the Arrandale-based Intel Core i5 processors, and the i5-520M's performance here is proof of that, showing leads of 20% to 65% in the various benchmarks compared to the next-fastest notebook (Dell Studio 14z/P8600). Suffice it to say, it's very fast and more than up to any processor-related task you want to throw at it. The only way you'll get more performance in a laptop is to move to a quad-core CPU, and even then it will only be in tasks that can leverage multi-threading effectively.