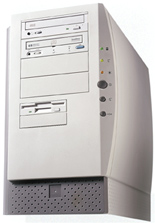 Design
The KS-299 is a mid tower capable of holding any standard ATX, microATX, or AT motherboard. Thanks to its unusually large depth, it can easily accept an extended ATX motherboard board as well. An above average 4 external 5.25" drive bays complement a more typical 2 external / 1 internal 3.5" bay setup.
The look of the Landmark KS-299 screams Packard Bell when you first see it - the only thing that's missing is the logo. The gray base and contoured plastic side panel are the biggest visual cues producing said look. Whether or not you think this is good or bad is of course a matter of personal opinion. However, that bezel is quite functional and features power, sleep, and reset buttons plus power, sleep, and HD LED's. It snaps in and out of the case frame fairly easily.
| | |
| --- | --- |
| Click to enlarge | Click to enlarge |
| Click to enlarge | Click to enlarge |
The outer casing, including a cover over the back, is made of heavy duty plastic that won't break easily. Unfortunately, these plastic panels make the already bulky case an inch or so larger in each dimension. Also included is a detachable cable guide that is made of the same plastic. It mounts to the back of the case and can help keep all the cables on the back of your system a little more organized. Vents are available next to the expansion slots and the bottom front of the case. These vents seem barely adequate at a glance - a fact that would be borne out in our tests.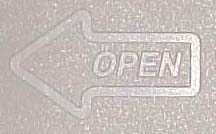 Getting inside is a piece of cake - just look for the arrow on top labeled "Open" (shown at left). Following that arrow leads you to a single standard case screw on the back of the case. It would have been even nicer if Superpower had used a thumbscrew here to make access completely tool-free Once removed, the top panel slides right off the back. A sticker underneath this cover is revealed that explains how to open the side panels - just grab the handle (shown below) and pull up - no screws or clips to get in the way. Unlike many other case designs, putting these covers back on is just as easy as getting them off - anyone can be in and out in seconds.
For those concerned about the wrong people getting in and out so quickly, a small metal tab can be mounted right next to the screw. Those side panels that appeared to be plastic on the outside are just plastic pieces that snap into standard sheet metal. For OEM's with large enough volume, Superpower is willing to produce custom panels and bezels.