The RDJD K703

In the previous Athlon heatsink comparison, only one RDJD heatsink was included, the K701. Considering the fact that it is only equipped with one 52x10mm fan, the K701 performs very well. But by now, two dual fan heatsinks are available from RDJD: the K702 and K703. Both use a "bonded fin" heatsink that is very similar to the K701's heatsink, the only difference between the K702 and K703 are the fans. The K703 is the version with big 60x25mm fans - let's have a look at this unit first: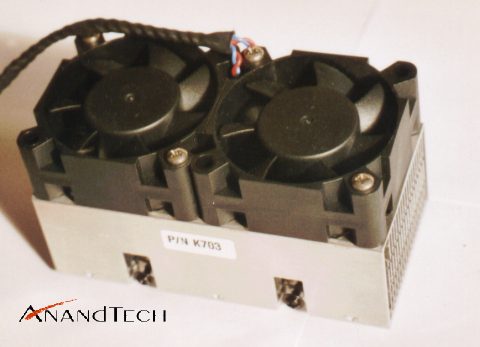 Here's a closer look at the bonded fin heatsink: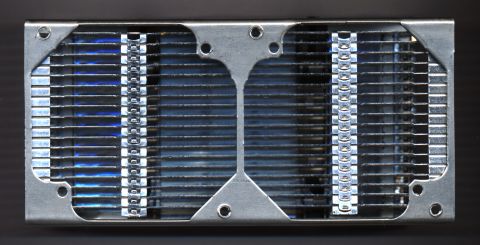 The K703 will not fit the ASUS K7M and might not fit other Athlon boards.

The fans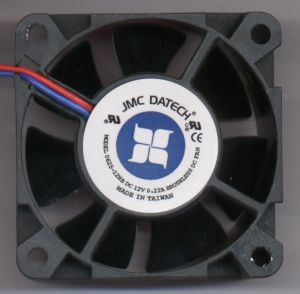 The K703 comes with JMC DaTech 60mm fans. Each fan moves 21CFM; the noise level is acceptable - the JMC fans are not as noisy as the YS Tech fans used on Global WIN heatsinks, but they are also less efficient. Unfortunately, the fans do not support rpm monitoring.
Installation

The K703 uses the same great clips we already know from the K701.They allow easy installation and secure mounting. A possible source of problems might be the fan's power connector: The fans do not have a three-pin MOLEX connector but, instead, a two-pin connector. Therefore, you must take great care to plug the fans in correctly. Also, the two-pin connector might not fit very well on some motherboard or Y-adapter MOLEX connectors. The K703, like all other RDJD Athlon heatsinks, comes with a preinstalled thermal pad. For better performance, the pad should be removed and thermal compound should be used instead. All test results were obtained using thermal compound.

Conclusion

Considering the remarkable performance of the single fan RDJD unit in the previous Athlon heatsink test, expectations for RDJD's big dual fan heatsink were high. However, the K703's performance turned out to be quite disappointing, especially considering the cooler's price of about $35. You can definitely get better performance at a lower price.
RDJD K703 at a glance
Fans: Two 60x25mm JMC

Fan rpm (Mfr spec): 4200

Weight: 360g
Advantages
Disadvantages
Performance a bit disappointing, considering the price and the fact that two 60mm fans are being used
Does not fit Asus K7M and possibly also causes problems with other Athlon motherboards
No rpm monitoring
Comes with a two-pin connector instead of a three-pin MOLEX connector
Not very cheap