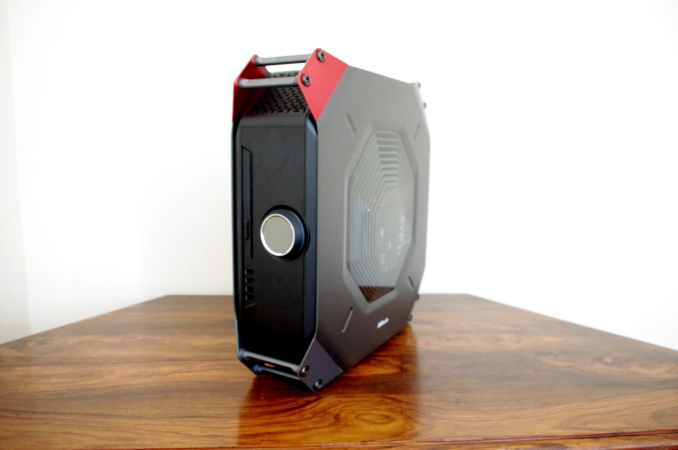 Beauty is in the eye of the beholder, or so the saying goes. Most development in home computers veers toward the ultra large (high impact gaming machines for 4K resolutions/multi-monitor immersive experiences) or the ultra-tiny (Intel NUC, Raspberry Pi). The downside of these two extremes is usually cost, and most regular Joes go for something in the middle trading one side for the other. One popular build right now is mini-ITX in a Bitfenix Prodigy chassis, as it offers space for a full on GPU or many 2.5" storage drives. ASRock now come to the market with the M8 barebones based on a BMW design for the Z87 platform, at half the width of the Bitfenix Prodigy and a high build quality. It mirrors what we are seeing with the latest consoles, and thus offers a prime opportunity as a Steam Box.
ASRock M8 Overview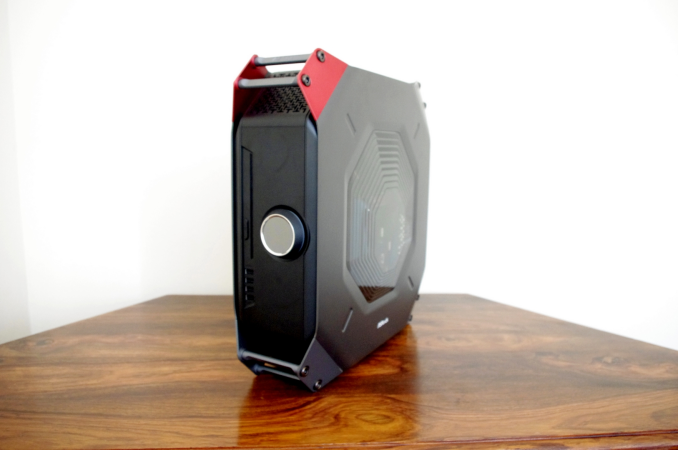 We saw the ASRock M8 on show at Computex – both Anand and I's initial reaction to the look of the device was visibly positive, as I am sure was most peoples response at the event. At that point there were many details to be refined, but from that point in time to now, the ASRock M8 includes:
The Chassis
A slim optical disk drive, preinstalled
The ASRock Z87-M8 motherboard designed for the chassis
A 450W 80 PLUS power supply designed by FSP
Top and bottom fans along with appropriate cabling preinstalled
A multi-card reader
In terms of the chassis, ASRock lay on the aesthetics of an engineering loving person, dealing in straight lines and edges, metallic shades of color including grey and red, with the only real circular part of the design being the front knob that sparks recall to the BMW i-Drive system in their recent range of high end vehicles. In fact this chassis is co-designed with the BMW Group DesignworksUSA team. The chassis comes with handles for easy movement, and is lightweight due to the steel frame/aluminum + plastic construction, which is also nice to touch, making it suitable for a thin and portable gaming PC or Steam Box.
Due to the barebones nature of how ASRock will sell the M8, performance will depend on exactly what extra hardware is added. The chassis has space for one 3.5" drive or four 2.5" drives, combined with the single ODD which makes the six SATA ports on the motherboard more than adequate. The motherboard uses SO-DIMM memory, which is now being released in faster and faster speeds for users to go above DDR3-1600 CAS9, and the PCIe slot uses a riser card to allow a GPU to be mounted in-line with the motherboard. Due to the space available for GPUs, the power supply and the cooling power of the chassis, ASRock suggest a maximum of a 200W GPU – this means up to a HD 7950 or a GTX 760. There are provisions for the tall non-reference designs, although ASRock state maximum GPU dimensions of 290mm x 137mm x 43.5mm. So no triple slot cards here.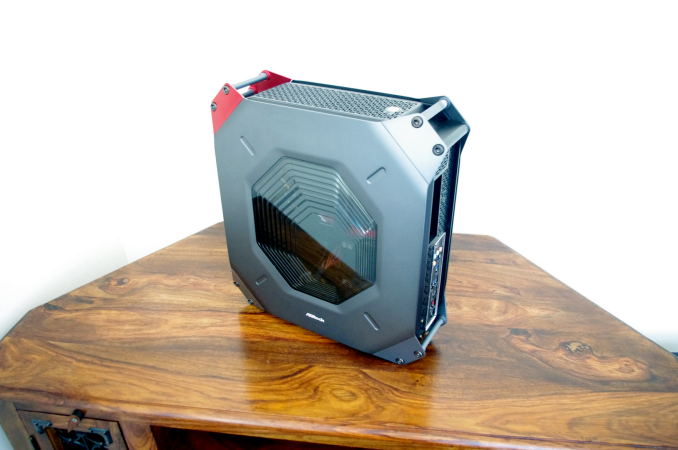 The mini-ITX motherboard designed specifically for the chassis forgoes any significant power delivery and heatsink design, which is perhaps an oversight – for this build I went for a an i7 CPU but a low power 'T' model SKU so as not to overload or burn out the power delivery. ASRock state that the fans they supply below the motherboard help with the VRM cooling and thus nothing should stop a user placing an i7-4770K into the system, but overclocking longevity might be limited. I decided to apply some brain and use common sense for our test build here.
Due to the mobile gaming nature of the system, the motherboard also includes an Intel NIC and dual band 802.11ac WiFi (with BT 4.0 support), whereby the antenna use the case to help increase the signal – this has benefits (the lack of a visible antenna) but downsides (optimization of antenna placement). ASRock are using a Creative Sound Core3D audio codec, with software combined therein, along with a three month subscription to XSplit (game broadcasting software) included in the package.
Now obviously the final question always comes down to price. ASRock are treating the M8 barebones as something of true industrial design (which might increase costs), but have no plans to make it a limited run and will make as many as people will be prepared to buy (thus reducing any additional exclusivity cost). For the chassis, the motherboard, the ODD and the power supply, the M8 is listed on Newegg for $550.
If we were to break this down into regular mini-ITX build costs:
Motherboard would be $150,
450W SFF Bronze PSU for $50 (they seem really cheap in the US),
Slim-line DVD-RW ODD for $70,
A chassis (like the Prodigy) is around $80,
Thus a total of $350-ish. So in essence, the ASRock M8 offers a slim-line industrial design that looks (in my opinion) quite good, is easy to carry and can provide a powerful gaming box for a $200 / ~57% price premium. That can be a bitter pill to swallow, especially when you add the cost of a processor (i3 4130T, dual core w/HT 2.9 GHz 35W, $140), a GPU (NVIDIA GTX 760, 170W, $270), a 120GB SSD (Samsung 840 Evo, $110), 8GB of DDR3-1600 C9 DRAM (G.Skill, $75) and a 1TB 2.5" storage drive (Seagate Momentus STBD1000100 1TB 5400 RPM, $82), which would total ~$1225.
The build we're using today consists of the i7-4675T (~$400), an AMD HD 7950 (~$320), an OCZ Vertex 3 480GB ($485), 16GB of G.Skill 1866 C10 memory ($160) and a 750GB storage drive ($74), giving a total build price of ~$2000 for a quad core i7 with hyperthreading but low power, along with a top end GPU and a large boot drive SSD, with room still for two 2.5" SSDs for storage.
In terms of all this pricing, the ASRock M8 comes off as steep in terms of 'just having a console', but as something high powered, mobile, and nice to look at that will blow any console out of the water, it makes a nice self-present or investment into a miniature system.