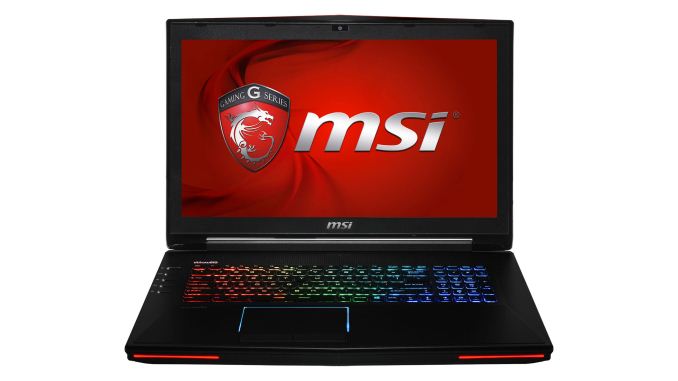 MSI GT72 Dominator Pro Introduction
MSI has several lines of gaming notebooks catering to different types of users. In the past few months we've looked at MSI's top-of-the-line GT70 Dominator Pro with NVIDIA's GTX 880M GPU, the GE60 Apache Pro with GTX 860M, and the GS60 Ghost Pro 3K with GTX 870M. It's been a long time in coming, but after many years we finally have an updated chassis for MSI's top gaming notebook, the new GT72 Dominator Pro. We've already previewed the gaming performance of the GT72, and we did a detailed look at NVIDIA's BatteryBoost with the laptop; now it's time to bring everything together for the full review.
When it comes to high-end gaming notebooks, there are only a few real competitors: Alienware, ASUS, Clevo (under various brand names), and MSI are the main options, with a few others like Razer and Gigabyte offering second tier performance (e.g. not the 880M or 980M, but instead dropping one step to the 870M and 970M). [Ed: Gigabyte is now joining the ranks of companies offering GTX 980M with the P35X V3.] The NVIDIA GeForce GTX 980M officially launched in the first half of October, and it wasn't too much of a surprise to see it come out ahead of all other mobile contenders. Maxwell 2 (GM204) proved quite potent in desktop GPUs like the GTX 980, and the notebook counterpart is equally capable. For our testing, MSI shipped us the third highest configuration of their GT72 Dominator Pro, with four 128GB SSDs in SuperRAID to help keep storage as fast as possible. Here are the full specifications:
GT72 Dominator Pro-208 Specifications
CPU
Core i7-4710HQ (Quad-core, 2.5-3.5GHz, 6MB L3, 47W)
GPU
NVIDIA GeForce GTX 980M 8GB
(1536 CUDA cores, 1038MHz + Boost, 256-bit 5010MHz GDDR5)

Intel HD Graphics 4600
RAM
32GB (4x8GB) DDR3L-1600
SSD
512GB M.2 SATA SSD Array
(4x128GB Toshiba THNSNJ128G8NU in RAID 0)
HDD
1TB 7200RPM
Optical
Blu-ray Burner 9.5mm
Display
17.3" Anti-Glare 1080p (1920x1080)
(Chi Mei N173HGE-E11)
Networking
Killer e2200 Gigabit Ethernet
Killer N1525 Combo (2x2 802.11ac + BT 4.0)
Audio
Realtek ALC892
2.1 speakers
Four audio jack
Front
N/A
Left
Flash Reader (SDXC/SDHC)
4 x Audio jacks
4 x USB 3.0
Right
Optical Drive
2 x USB 3.0
Rear
Left/Right Exhaust Vents
2 x mini-DisplayPort 1.2
1 x HDMI 1.4
Ethernet
AC Adapter
Input
101 Key SteelSeries Keyboard
Multi-touch Touchpad
Power
9-cell ~87Wh battery
230W AC adapter
Extras
Full HD webcam (1080p30)
Configurable Multi-colored Backlighting
Anti-Ghost Key
Shift Cooling
Switchable Graphics
OS
Windows 8.1 Multi-Language
Dimensions
16.85" x 11.57"x 1.89"
(428mm x 294mm x 48mm)
Weight
8.4 lbs. (3.82kg)
Pricing
$3000 MSRP
$2900 Online
Obviously this is close to the maximum level of performance you might get from any modern gaming notebook. If you want more performance than this in a notebook, your only options are GTX 980M SLI and/or a faster CPU. MSI does have two higher models of the GT72 available that upgrade the CPU to the Core i7-4980HQ (which means you get Crystalwell's embedded DRAM and Iris Pro Graphics 5200 along with a 300-500MHz bump in clock speed), but the lesser of the two options still costs $3300, so you're basically paying $400 more for the CPU upgrade over the system we received. If you're thinking of that upgrade, there's another model with 4x256GB SSD and the i7-4980HQ for $3800.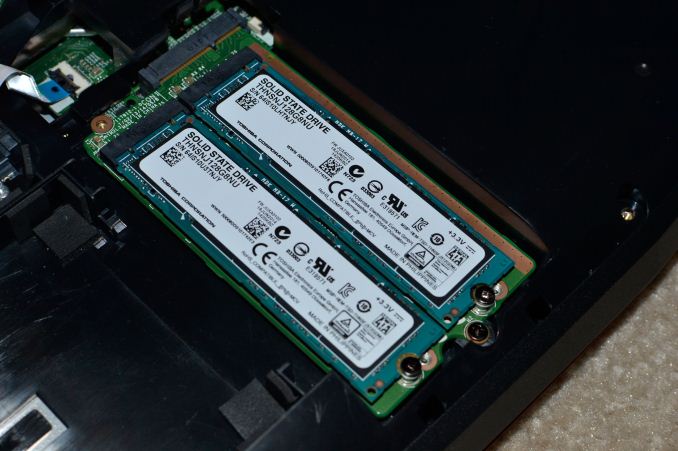 Getting back to our review sample, while I'm still not sold on the need for four separate M.2 SSDs, I can say that there's a ton of storage bandwidth available. In the process of getting the gaming library copied over, a few games sometimes require Steam to validate the files, and the GT72 does that faster than any other system I've tested. So yes, having more than 1GB/s of storage throughput can be beneficial. On the other hand, the cost of the storage upgrades is much higher than what you'd typically pay for SSDs. As an example, a 1TB Samsung 850 Pro can be had for $650; going from the base $2284 GT72 with a 128GB single SSD to 512GB with four 128GB SSDs and doubling the RAM to 32GB from 16GB currently adds $616 to the price. The RAM upgrade costs roughly $150, so in effect you're paying $466 for an additional 384GB of storage.
Of course, finding the Toshiba THNSNJ128G8NU 128GB or Toshiba THNSNJ256G8NU 256GB M.2 SSDs for sale can be a bit tricky; I've seen them in Europe for around £65/£113 (around $100/$180 USD), so the problem isn't just that MSI is overcharging for the parts but that the parts are also rather expensive to begin with. Considering the final price looks to be upwards of $720 for 4x256GB of storage, it might have been better to offer two 2.5" drives instead. That would allow users to install two 512GB SSDs for around $400-$500, and while you might give up a bit of raw performance in practice I don't think the difference would be noticeable. Anyway, MSI has chosen to stick with multiple M.2 SATA drives, so that's what you get.
The remaining components and features look good, including four SO-DIMM slots with support for up to 32GB RAM, 802.11ac WiFi with up to 867Mbps connectivity, and six (!) USB 3.0 ports. Probably the only real flaw in the specifications is the LCD, which is the same Chi Mei N173HGE that was in the MSI GT70 prior to this. The LCD identifies as an "E11" compared to the "L11" in the GT70 we have, but it's still a TN panel.
There is a bit of good news regarding the LCD, however. There are a few sites listing the GT72 with an IPS panel (e.g. XoticPC and Amazon), and after contacting MSI we were able to confirm that there are certain models of the GT72 that do indeed have an IPS display. There's a catch, unfortunately: the only two models with the IPS display right now are the 445 and 444, which cost $3300 and $3800 respectively. Both feature the faster i7-4980HQ CPU along with the IPS display, and the 444 comes with four 256GB SSDs for a total of 1TB of SSD storage… but wow, that's a lot of money to spend on a notebook!