GPU Performance
GPU performance is another important aspect of a device, and with display resolutions increasing there is always a need for more GPU power to drive more pixels. In the eyes of many consumers, Intel is not typically associated with speedy GPU performance, particularly in the mobile space. Many readers commented on the poor performance of Intel's HD Graphics in the Stream 7 review. However, one of the ways Intel's Moorefield chips are differentiated from some other chips in the Atom line is that they use PowerVR graphics. In the case of the Venue 8, it uses the PowerVR G6430 which was used previously in Apple's A7 chip.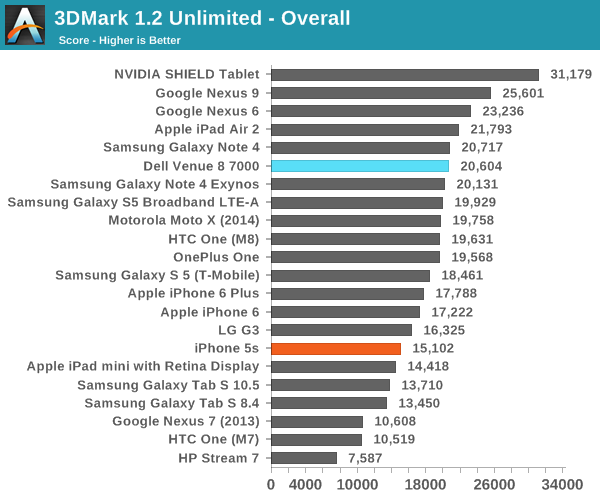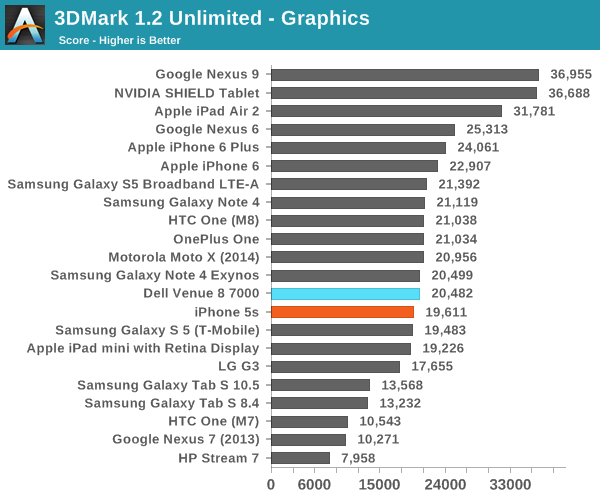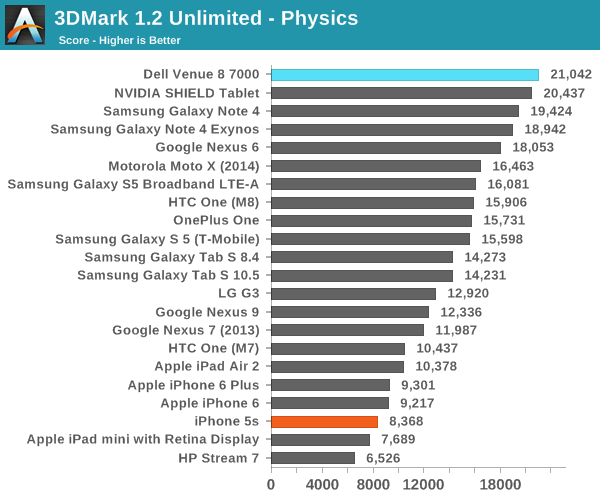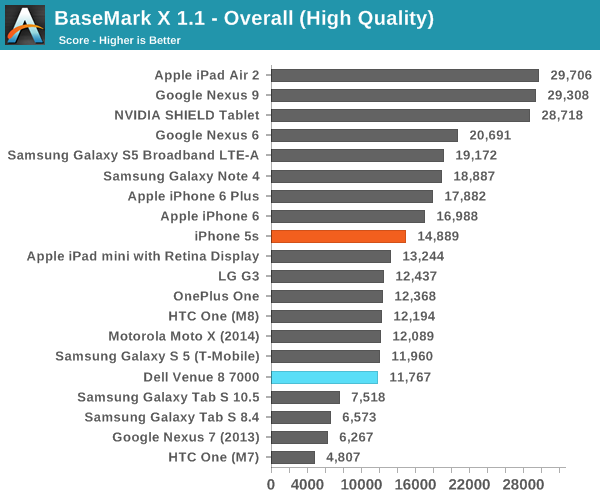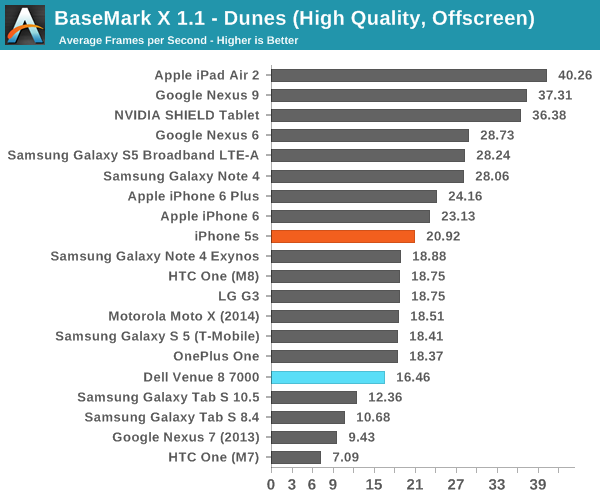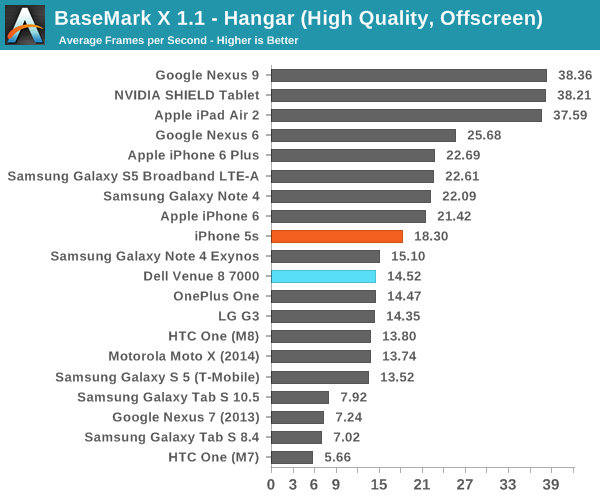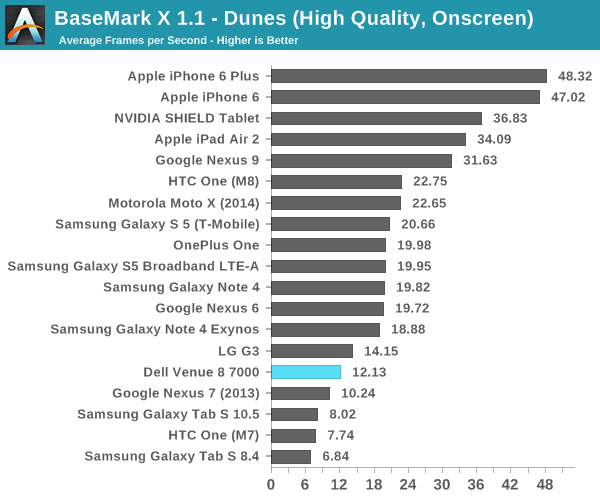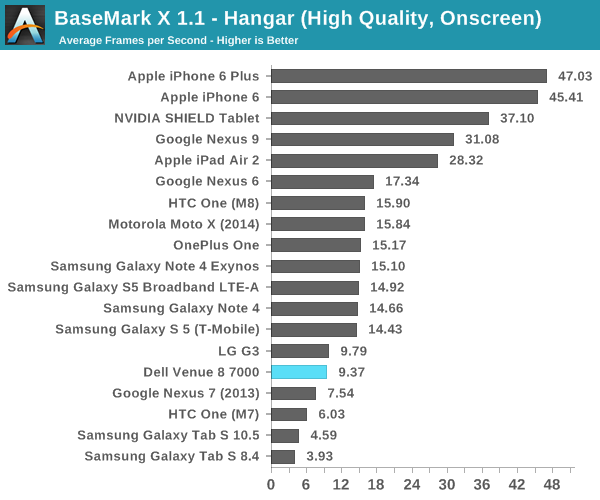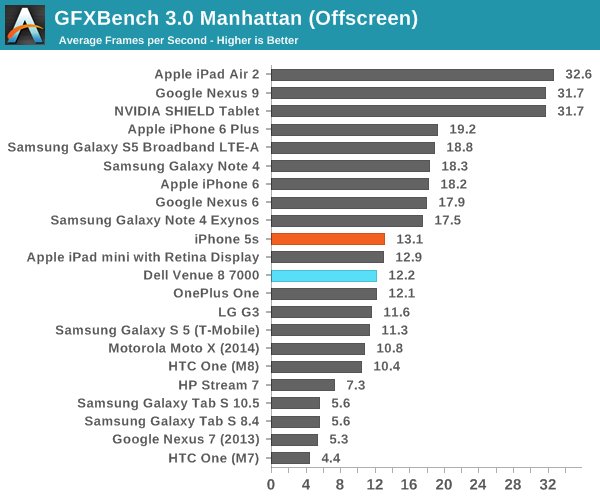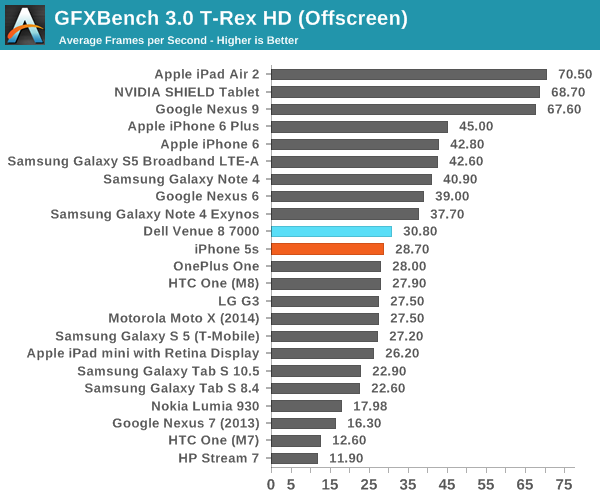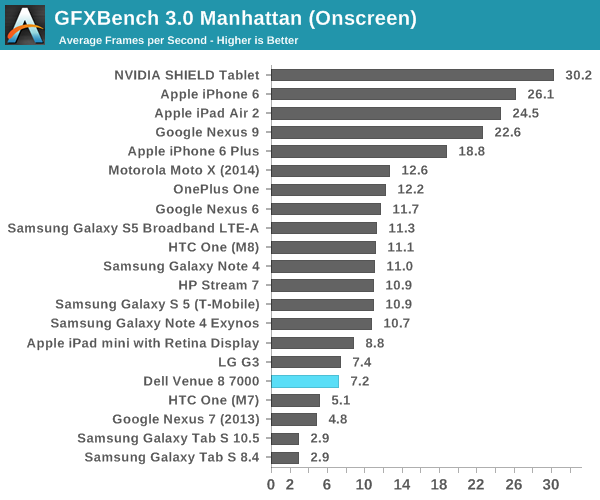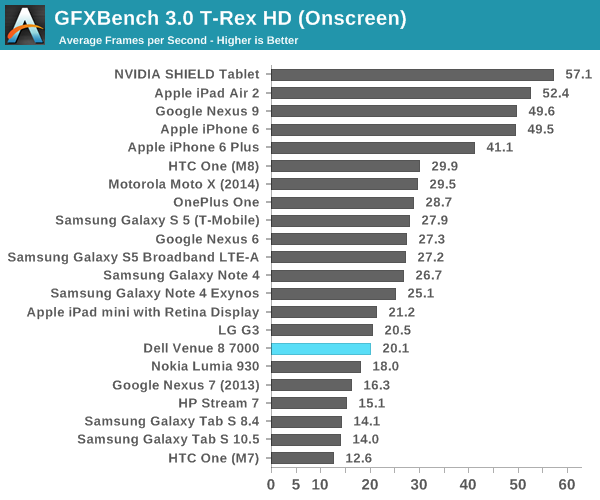 There has historically been a noticable gap in performance between a given PowerVR chip implemented in an iOS device, and the same GPU in an Android device. Due to drivers and other software factors, the performance of the Android device is typically slower. Because of this, I've marked the iPhone 5s on all the charts except for the onscreen ones so comparisons can be drawn between the performance of the G6430 GPU on different operating systems. In the 3DMark graphics test, the Venue 8 actually scores higher than the iPhone 5s, and in the GFXBench tests there is not a large difference between the two devices. In Basemark X there is a sizable performance difference between the two devices in favor of the iPhone, but overall I don't think anyone should be concerned about massive differences in GPU performance between the G6430 running on iOS and it running on Android.
When evaluating the Venue 8's GPU performance on its own, it can hardly be said that it's slow. However, it's now competing with Apple's 8 core Rogue GPU in A8X, and NVIDIA's Kepler graphics in Tegra K1. The devices with those GPUs end up performing between two and three times faster than the Venue 8 in many cases, and with Tegra K1 that GPU power is available in NVIDIA's Shield Tablet which undercuts the Venue 8 at only $299. GPU performance has simply moved onward from when G6430 was leading the pack, and although the Venue 8 isn't exactly slow, it's outgunned by other devices that meet and even beat its price.
NAND Performance
The performance of a device's internal storage has never been a large point of focus in the past. Mobile device manufacturers don't advertise anything about their storage beyond the capacity. However, the speed of a device's NAND can have a significant impact on performance. Slow memory can be what bottlenecks a system's performance when any sort of heavy reading or writing is occurring in the background, which occurs more often than one would think due to background applications and tasks like automatically downloading and installing app updates.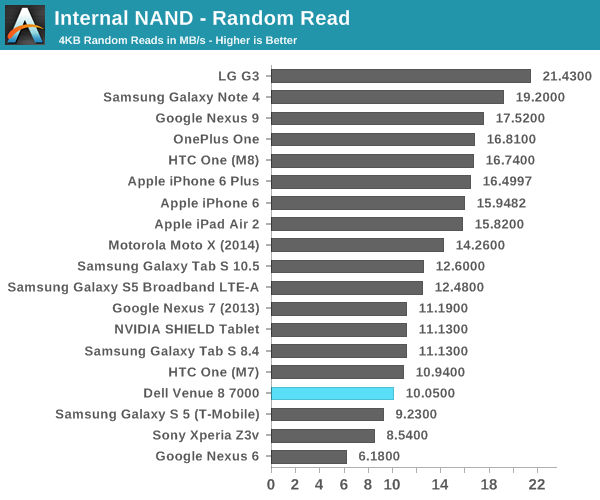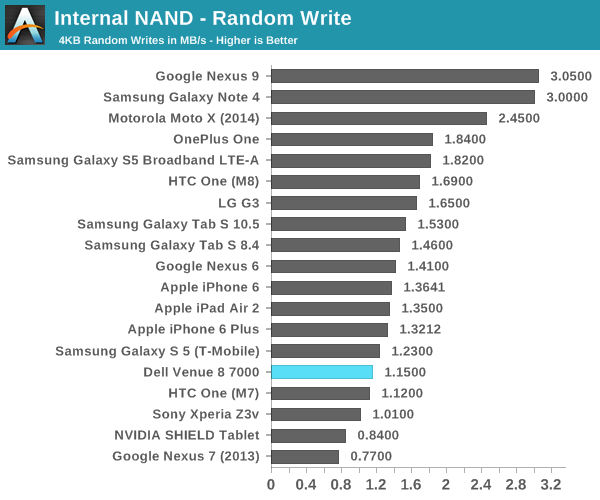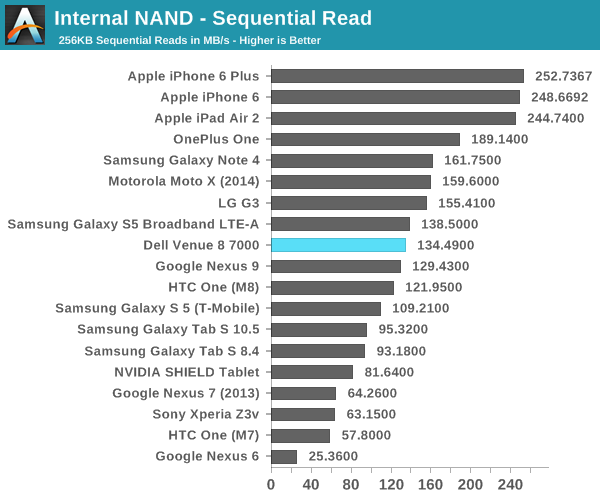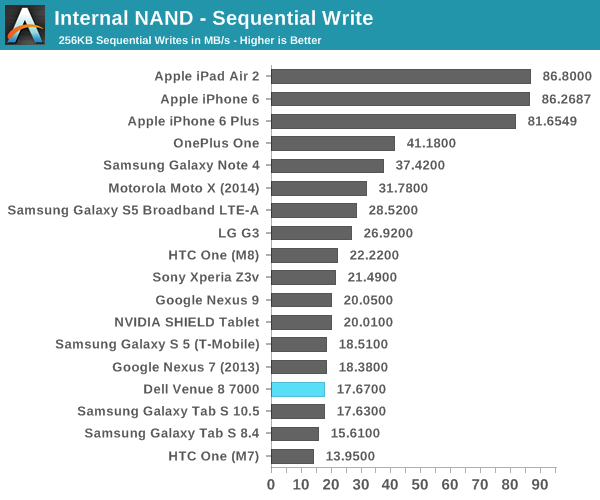 In all of our tests, the Venue 8 is decidedly average. There's no situation where it shines at the top, but also no cases where it's significantly worse than the competition. I wouldn't expect the Venue 8's storage speeds to cause any performance issues for users, though it would be nice to see at 32GB NAND option at this price.