TrueAudio
This week, AMD and Valve announced AMD TrueAudio Next (TAN) support for Steam Audio, introducing it with the newly released Steam Audio 2.0 beta 13. Introduced just about a year ago, Steam Audio is Valve's cross-platform developer tool for VR spatial audio, implementing features like binaural rendering, sound occlusion, and 3D sound propagation. Although consumers do not directly use this SDK, TAN support allows developers to utilize additional audio processing capabilities for GCN-based AMD GPUs. In turn, games and VR applications built on Steam Audio may feature more complex and immersive VR audio on AMD's GCN-based video cards. As part of the LiquidVR initiative, the TrueAudio Next SDK was announced in 2016 as a physics-based real-time audio acoustics rendering technology, with the corresponding open-source library...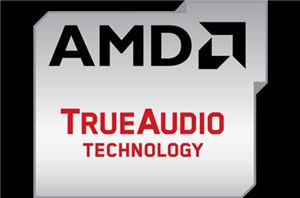 Scheduled for release today is the 1.3/AMD patch for Thief, Square Enix's recently released stealth action game. Following last month's Battlefield 4 patch, Thief is the second big push...
75
by Ryan Smith on 3/18/2014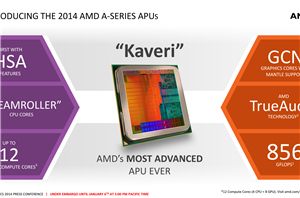 On the back of AMD's Tech Day at CES 2014, all of which was under NDA until the launch of Kaveri, AMD have supplied us with some information that...
133
by Ian Cutress on 1/6/2014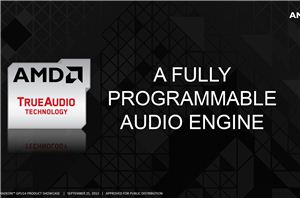 Continuing our coverage of AMD's APU13 conference, one of this morning's keynotes has been from Sony's VP of Research & Development in North America, Dominic Mallinson. Most of Dominic's...
43
by Ryan Smith on 11/13/2013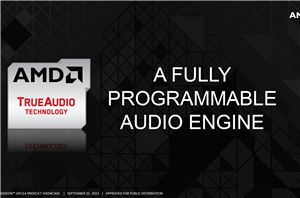 As part of today's public session for AMD's 2014 GPU product showcase, AMD has announced a new audio technology for some of their upcoming GPUs. Dubbed TrueAudio, Although technical...
62
by Ryan Smith on 9/25/2013