Test setup
Professional testing requires the emulation of real-world situations but with repeatable results; thus, a perfectly controllable test setup and environment are required, especially for comparable results. Testing the thermal performance of any case with a typical real-world setup technically limits the comparability of the results to this setup alone, as an active system interacts with its environment and the change of a single component would alter myriads of variables. As such, we developed synthetic loads that emulate the thermal output of real systems, which however are passive, steady and quantifiable. As such, the thermal testing now displays the thermal capabilities of the case alone, as if it would have to deal with the entire thermal load by itself, regardless of the system that would be installed inside it. Laboratory data loggers are being used to monitor the PT100 sensors and control the safety relays, which are fully accessible via our custom software. Three such loads have been developed; the ATX version simulates a 200W CPU, 50W VRM, 30W RAM and 4 × 120W GPU card thermal load. Finally, three 3.5" HDD dummy loads have also been created, with each of them converting 30 W of electrical power to thermal, bringing the total thermal load of the ATX test setup up to 850 Watts. As such, the thermal load is immense and only the best of cases will be able to handle it for more than a few minutes, we are also performing a test with a thermal load of 400W, with all of the aforementioned components except the HDD drives at about 42% power, which is more suitable for the majority of cases.
Thermal testing has been performed with all of the case's stock fan operating at maximum speed. Noise testing has been performed with a background noise level of 30.4dB(A). Advanced noise testing is also being performed, in order to assess the ability of the case to dampen the noise of the components installed inside it. This includes the installation of two noise-generating sources (strong fans) inside the case, one positioned approximately over the first expansion slot and one over the CPU area, which generate ≈ 44.2 dB(A) when unobstructed. During the advanced noise test, all stock cooling options of the case are entirely disabled.
Results and discussion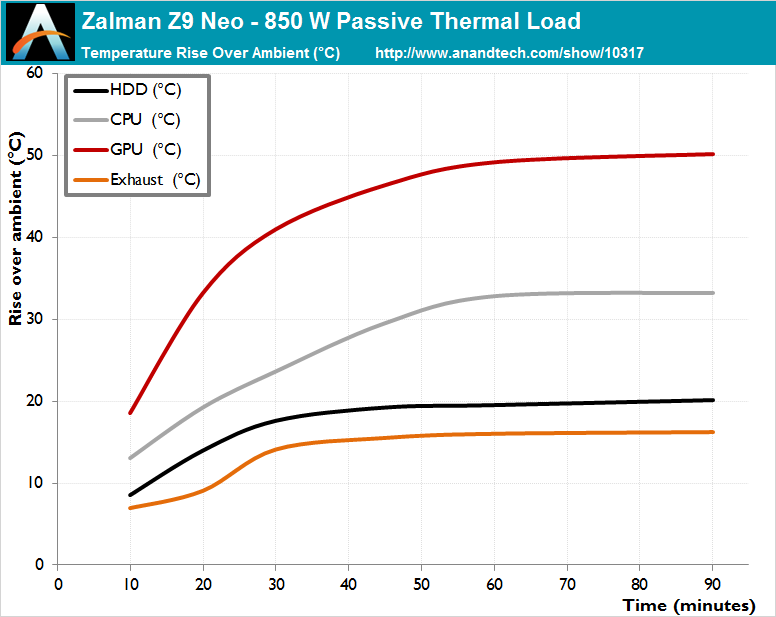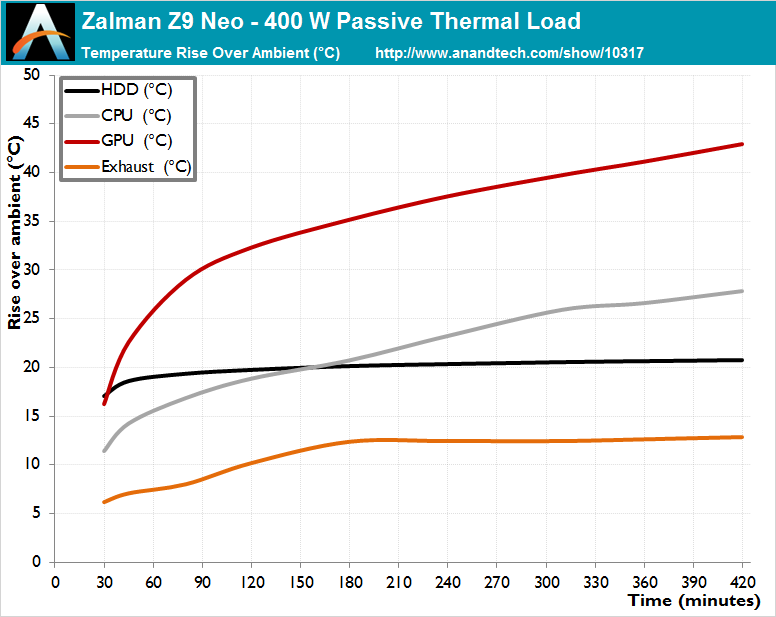 The Zalman Z9 Neo delivered very good thermal performance for a case of its class and price range, outperforming much more expensive and spacious cases, such as the Cooler Master MasterCase 5 and the Corsair 450D. This is not because of a unique thermal design, but due to Zalman installing five stock fans into their case. Five low speed fans can deliver very high air volume flow and are in fact much more efficient than just one or two strong fans.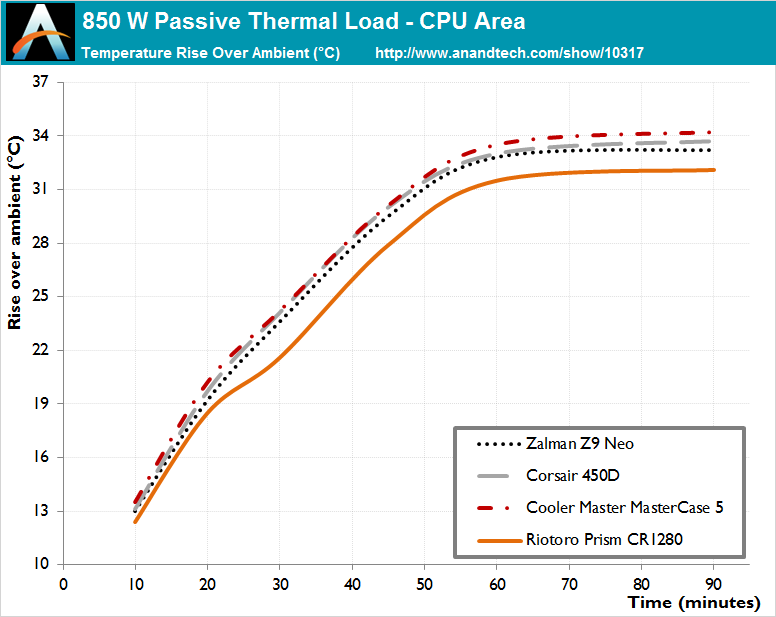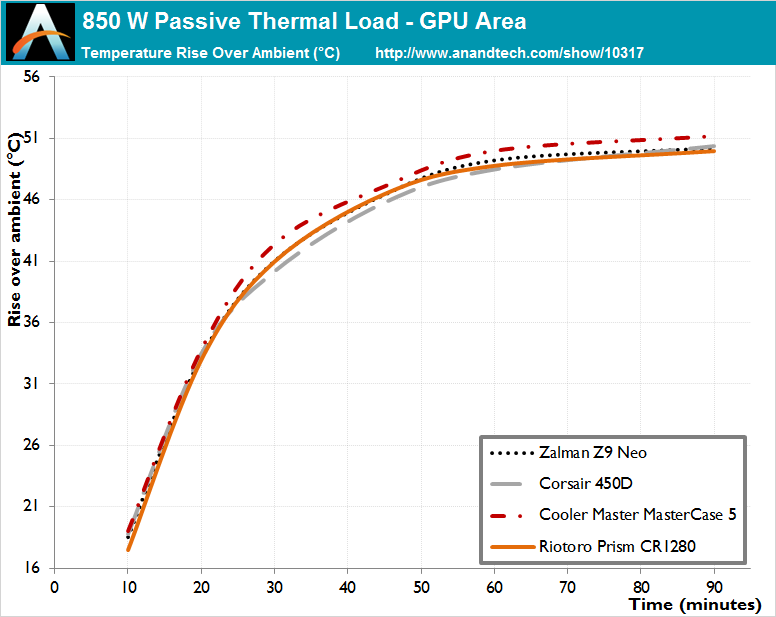 Although we expected that the Zalman Z9 Neo would not be entirely silent with five stock fans installed into it, our test results were much better than we expected. With the fans running at maximum speed, the Zalman Z9 Neo is audible, but the noise level is tolerable for everyday use. The five fans that Zalman is using are low speed models and thus their maximum performance is limited, but they move substantial amounts of air with low aerodynamic drag, keeping noise figures relatively low. The side effect is that these fans cannot have their speed reduced too much or they stop, which is why we were not able to test them at 50% speed.
Zalman's choice to install a sound dampening layer at the front panel of the Z9 Neo does not seem to be paying off. The Z9 Neo has many openings and the layer seems to be ineffective, as the figures that we got from our advanced noise testing hint that the sound dampening capabilities of the case are minimal.