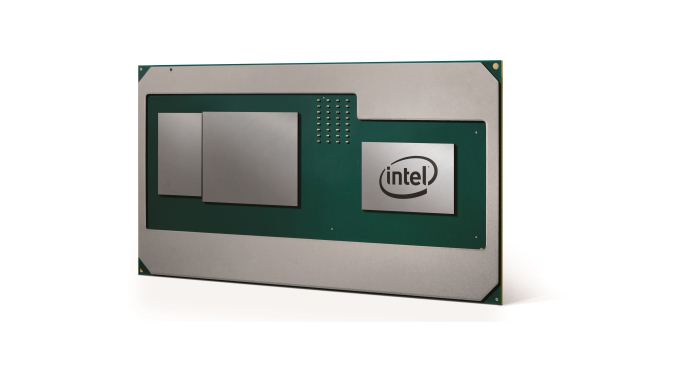 To begin the year, Intel's Indian website has published a small number of details regarding Intel's first 'Intel with Radeon RX Vega Graphics' processor. Within the table of overclockable processors, accompanying the Core i9, Core i7-X and 8th Generation K processors is listed the Intel Core i7-8809G, a quad core processor with two sets of graphics options listed.
The Core i7-8809G is not a part that Intel has formally announced in a press release, but on Intel's overclocking webpage here it as listed as being a quad-core processor with hyperthreading, supporting a 3.1 GHz base frequency, having an 8 MB L3 cache, a 100W 'Target' TDP, and supporting two channels of DDR4-2400. Intel lists both sets of graphics: the integrated graphics (iGPU, or IGP) as 'Intel HD Graphics 630', and the package graphics (pGPU) as 'Radeon RX Vega M GH Graphics'.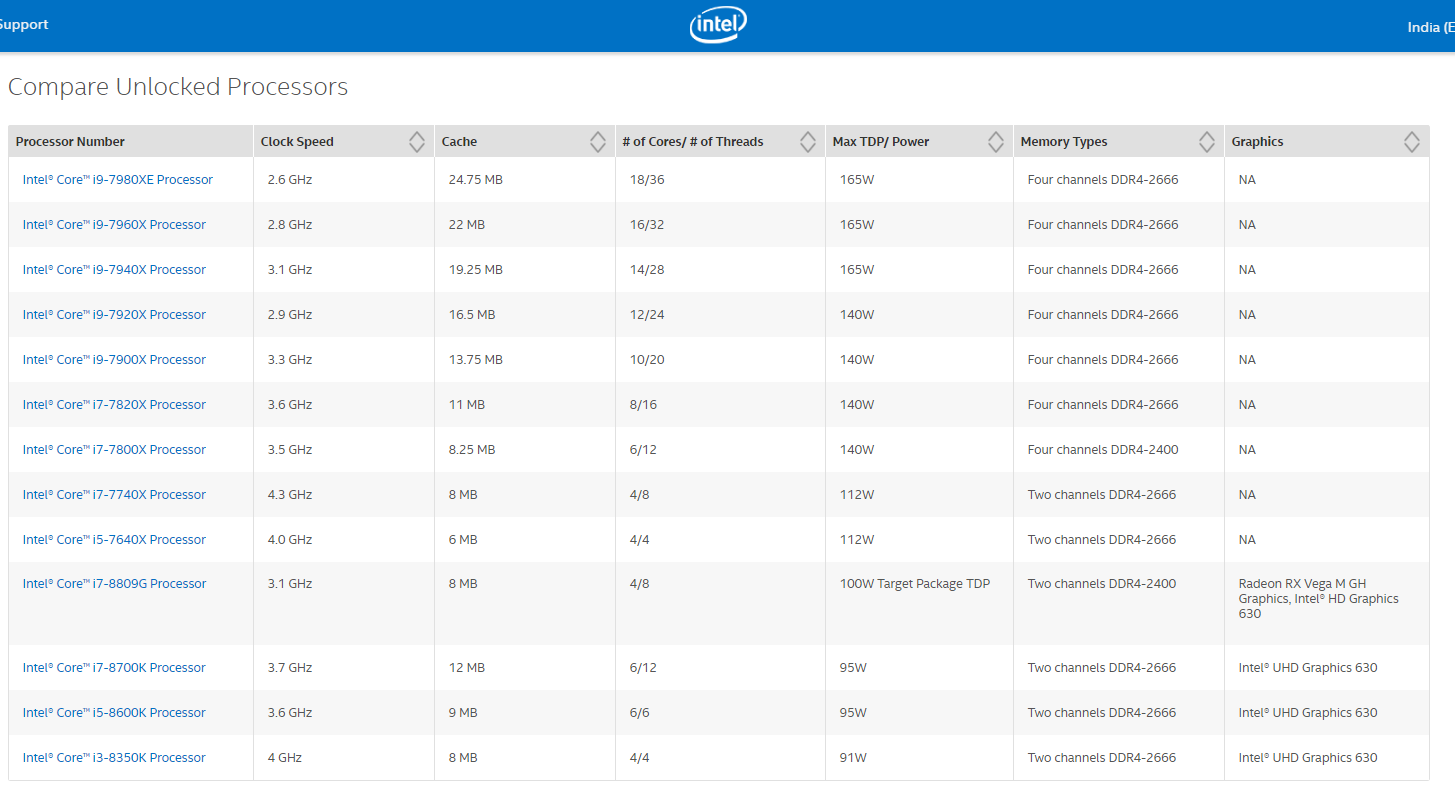 There are a couple of things worth tweezing out of this information.
Core i7-8809G Comparsion
Coffee Lake
Kaby-G
Kaby Lake
i7-8700K
i7-8700
i7-8809G
i7-7700
Cores
6C / 12T
6C / 12T
4C / 8T
4C / 8T
Base Frequency
3.7 GHz
3.2 GHz
3.1 GHz
3.6 GHz
Turbo Boost 2.0
4.7 GHz
4.6 GHz
?
4.2 GHz
L3 Cache
12 MB
12 MB
8 MB
8 MB
DRAM Support
DDR4-2666
DDR4-2666
DDR4-2400
DDR4-2000
Integrated Graphics
UHD 630
UHD 630
HD 630
HD 630
Package Graphics
(pGPU)
-
Radeon RX
Vega M GH
-
PCIe Lanes (CPU)
16
Some to pGPU
16
PCH
300 series
?
200 Series
TDP
95 W
65 W
'100W Target'
65 W
MSRP (box)
$370
$312
?
$312
Looks like Kaby, not Coffee
The fact that it is listed as a Core i7-8000 series processor might make users think that this is a Coffee Lake processor, its most recently launched mainstream processor line that bears the 8000 series name. However, the Coffee Lake based Core i7 parts all have six cores, while this only has four, which would suggest it is more likely to be Kaby Lake processor. Another arrow pointing to Kaby Lake is the fact that the Intel Graphics is called 'HD Graphics 630', which was renamed as UHD Graphics with Coffee Lake. Third arrow is the memory support, which is up to DDR4-2400, matching Kaby Lake whereas Coffee Lake supports DDR4-2666 on its Core i7 parts. Then another nail in this story is that for a longest time, this part has been unofficially named 'Kaby-G'.
Radeon RX Vega M GH Graphics: Vega Confirmed
The AMD graphics portion of the chip is listed as Radeon RX Vega, confirming that it is using AMD's latest Vega architecture. It is called the 'Vega M GH Graphics', which is fairly undefined at this point. The website does not state exactly how many compute units are in the GPU, so it is unclear if 'GH' is going to indicate how powerful it is, or something else.
Back when Intel announced this product was coming to market (without any details of specific numbers), we were told that the graphics would have access to high bandwidth memory, HBM2, and it would be connected to the AMD graphics using Intel's EMIB technology. At this time we still do not have confirmation of how much HBM2 memory is in place with this product, although most media expect it to be 2GB or 4GB.
100W with Core-H CPU: Graphics and HBM to Have Most of That Budget
The '100W Target Package TDP' is also listed differently to the other processors in the table, because with a combined discrete-class GPU on package, the power window will have to be managed appropriately. I suspect that when Intel does actually launch this family of processors, there will be discussions on how the power management of the processor will work and how it will be distributed. This table doesn't give any turbo frequencies, so that might still be being determined at this time to coincide with the power budget.
Intel at the original launch did state that they were using Core-H grade CPUs for the Intel with Radeon Graphics products, which would mean that the CPU portion is around 45W. This would lead to ~55W left for graphics, which would be in the RX 550 level: 8 CUs, 512 SPs, running at 1100 MHz. It is worth nothing that AMD already puts up to 10 Vega CUs in its 15W processors, so with the Intel i7-8809G product Intel has likely has gone wider and slower: judging by the size of the silicon in the mockup, this could be more of a 20-24 CU design built within that 55W-75W window, depending on how the power budget is moved around between CPU and GPU. We await more information, of course.
It's Listed with Socketable Desktop Processors
I would add that the Core i7-8809G is listed in a table with other desktop processors. There are no mobile processors in this table, which one might extrapolate that this processor is aiming for a desktop/socketed motherboard. It would be very easy for Intel to enable this in current Coffee Lake-capable motherboard solutions, as long as the size of the combined package was suitable (and the power management of the Coffee Lake motherboards could cope with the Vega graphics as well as the CPU). Judging by the renders provided by Intel, it doesn't look the case, so it could possibly be that we're looking at a new motherboard/socket combination, or perhaps this will only be sold as an onboard CPU, similar to Intel's Atom processors. Assuming it is made available for home builds at all, that is.
G for Graphics
Back when we found out that Intel was planning to rename it's lower end Xeon lines to Xeon E, we postulated that within the same leak, a bunch of processors with 'G' in the name were perhaps related to special models with extra graphics, most likely ones powered with AMD's Radeon graphics cheap. This listing for the i7-8809G reinforces the case that the 'G' is focusing on the graphics side of the equation (whether the Xeon E parts have Radeon graphics, we do not know yet).
CES Is Next Week
I imagine that this listing will come down fairly quickly. The product page that the link goes to for this chip gives a 404. The annual CES show is next week, which would be a prime time for Intel to announce this new product. We are in the process of reaching out to Intel for information.
Intel's official statement on the original announcement was:
'The new product, which will be part of our 8th Gen Intel Core family, brings together our high-performing Intel Core H-series processor, second generation High Bandwidth Memory (HBM2) and a custom-to-Intel third-party discrete graphics chip from AMD's Radeon Technologies Group* – all in a single processor package.'

'In close collaboration, we designed a new semi-custom graphics chip, which means this is also a great example of how we can compete and work together, ultimately delivering innovation that is good for consumers… Similarly, the power sharing framework is a new connection tailor-made by Intel among the processor, discrete graphics chip and dedicated graphics memory. We've added unique software drivers and interfaces to this semi-custom discrete GPU that coordinate information among all three elements of the platform.'
Many thanks to SH SOTN for the tip.
Related Reading
Source: Intel India
Additional (9:05pm):
According to some other media, the 8809G will turbo to 4.1 GHz, while the graphics will feature 24 CUs (1536 SPs) running at 1190 MHz while the HBM2 is 4GB and will run at 800 MHz. The same media are also listing the Core i7-8705G (20 CUs, 1000 MHz on 'Vega M GL', 700 MHz on HBM2) and a Core i7-8706G. None of the information from those sources is yet to be verified by AnandTech or found on an official Intel webpage.