AnandTech Storage Bench - Heavy
Our Heavy storage benchmark is proportionally more write-heavy than The Destroyer, but much shorter overall. The total writes in the Heavy test aren't enough to fill the drive, so performance never drops down to steady state. This test is far more representative of a power user's day to day usage, and is heavily influenced by the drive's peak performance. The Heavy workload test details can be found here. This test is run twice, once on a freshly erased drive and once after filling the drive with sequential writes.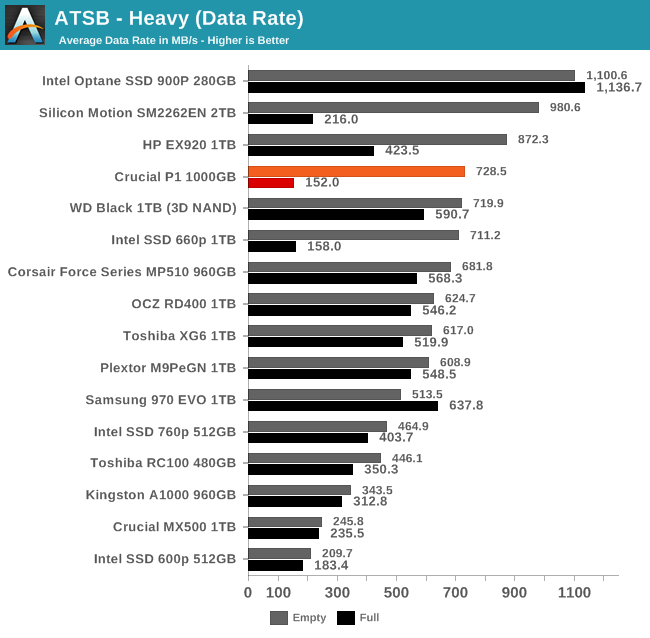 When the Heavy test is run on an empty drive, the large SLC cache of the Crucial P1 enables it to deliver an average data rate that is competitive with most high-end NVMe SSDs. When the drive is full and the SLC cache's size is greatly reduced, the performance drops to well below that of a typical mainstream SATA SSD. This behavior is essentially the same as that shown by the Intel 660p.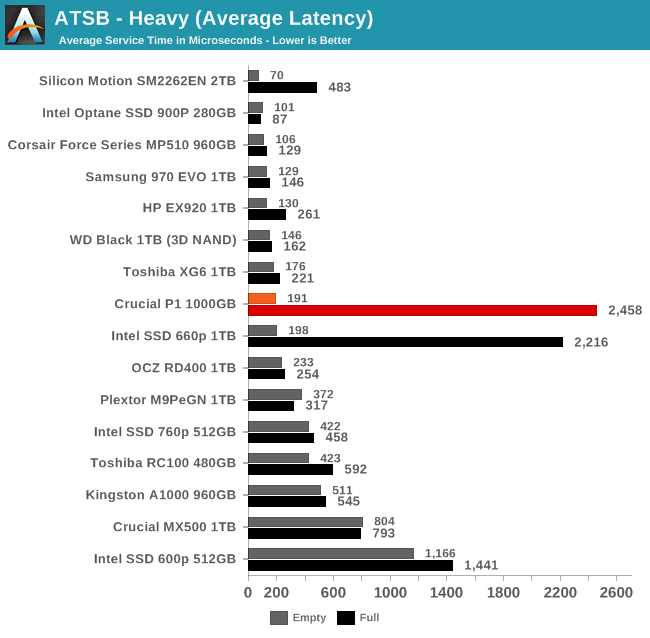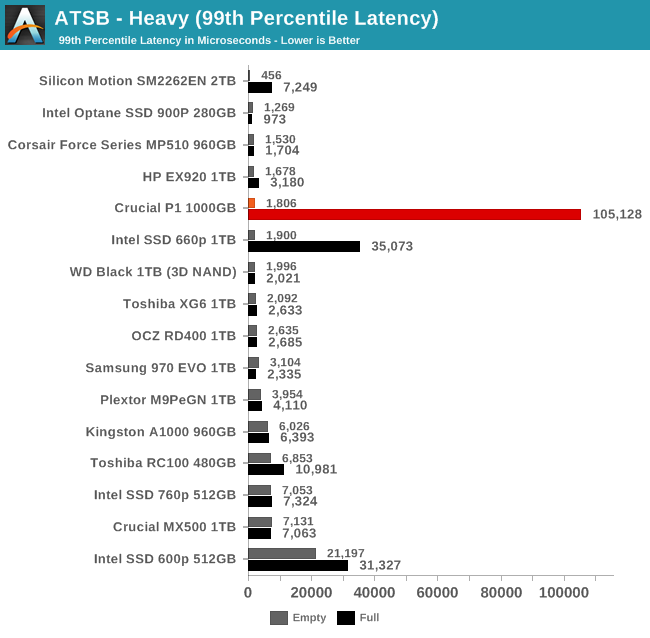 The empty-drive run of the Heavy test doesn't push the latency of the Crucial P1 up any higher than is typical for high-end NVMe drives. Things get more interesting on the full-drive test run, where the average latency from the P1 increases by a factor of 12 and the 99th percentile latency increases by a factor of 58. The average latency from the P1 is only slightly worse than the Intel 660p, but the 99th percentile score is three times that of the 660p.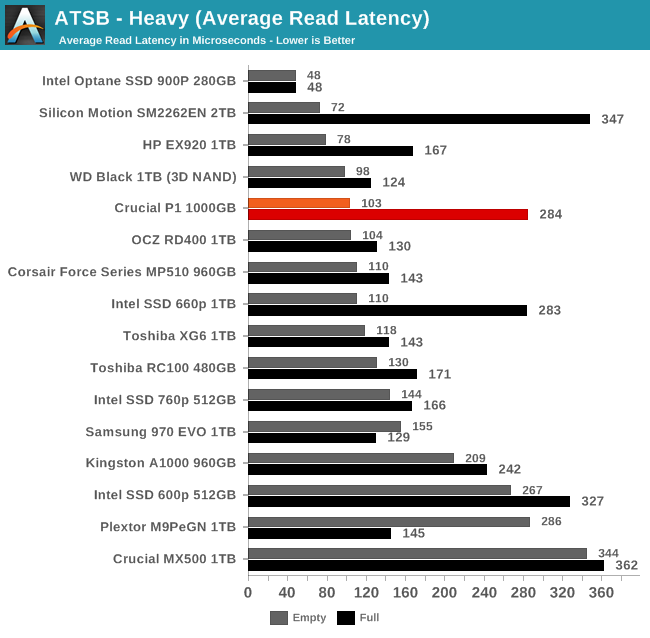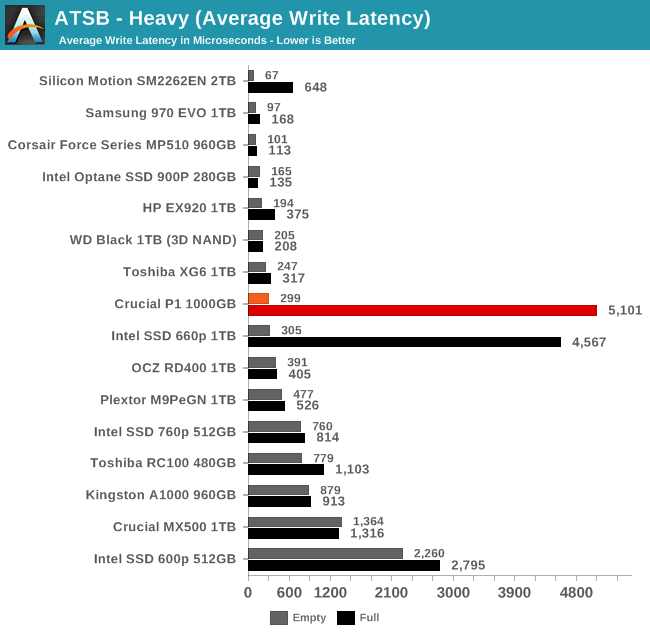 The average read latency of the Crucial P1 is significantly affected by whether the test is run on a full or empty drive, but even the worse of the two scores is still clearly better than what the Crucial MX500 manages. On the write side of thing, filling the drive has an almost catastrophic effect on latency, driving the average up by a factor of 17, an even more severe impact than the Intel 660p shows.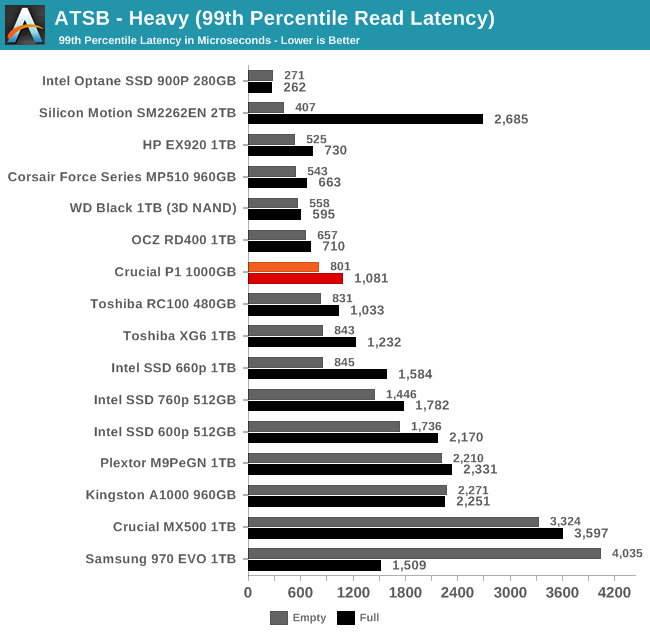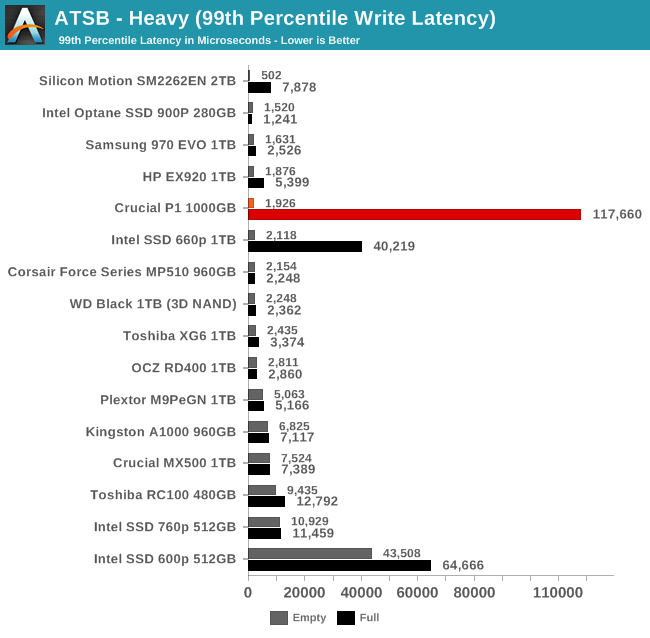 The 99th percentile read latency from the Crucial P1 is typical for high-end NVMe SSDs for both the full and empty drive test runs. The high overall 99th percentile latency is due entirely to the write portion, where filling the drive increases 99th percentile write latency by almost two orders of magnitude.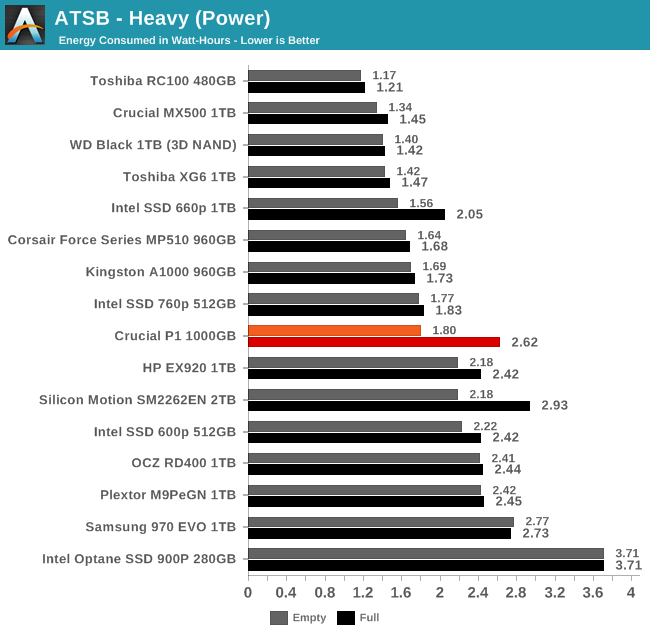 The total energy consumption of the Crucial P1 during the Heavy test is significantly higher than for the Intel 660p, and the difference between the empty and full drive test runs is larger for the P1 than for any other drive.