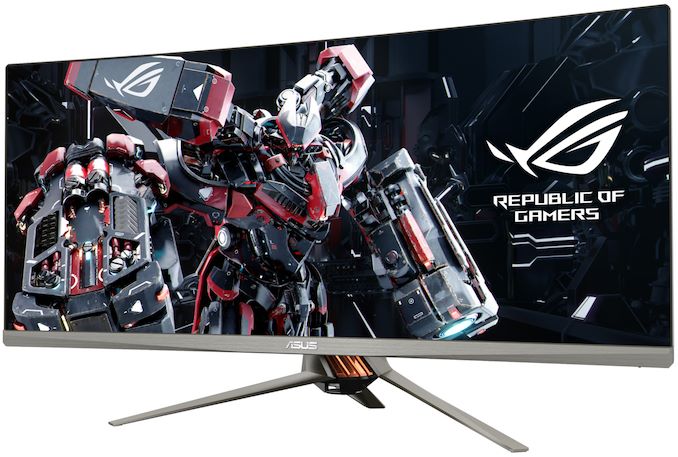 The number of news stories about gaming displays that we post has increased significantly in the past couple of years. Established suppliers have broadened their lineups of gaming LCDs, and meanwhile new players have decided to join the party. Apparently, our coverage has been reflecting market sales trends, as sales of such monitors have been increasing at a rapid pace. According to WitsView, shipments of displays with a 100 Hz refresh rate or higher (i.e., gaming LCDs) will exceed five million units in 2018. Moreover, over half of them will be curved monitors.
Curved Gaming LCDs Leave Flat Displays Behind
Global sales of gaming displays with high refresh rates are expected to reach 5.1 million units in 2018, an annual growth of 100%, reports WitsView, a division of TrendForce. This is still a small fraction of the 126 million total LCDs projected to be sold in 2018 (up 1.5% year-over-year), according to the company. The researchers attribute the growing demand for displays with high refresh rates to recommendations from game developers, with groups such as the PlayerUnknown's Battlegrounds devs recommended 144 Hz+ displays. Meanwhile, it is evident that as the number of available models on the market is increasing, their prices are getting lower and gamers are more inclined to buy them.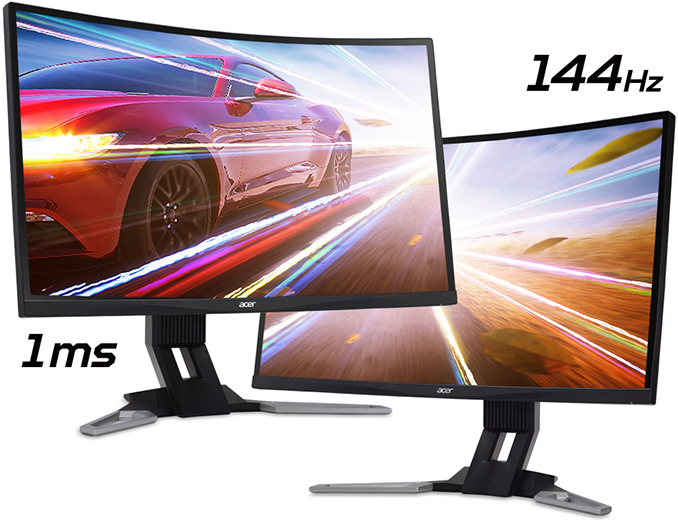 One interesting point about gaming displays in general is that 54% of gaming LCDs sold this year will be curved monitors, leaving only 46% of them to be flat. Last year 77% of gaming displays were flat and only 23% were curved, according to WitsView. Shipments of around 2.75 million units is a big win for curved LCDs at large. In fact, keeping in mind that there are even more numerous curved models with refresh rates below 100 Hz, it is safe to say that sales of such displays in general will clearly surpass 5 million units, up from around a million in 2015. Since price difference between curved and flat monitors is diminishing, curved displays are no longer penalized with a price premium.
ASUS Leading the Pack
When it comes to suppliers of gaming displays, ASUS has been leading the pack for quite a while now, and this year was no exception. Acer maintained its second spot in 2018. By contrast, BenQ left the Top 4 and the third place now belongs to TPV, which sells products under AOC and Philips brands and is particularly successful in the Chinese, European, and APAC markets. Samsung moved up to fourth place (from the No. 5 spot) after expanding its gaming lineup with numerous new models in 2017 – 2018 timeframe, including the world's first FreeSync 2-supporting monitors and numerous curved models of various sizes. It is noteworthy that 95% of Samsung's gaming displays are curved.
Top Suppliers of Gaming LCDs in 2017 - 2018
Data by WitsView, December 2018
Ranking
2017
2018
Estimation
1
ASUS
ASUS
2
Acer
Acer
3
BenQ
AOC/Philips
4
AOC/Philips
Samsung
Shipments
2.5 million
5.1 million
Other vendors with impressive sales growth in 2018 noted by WitsView are MSI, HKC, and SDC. The latter two are particularly successful in China, whereas MSI is promoting its Optix gaming displays globally. Meanwhile, general LCD market leaders like Dell, HP, Lenovo, and LG are not exactly among the frontrunners on the market of gaming monitors.
Top LCD Suppliers: 2017 - 2018
Data by WitsView, October 2018
2017
2018
(Estimated)
Ranking
Brand
Market Share
Ranking
Brand
Market Share
1
Dell
18.5%
1
Dell
19.6%
2
AOC/Philips
13.5%
2
HP
13.8%
3
HP
12.7%
3
AOC/Philips
13.1%
4
Lenovo
9.8%
4
Lenovo
9.6%
5
Samsung
9.6%
5
LG
8.7%
6
LG
9.3%
6
Samsung
7.6%
7
Acer
6.0%
7
Acer
6.8%
Others
-
20.5%
Others
-
20.8%
Shipments
-
123.7 million
Shipments
-
125.6 million
Related Reading:
Source: WitsView/TrendForce