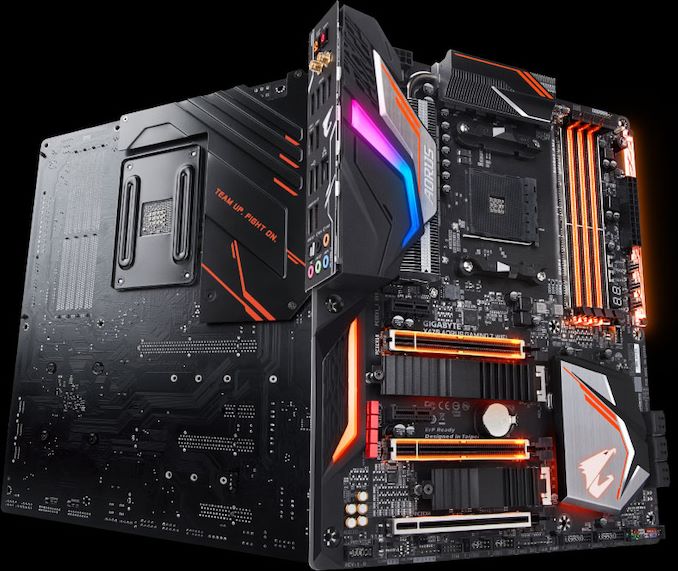 In preparation for the launch of AMD's next generation of Ryzen processors, GIGABYTE has released a wave of firmware updates for its X470 and B450 AM4 socket motherboards. The new firmware adds listed support for AMD's Ryzen 3000 series (Matisse) processors prior to launch.
GIGABYTE has launched its own firmware updates offering users support AMD's upcoming Ryzen 3000 series processors. This not only means users can use their existing AM4 motherboards with the upcoming CPUs when they launch later this year, but upon some investigation with a GIGABYTE X470 Gaming 7 Wi-Fi motherboard we had in the lab, I flashed it to the latest F40 firmware update, and found that PCIe 4.0 could be set within the PCIe slot configurator.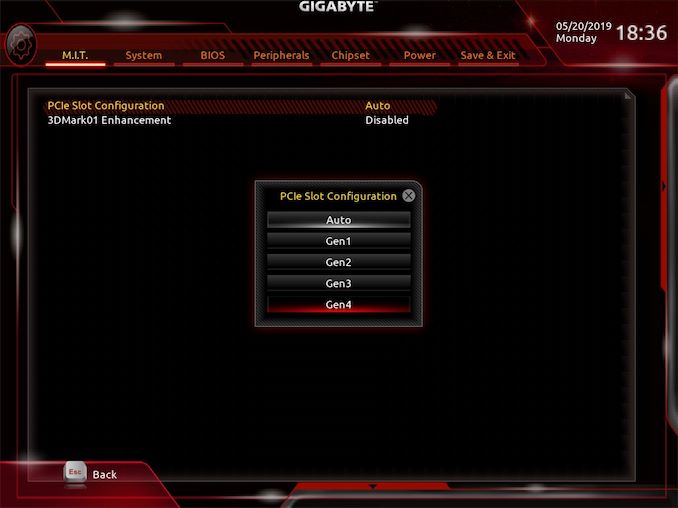 GIGABYTE X470 Gaming 7 Wi-Fi running the latest F40 firmware confirms some PCIe 4.0 support
While there is no official confirmation from GIGABYTE itself (or from any of the other vendors for that fact), PCIe 4.0 support on current generation AM4 motherboards will be done on a model by model basis. Back at CES 2019, we confirmed that AMD's 3000 series CPUs would become the world's first mainstream CPU to support PCIe 4.0 x16. However, PCIe 4.0 support on current motherboards in the market will depend on how they are built: PCIe 4.0 specifications state that traces should be under a minimum length, and any longer requires a PCIe 4.0 redriver to boost the signal further down the board. Due to this, it is probable, but not confirmed that some existing X370, B350, X470 and B450 models may not offer the full capacity of PCIe 4.0 that Ryzen 3000 is expected to see when it is launched in the coming months.
As there is a lot of speculation around AMD's Ryzen 3000 series, X570, and which current generation AM4 motherboards will support the new PCIe 4.0 interface, it's clear that it will feature in some capacity. In what capacity exactly is currently unknown. Given the limitations, PCIe 4.0 might be limited to the top slot on most motherboards. Without existing redrivers on the lower located slots of ATX sized AM4 models, it wouldn't actually be possible to benefit from PCIe 4.0 with the distance restriction in play for an effective signal. This would mean that the top slot could operate at PCIe 4.0, whereas each of the other slots below would be locked down to PCIe 3.0 by default. Obviously new X570 boards will be built with this in mind.
The wave of F40 firmware updates can be downloaded from the relative product pages of each of the current GIGABYTE B450 and X470 models. GIGABYTE has also made us aware that we can expect similar firmware updates for its B350 and X370 models at the end of the month.
Related Reading
Source: GIGABYTE