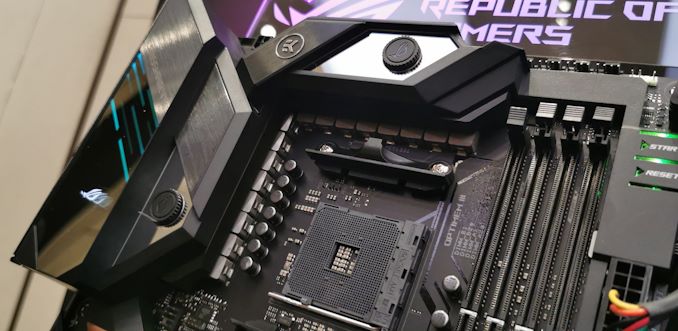 During Computex 2019, ASUS has unveiled a series of new AM4 motherboards designed for the impending Ryzen 3000 series processors. The top tier X570 Crosshair VIII Formula model features dual PCIe 4.0 M.2, Aquantia AQC111 5 GbE, as well as the new Intel AX200 Wi-Fi 6 interface for cutting edge network connectivity.
The ASUS ROG X570 Crosshair VIII Formula represents its high-end X570 entry onto the market with some very notable features, including a revamped design with a strong focus on performance, and ROG themed aesthetics. First of all, the ROG Crosshair VIII Formula uses EKWB heatsinks which can be connected to a custom water cooling loop for better power delivery temperatures, or as passive cooled. This has been seen on numerous iterations of its Maximus Formula boards created for Intel chipsets. This marks a shifting tide where ASUS seem to have confidence in AMD and the ability of its 7nm Ryzen 3000 processors, by opting for such a premium model for the X570 chipset. Also featured are a LiveDash OLED screen, a full metal backplate for a more rigid frame, and ROG armor across the majority of the PCB; not to forget about the swathe of RGB LED zones and the integrated fan within the chipset heatsink.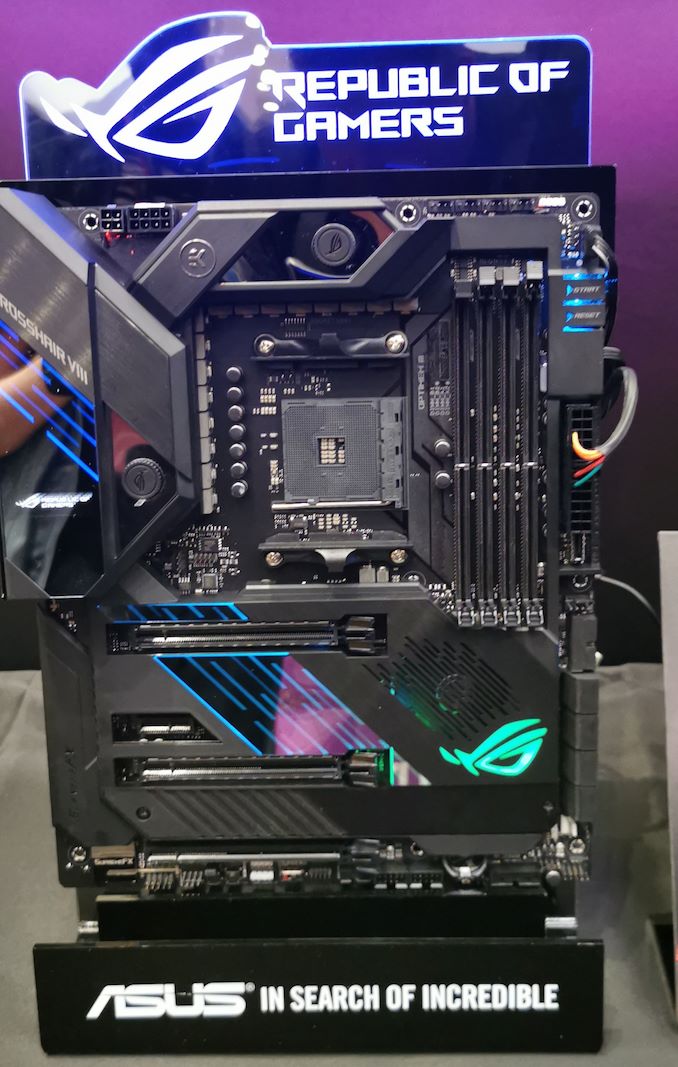 (apologies for the image quality, it was a busy post-presentation melee to get photos. Will try and get better ones at the booth later this week.)
One of the main focal points of the X570 chipset is its native PCIe 4.0 support. The ASUS ROG Crosshair VIII Formula has three-full length PCIe 4.0 slots operating at x16, x8/x8, and x8/x8/x4, with the final x4 coming from the chipset. This allows users to use two-way NVIDIA SLI and two-way AMD Crossfire multi-graphics card configurations. For add-on cards, a single PCIe 4.0 x1 slot is also present. There are also four DDR4 memory slots with a maximum supported capacity of up to 128 GB.

On the componentry, the Crosshair VIII Formula uses a premium controller set with the most notable inclusions coming on the networking side. An Aquantia AQC111 5 GbE controller with a secondary Intel I211AT gigabit chip offers users dual LAN, but more impressively, ASUS has jumped onto the Wi-Fi 6 bandwagon by including the new Intel AX200 2x2 Wi-Fi adapter. The onboard audio is controlled by the Realtek SupremeFX S1220 HD audio codec. On the rear panel is a wide array of connections including seven USB 3.1 G2 Type-A, one USB 3.1 G2 Type-C, and four USB 3.1 G1 Type-A ports. Users can add to this with one USB 3.1 G2, two USB 3.1 G1 and two USB 2.0 front panel headers, with the USB 3.1 G2 offering one additional port, and the rest each offering an additional two ports per header.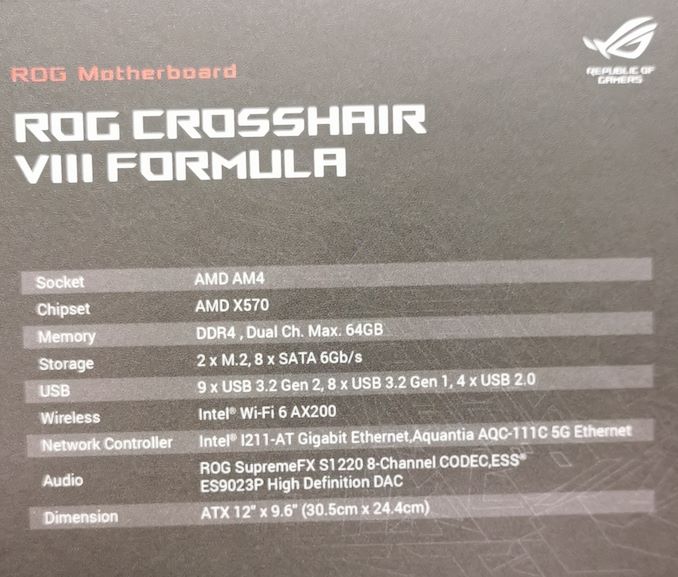 Pricing and availability are currently unknown at present, but it is likely that the ROG Crosshair VIII Formula, along with its other X570 models will be available prior to the launch of the AMD Ryzen 3000 series processors on 7/7.
Want to keep up to date with all of our Computex 2019 Coverage?

Laptops

Hardware

Chips
Follow AnandTech's breaking news here!