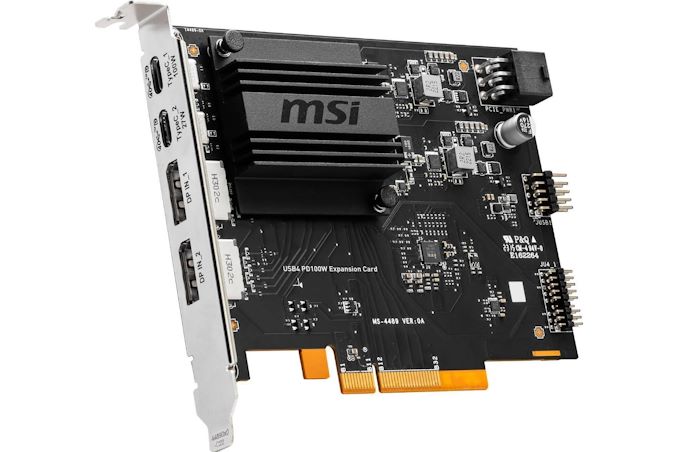 For Computex 2023, MSI is introducing an interesting USB4 PCIe expansion card. The card not only offers two full-bandwidth USB4 40Gbps Type-C ports, but the card can also deliver up to 100W of power to a device connected to it, allowing it to be used to power high-drain devices like laptops.
The MSI USB4 PD100W Expansion Card (MS-4489) has two DisplayPort inputs as well as two USB Type-C connectors. The Type-C ports support USB data rates up to40 Gbps, but also supports DP alt mode and USB power delivery.
What really makes this card notable are those power delivery capabilities; most USB4/Thunderbolt 4 expansion cards are PCIe bus-powered, and can only deliver up to 15 Watts or so. MSI's card, on the other hand, can deliver up to 100 Watts of power on its best Type-C port, which is enough power for charging a high-performance notebook or powering something demanding (e.g., a display). Meanwhile the card's second Type-C port can deliver up to 27 Watts, which is enough for smartphones and other mid-power periphreals.
The card uses a physical PCIe x8 form factor, with what looks to be an electrical x4 interface. MSI has disclosed that it's using a PCIe 4.0 connection, though for they moment they have't disclosed whose USB4 controller they're using. PCIe 4.0 x4 is sufficient to fully drive a 40Gbps port and then some; but it'll fall a bit short of simulaneously driving both ports at their maximum data transfer rates (assuming you even have a workload that can fully saturate the links).
Menawhile, as this USB4 host card goes above and beyond the amount of power a PCIe slot can provide, the card also has a six-pin auxiliary PCIe connector to supply the remaining power. Per the PCIe specificaiton, a x4 card can draw up to 25W from the slot, so the 75W auxillery connector brings the card to its 100W limit. Though this also means that if MSI is sticking to the PCIe spec, then they can't deliver a full 100W + 27W at the same time.
MSI's USB4 PD100W Expansion Card is mainly aimed at users who need to attach bandwidth demanding peripherals (such as direct attached storage or some professional equipment) and USB-C displays to their desktop PCs. The board will serve equally well both the latest PCs that do not support USB4 connectors (or need extra Type-C ports) and machines that are already is use and need to gain advanced connectivity.
MSI does not disclose pricing of its USB4 expansion card or when it is set to be available, though we would expect it to be priced competitively against similar Thunderbolt 3/4 expansion cards that have been available for some time.
Source: MSI