Third Party Memory Modules
As we noted in our initial Mac Pro article, Apple's memory upgrades are pretty expensive and other than a fancy heatsink, they are standard DDR2 FB-DIMMs. We wondered if we could buy third party memory from companies like Crucial or Kinston, with much better prices, and use it in the Mac Pro. We got 512MB, 1GB and 2GB FB-DIMM modules from Crucial with standard heatspreaders and tried them in the Mac Pro. Thankfully the memory worked just fine, however we did have concerns about cooling. Apple clearly outfitted its FB-DIMM modules with a very large heatsink for a reason and it wasn't for bragging rights.
We had no problems running all of our benchmarks with the standard Crucial FB-DIMMs; however, if we ran a memory stress test for even just a short period of time the modules quickly reported correctable ECC errors. Apple's original modules did not generate any ECC errors, so it looks like the additional cooling is necessary under the most extreme situations.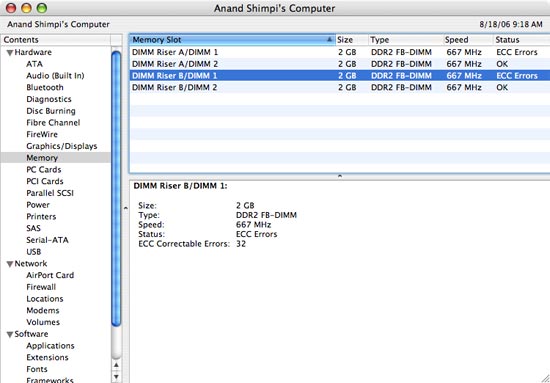 In response to the issues, companies like Crucial have released revised FB-DIMMs that meet Apple's thermal specifications. We have yet to receive any for review but we're assuming that they will work fine given that Crucial guarantees proper operation in a Mac Pro. So although regular FB-DIMMs that work in other Intel 5000X based motherboards will work in the Mac Pro, we would suggest selecting modules that meet Apple's thermal specifications in order to be on the safe side.