The Acer 5551G Experience
So before we get to the benchmarks, let's take a moment to discuss the Acer experience. We've used quite a few laptops and things actually appear to have changed since the last time we tested an Acer system. Unfortunately, the changes aren't all for the better.
Starting from the top, the initial setup of the 5551G takes a very long time. After creating a user name/password, there's a about a three minute delay. Then Windows logs in, finalizes the setup, and an Acer application launches that proceeds to install 26 applications and utilities. Some of these are useful (power management, touchpad drivers, web camera drivers, etc.), but it appears that Acer installs some drivers multiple times—or they install multiple driver sets rather than customizing according to what hardware is actually present. As an example, I saw two different touchpad installs go by in the list, and at least three WiFi utilities. There are also other applications that aren't nearly so useful, like Windows Live Essentials and Windows Live Mail (yes, two separate installs that need to be updated via Windows Updates when you're finished). Works 2009SE is another questionable application, but if you don't have MS Office and you're not willing to use the free OpenOffice.org, perhaps it can be of use. What's more, the installer takes almost 30 minutes to complete. Why couldn't all of these applications and drivers be rolled into the original disk image so that the customer doesn't have to wait? The last Acer laptop I recall testing only took about 5 minutes from first-boot to usable, so this is a clear regression.
And let's talk about bloatware for a minute. Once the whole install process is complete, you're greeted by a "clean" system that boots with no fewer than 65 running processes. Desktop icons include Acer Games (Wild Tangent), eBay, McAfee Internet Security, a 60-day trial for Office 2007 (what, no Office 2010 Starter?), Netflix, and Norton Online Backup. Yeah, all of those can go as far as we're concerned, so plan on another hour or so uninstalling unwanted applications. Good times! Our uninstall list also includes Google Toolbar for IE, Norton Online Backup, MyWinLocker Suite, and of course the big one: McAfee Internet Security Suite. Depending on your view of their usefulness, you might also uninstall Acer Backup Manager, Acer eRecovery Management, Acer Games, Acer Registration, Acer Screensaver, Acer Updater, eBay Worldwide, eSobi, Identity Card (Acer), Welcome Center (Acer), and Windows Live Essentials/Sign-In Assistant/Sync/Upload Tool. Since we want a clean system, we removed all of the above. Leaving on the Acer Power utility, we still drop down to a much leaner 45 running processes when we're finished.
So that's the bad news: we have another bloated OEM configuration that takes far too long to get running. From first boot to cleaned up installation, we're looking at about two hours of work. If you have a Windows 7 DVD, you could easily do a clean install, download all the necessary drivers and updates, and be using your new laptop far quicker.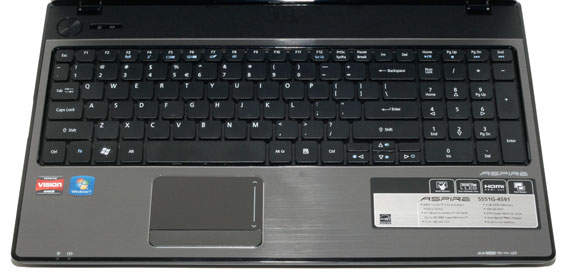 What about the good news? There are a few definite improvements over previous Acer laptops. The chassis ditches much of the glossy plastic and you get an aluminum palm rest, the LCD lid no longer has a curved/bubble design, and the palm rest has near-right-angle corners compared to the more rounded design of the previous generation. We're pleased with all of those changes, though opinions on aesthetics naturally vary.
Unfortunately, we're greeted by the same old keyboard layout with the "floating island" keys—a poor take on chiclet in our view, and we don't even think good chiclet designs are the best. Dustin and Vivek can't stand the keyboard; I'm a little more lenient, but I'd definitely recommend trying it out in person because there are people that will hate the keyboard. Also, and I know this is going to come as a shock, the LCD is a typical 768p glossy display with poor black (gray) levels that result in a mediocre contrast ratio. What's more, once again the only glossy plastic is on the LCD bezel. I suppose there's some nice symmetry in having a glossy panel with a glossy bezel—if you like fingerprints on the bezel at least.
Expansion options are generally limited; oddly enough there looks to be a second spot for a mini-PCIe card in the top-left corner under a small hatch, but there's no actual PCIe connector. The rest of the internals are under a larger cover, providing easy access to the HDD, RAM, and WiFi mini-PCIe adapter.
Overall, I don't generally have a problem using the laptop; the touchpad is fine if unremarkable, and all of the necessary features worked without a hitch. If you're not a fan of previous Acer laptops, it's doubtful you'll be any happier with the 5551G. It's still plastic, there's some keyboard flex, the keys on the keyboard don't have very good action, and the LCD is at best average. The good aspects come in the form of the internal hardware, where you get AMD's dual-core Athlon II P520 coupled to an HD 5650 GPU. Perhaps even more surprising is that even at full tilt, the 5551G runs very quiet and temperatures remain reasonable.
So, we're here today to see what this hardware combination can do for AMD's mobile sector. We complained that the quad-core P920 clocked at 1.6GHz was simply too slow at times, and we wondered if a dual-core P520 wouldn't be a better fit. Lo and behold, that's what we have in the 5551G-4591 and if that's not enough to pique your interest, the price comes in at a svelte $600 at the time of writing. We can complain a lot about build quality being sub-par, or the keyboard being horrible, or tons of bloatware…but when the price is $50 to $150 less than any comparable laptop in terms of graphics performance, we're willing to forgive quite a lot. It would be great if Newegg or someone else can get more of the 5551G-4591 in stock; but even if you can't find this unit, other laptops like the HP dv6z have similar specs (albeit at a higher price). Availability concerns aside, let's look at how the 5650+P520 combo performs.