With recent reports showing a profit for AMD from Llano, we can safely say that the processors, and thus the chipsets, are selling. As a result, we have taken a full size A75 board each from ASUS and Gigabyte, in the $115-$120 range, and put them through their paces to see which one we would use. Results show that these boards are quite different in terms of performance and usability!
Overview of the ASUS F1A75-V Pro
Having had a play around with the ASUS board for a while, I can tell you it feels pretty solid as a platform for A75. There are a lot of features here, and the system provides the distinct ASUS stability and usability that we expect.
A few points are of note. The second PCIe x16 is actually runs at x4, limiting any dual GPU solutions that don't use the APU, but on the plus side the board has all six SATA 6 Gbps ports from the FCH and another from an ASMedia controller—but this seventh would be covered by any long GPU in the first x16 slot. Also of interest is that this board does not have a Firewire port or header.
Software is good with the ASUS board, with options for the fan controls still being some of the best we have ever seen. Though as with the F1A75-I Deluxe I reviewed earlier there is a DPC Latency issue when the ASUS Suite II software is run. The BIOS still covers almost all the bases we want in a BIOS.
Visual Inspection
Out of the anti-static bag, this board feels refined. The stark black PCB with ASUS blues gives it a sturdy feel. Instantly noticeable is that the VRM heatsink and the FCH heatsink are connected by a thin heatpipe. Neither is substantial in size, however spreading the heat from heavy CPU or heavy I/O usage is always a good idea.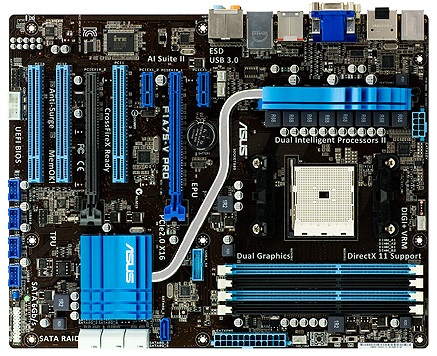 Around the socket itself are four fan headers, two above the first PCIe x1, one north of the CPU, and another tucked in beside the 24-pin ATX power connector. The four DDR3 DIMM slots have alternating latches, with the thicker ones indicating which banks to fill in first. To the right of the DIMMs we see ASUS' dual intelligent processor switches, one controlling the EPU (energy saver) and the other being the TPU (turbo unit). These are now standard on a range of ASUS boards. Rather than a standard switch, personally I would prefer buttons with an LED to indicate if they are on or not. Next to these is a MEM OK button, which when pressed should default memory settings if they are incompatible or set too high.
Rather than split the 6 FCH SATA 6 Gbps ports between the board and eSATA as the Gigabyte board has done, ASUS have kept all 6 on board and added in an ASMedia SATA controller for a total of 7 ports on the board and one eSATA on the back. As one would expect, this extra controller does not get included in hardware RAID setups, but the six from the FCH support RAID 0, 1 and 10. However, the extra SATA port on board is blocked when a full-length GPU is used in the top PCIe x16 slot.
ASUS have stuck with ASMedia in their USB 3.0 controllers, with a header available between the DIMMs and the FCH. It seems in a slightly odd place, about an inch inside the edge of the board—usually they are placed on the bottom for a back panel connector or near the edge for a front panel connector. This is definitely in front panel territory, which is a shame that no USB 3.0 front panel device is included with the board, but given this is a ~$120 product, to ask for one would perhaps be asking too much.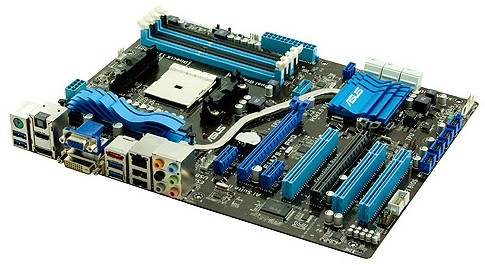 Along the bottom are four USB 2.0 headers, as well as the front panel array, a COM header, S/PDIF out and front panel audio. Above these is the PCIe layout, which differs from the Gigabyte board. Here we have a PCIe x1, a PCIe x16 (which when populated with a full length GPU would cover the onboard ASMedia SATA port), another PCIe x1, a PCI, another PCIe x16 (electrically limited to x8, hardware limited to x4), and two more PCI slots.
The second PCIe x1 actually shares data lanes with the second PCIe x16, so when using two single lane GPUs for CrossFireX, this PCIe 1x becomes unavailable. However the first PCIe x1 can still be used.

The back panel is fairly standard with no surprises—a PS/2 connector; two USB 3.0 ports; an optical S/PDIF output; HDMI, DisplayPort, DVI-D and D-Sub video outputs; two USB 3.0 ports; an eSATA 6 Gbps; Gigabit Ethernet (Realtek 8111E); another two USB 2.0 ports and standard audio headers. I would have liked to see a Clear CMOS button, but with the IO this packed, I do not think there is space for it, unless they removed some features.