ARM's licensed CPU cores dominate the mobile space. This year the core of choice for high-end smartphones and tablets is ARM's Cortex A9 and late next year it'll be the Cortex A15. ARM also offers GPU cores to its partners, although we've seen far more limited adoption compared to its CPU offerings. The limited adoption has nothing to do with a lack of performance though as we found in our review of Samsung's Galaxy S 2. ARM's Mali-400 MP4 is the fastest GPU we've tested on Android and second to only Imagination Technologies' PowerVR SGX 543MP2 across all of our mobile data.
The Mali-400, like NVIDIA's GeForce used in Tegra 2/3, doesn't feature a unified shader architecture - it has discrete pixel and vertex shader hardware. The Mali-400 is the last implementation of what ARM calls its Utgard architecture. Next year we'll see the Mali-400's successor: the Mali-T604.
The Mali-T604 was announced last year and it's the first implementation of ARM's new Midgard architecture. The T604 appears to be ARM's first unified shader architecture. Each T604 core is a combination of two arithmetic pipes and one texture pipe, although the width and capabilities of each are unknown. Like the Mali-400, the Mali-T604 will be available in 1 - 4 core configurations. The first T604 based SoCs will be available in the second half of 2012 on 28/32nm silicon. ARM is promising up to 68 GFLOPS of compute from T604 (presumably that's for a 4-core configuration at high clocks).
What comes after T604? ARM's Mali-T658 of course.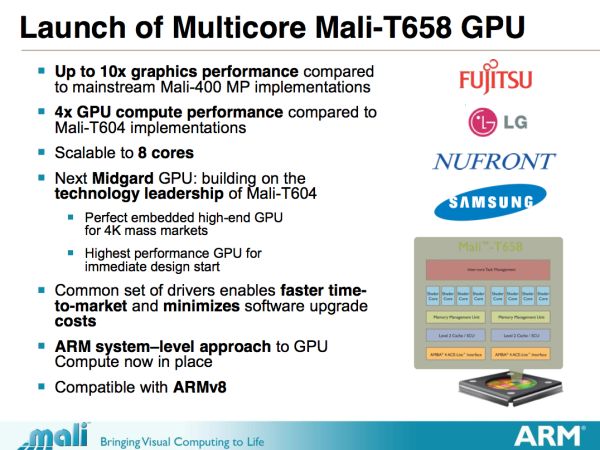 The T658 is a second generation Midgard implementation with twice the arithmetic pipes per core compared to the T604. ARM also enables up to 8-core configurations with T658. We'll see the first T658 implementations on 28/32nm sometime in 2013. It's unclear what other architectural changes have been made compared to the T604, but at bare minimum we can hope for a doubling of execution resources. ARM is promising up to a 10x increase in performance compared to "mainstream" Mali-400 implementations (perhaps single-core Mali-400).
Samsung is listed as a launch partner for Mali-T658, which isn't surprising given the company's use of Mali-400 in its Exynos 4210 (the SoC inside many of the Galaxy S 2s).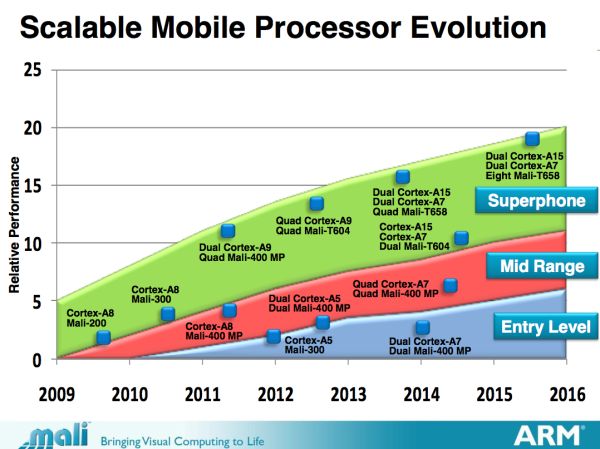 It's good to see ARM continue the evolution of its Mali graphics cores. Unlike in the PC market, there's almost no coupling between CPU and GPU IP providers in the mobile SoC space. ARM hopes to change that by offering very compelling GPUs in addition to its widely used CPUs cores. Since everything is already on a single chip however, it's unclear whether the mobile market will follow the same path - at least in the near term. The Mali-T604 and T658 will have their work cut out for them. There are new GPUs from Imagination, NVIDIA and Qualcomm that will be out over the next two years as well.