Introducing the Toshiba Portege Z835
Intel's Ultrabook initiative is a curious one, one that's very gradually picking up interest among vendors. We've already had a chance to take a look at the smaller of the two units from the typically early-out-of-the-gate ASUS, and we know there are other ultrabooks out there from Lenovo and Acer, with only Dell opting to sit out of this round, unconvinced of the viability of Intel's plan. Today, in true Toshiba fashion, we get a chance to look at a more budget-oriented (or at least as budget-oriented as an ultrabook can be) unit: Toshiba's entry-level Portege Z835-P330.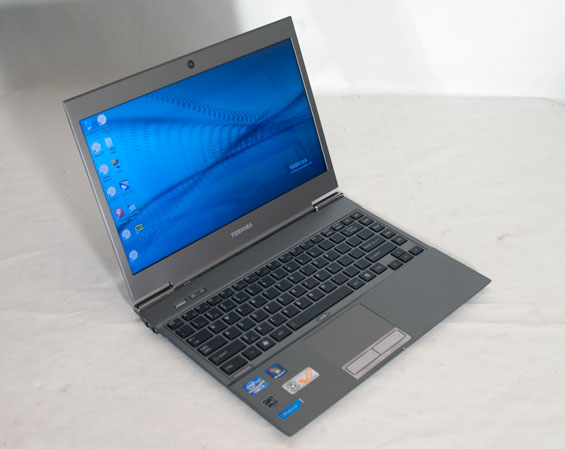 Honestly the impressions start before it even gets out of the box, just because the box itself is so unusually small that you wonder how it could possibly hold a computer. But sure enough, once you open it up you'll see Toshiba's sliver of a notebook. Even if you're used to the MacBook Air, getting an ultrabook in your hands is an interesting experience. It barely weighs anything, and the profile is slim to be sure. It's a testament to how technology has evolved that a notebook like this is even possible, but there were definitely sacrifices made.
Toshiba Portege Z835-P330 Specifications
Processor
Intel Core i3-2367M
(2x1.4GHz + HTT, 32nm, 3MB L3, 17W)
Chipset
Intel HM65
Memory
2x2GB Samsung DDR3-1333 (Max 6GB)
Graphics
Intel HD 3000 Graphics
(12 EUs, up to 1GHz)
Display
13.3" LED Glossy 16:9 768p
TOS5091
Hard Drive(s)
128GB Toshiba SG2 mSATA 3Gbps SSD
(rated 180MB/sec read, 70MB/sec write)
Optical Drive
-
Networking
Intel 82579V Gigabit Ethernet
Intel WiFi Link 1000 802.11b/g/n
Audio
Realtek ALC269 HD Audio
Stereo speakers
Mic and headphone jacks
Battery
8-Cell, 14.8V, 47Wh
Front Side
N/A (Speaker grilles)
Right Side
USB 3.0
Kensington lock
Left Side
Mic and headphone jacks
SD card reader
Back Side
Ethernet jack
Exhaust vent
2x USB 2.0 (one USB charge)
HDMI
AC adaptor
VGA
Operating System
Windows 7 Home Premium 64-bit SP1
Dimensions
12.4" x 8.9" x 0.63" (WxDxH)
Weight
2.4 lbs
Extras
Webcam
Backlit keyboard
SD card reader
USB 3.0
Warranty
1-year standard warranty
Pricing
Starting at $799
Starting at the top of the Toshiba Portege Z830, we have arguably its weakest link: the Intel Core i3-2367M. This processor may be Sandy Bridge hardware, but the anemic 1.4GHz clock speed on the two cores is pretty brutal, and the lack of Turbo Boost (a feature reserved for i5 and i7 processors) only exacerbates things. For basic netbook-style tasks it should still be perfectly fine, but I'll say it right now: anyone interested in the Portege Z830 would do well to wait and upgrade to an i5-equipped unit at least.
Toshiba includes 2GB of DDR3 soldered to the motherboard as well as an expandable 2GB of DDR3-1333. The problem is the Portege Z830 is difficult to get inside of without feeling like you're going to damage it, but on the flipside a cumulative 4GB of DDR3 should be more than adequate for the tasks this notebook is intended for, and this model will likely be throttled by CPU performance long before that memory becomes an issue.
As part of Intel's ultrabook initiative, Toshiba includes a generous 128GB mSATA SSD. Unfortunately, it's not a particularly fast one, rated for just a peak 180MB/sec on reads and 70MB/sec on writes, and using Toshiba's own controller and MLC NAND. So if you were concerned about that 3Gbps interface, rest assured this drive will never saturate it. On the flipside, 128GB of flash (even a comparatively slow SSD) is still a big improvement on a mechanical drive of the same capacity, and the Portege Z830 definitely feels snappier for it.
The one place ultrabooks seem to be succeeding where Apple keeps dropping the ball is connectivity. Apple's willing to sacrifice connectivity by tapering the MacBook Air, making the notebook look slimmer than it really is as a result of the wedge shape. Meanwhile, Toshiba outfits the Z830 with a pair of USB 2.0 ports, a single USB 3.0 port, headphone and microphone jacks, and HDMI and VGA output; Toshiba even keeps a dedicated Ethernet port in the mix. Thunderbolt may have potential, but USB 3.0 is here right now, and it's a lot cheaper to boot.