Idle Power
In all of these tests you're going to see three charts. The first will show you total platform power, measured at the battery, taking into account everything from SoC to display. The next shows you power measured at the CPU power delivery circuit, and the third shows you power measured at the GPU power delivery circuit. All values are measured in watts, and are reported in 15ms intervals (although I sampled at 1KHz then averaged down to 15ms).
For our first set of tests I simply wanted to get a feel for idle power. Both systems had all background syncing suspended, WiFi was connected, and we're just sitting at the Windows RT/8 Start Screen until the tablets reached a truly idle state. Note that idle under Windows RT/8 technically doesn't happen until the live tiles stop updating, which you'll see denoted by a drop in the idle power consumption in the graphs below.
First up is total platform power consumption: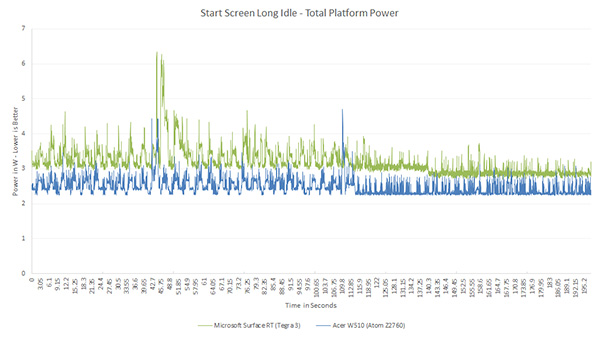 Surface RT has higher idle power, around 28% on average, compared to Acer's W510. The last half of the graph shows the tablets hitting true idle when the live tiles stop animating.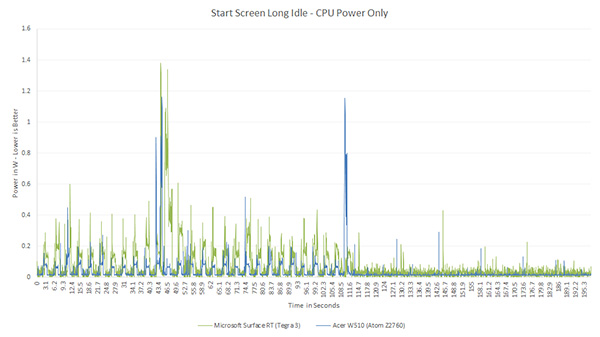 A look at the CPU chart gives us some more granularity, with Tegra 3 ramping up to higher peak power consumption during all of the periods of activity. Here the Atom Z2760 cores average 36.4mW at idle compared to 70.2mW for Tegra 3.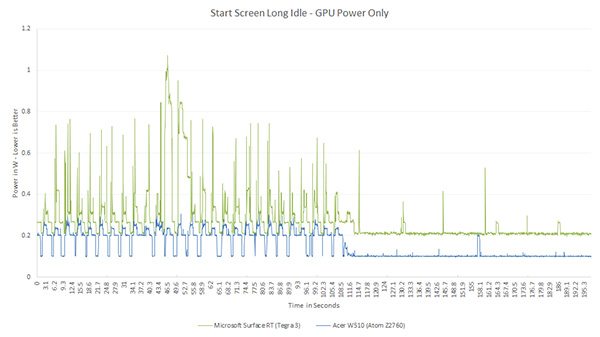 The GPU specific data is pretty interesting - the GPU power rail shows much high power consumption than on Intel's Z2760. As I didn't design Tegra 3, I don't know what else is powered by this rail - although you'd assume that anything else not in use would be power gated. Imagination Technologies' PowerVR SGX 545 does appear to be quite power efficient here, on average using 155mW while rendering the Start Screen.
I wasn't happy with the peaks we were seeing when nothing was happening on the systems, so to confirm that nothing funny was going on I threw both tablets into airplane mode and waited for full idle. Check out the tail end of the platform power diagram: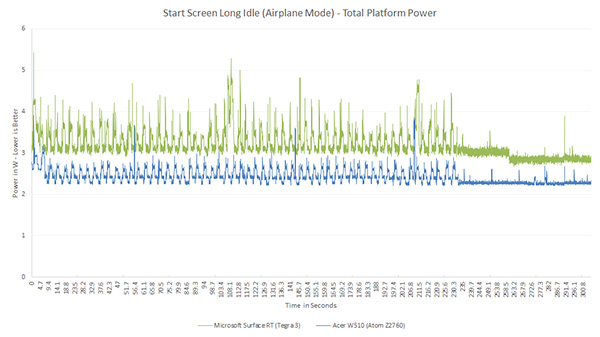 That's much better. Without the AP talking to each tablet's WiFi radio constantly, idle becomes truly idle. If you're curious, the power savings are around 47.8mW (average) for the W510 in airplane mode when fully idle.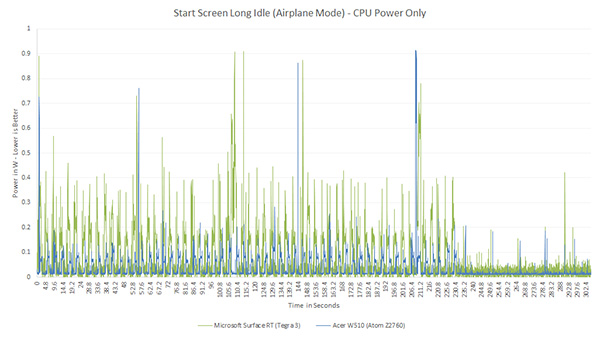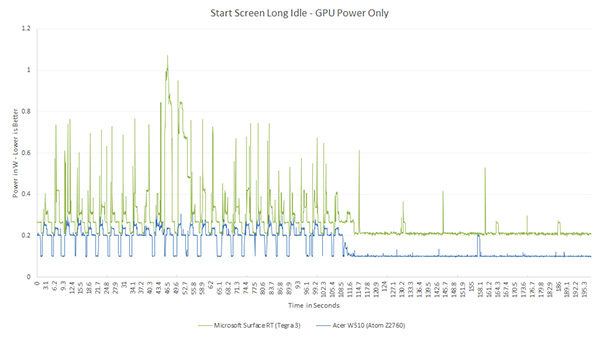 The GPU rail feeding the Atom Z2760 appears to hit a lower idle power when compared to NVIDIA's Tegra 3. Advantages in idle power consumption are key to delivering good battery life overall.