Netgear got into the SMB / SOHO / consumer NAS market with the purchase of Infrant Technologies in May 2007. The first generation ReadyNAS NV products were based on Infrant's own chips (using a SPARC core). A few years later, Netgear also started producing models based on Intel platforms. These included the Pro, Ultra and Ultra Plus models. Netgear soon realized that the market served by Infrant's old chips (low to mid-range SMB / SOHO / consumer) was being taken over by models based on Marvell's ARM based platforms. To address this, the ReadyNAS Duo v2 and ReadyNAS NV+ v2 were introduced in late 2011. The result was that Netgear had three variants of its RAIDiator OS with different features (one for the SPARC-based Infrant chips, one for x86 and one for ARM). The naming convention for each of the models was also not consumer friendly.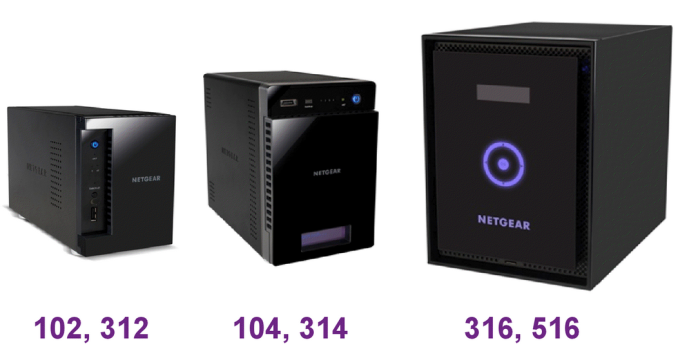 Today, Netgear is taking steps to correct these issues with the launch of new models as well as a completely new operating system, the ReadyNAS OS 6.
Hardware Refresh:
The Marvell-based Duo v2 and NV+ v2 are being replaced with the next-generation ARMADA 370-based ReadyNAS 102 and 104 respectively. The amount of DRAM is also doubled from 256 to 512 MB. Models in the 300 series are based on the Intel Atom D2701 platform, while the 500 series is based on the Intel Core i3-3220. The final digit in each model number refers to the number of bays available. A comparison of the different models is provided in the table below: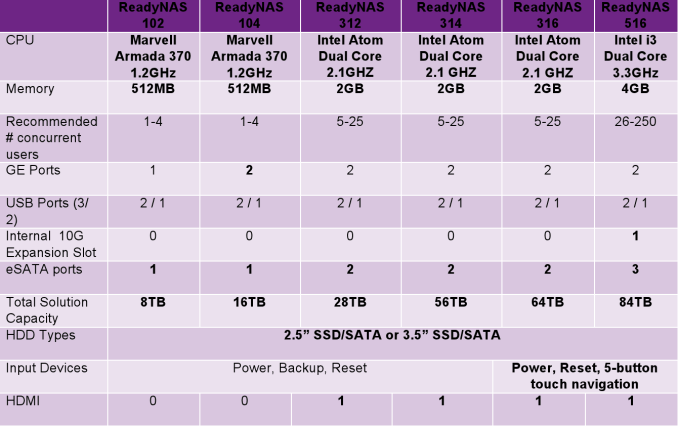 Some of the interesting hardware features include the addition of an IR receiver in some of the models, as well as a touchscreen in the 500 series. Netgear is also introducing Expansion Disk Array (EDA) units to provide scalability using the eSATA port in the main device.
ReadyNAS OS 6.0:
In order to maintain a consistent feature set across all models, Netgear has decided to start on a clean slate. Therefore, ReadyNAS OS 6.0 is not going to be made available for any of the earlier models (including the Duo v2 / NV+ v2). The file system has been updated to BTRFS from ext3 / ext4. The usage of BTRFS allows Netgear to provide advanced snapshotting capabilities usually present only in enterprise NAS units. We have already seen the capabilities of ReadyNAS Replicate, a $45 add-on for scheduling secure backups across different NAS units in physically different locations. With ReadyNAS OS 6.0, this feature is included for free. The operating system also includes an antivirus engine which provides real-time protection, and not just scheduled scans. Full iSCSI support for virtualized environments is available (with VMWare and Microsoft certifications).
An update to the firmware in late May is scheduled to bring in encryption support to the OS. AES-256 will be used and the key will be stored / required to be available on a USB dongle connected to the NAS. An unfortunate aspect seems to be the fact that none of the models in the 100 / 300 / 500 series have hardware accelerated encryption support.
Amongst consumer targeted features, ReadyNAS OS 6.0 supports 'cloud-based' discovery, where the user can just enter the serial number of the NAS unit to be set up online, and Netgear's backend handles the firmware initialization and first-time actions. This has been typically handled by the RAIDar utility (which will also continue to be supported). This ReadyCLOUD feature can not only be used for discovery, but also management and access. Support is also in place for local and remote backup / restore with Time Machine. DLNA is a standard feature in all NAS units now. Netgear claims that they need only a single DLNA server to service both local and remote devices. The ReadyDROP feature provides Dropbox-like real time file synchronization between mobile devices / PCs and a ReadyNAS device. Netgear's Genie Marketplace is also available on the new devices for access to free as well as paid apps which extend the functionality of the device.
Pricing and Availability:
The ReadyNAS 100 and 300 series are available for purchase today, while the 500 series will make its appearance in the market next month. Both diskless and populated models are available. MSRP for diskless configurations are provided below:
ReadyNAS 102 : $199
ReadyNAS 312 : $449
ReadyNAS 516 : $1299
Netgear is also introducing the 4-bay rackmount ReadyNAS 2120 for $1229. More details regarding the internal hardware platform of this model will be made available later.