Unboxing and Setup Impressions
The Synology DS1812+ package weighs in at 14 lbs (approx. 6.3 Kgs), with the diskless unit coming in at 11.5 lbs (5.1 Kgs). The unit has a built-in PSU and has a desktop form factor with dimensions of 6.2" x 13.4" x 9.2". Along with the main unit, the package consists of the following components:
Quick Install guide
Software / Utilities CD
AC power cable
Two Cat5 cables (3ft each)
Two keys for the hard drive bays
Screws for mounting the hard drives to the bays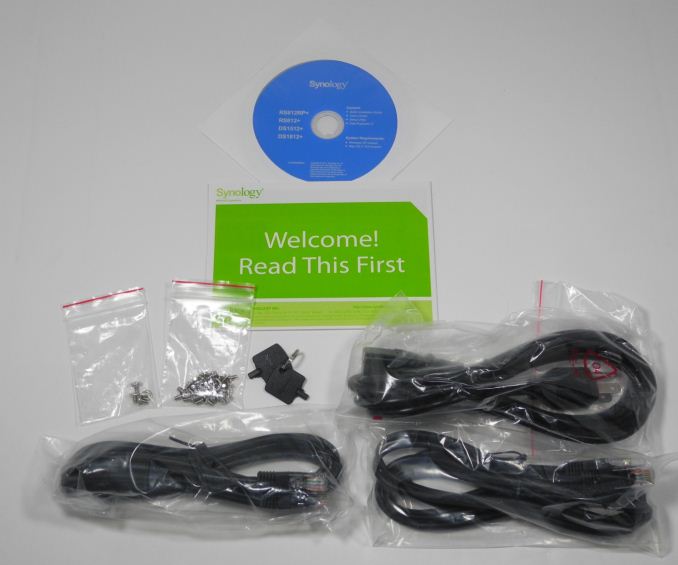 The front face of the unit has 8 vertical bays arranged side-by-side with a power button above the center. Status and alert LEDs are to the left of the power button, while the two network status indicators are to the right. On the rear side, we have two 120mm fans taking up most of the space. To the right of the fans, we have four USB 2.0 ports, one eSATA port and the two RJ-45 GbE ports. To the left, we have one more eSATA port and two USB 3.0 ports along with the the power plug receptacle. We would have like some of the ports in the front side of the chassis for easier access. The SD card slots are unfortunately relegated to the entry-level versions only and noneis available on the DS1812+ (perfectly acceptable, given the target market).
On the software side, the Disk Station Manager (DSM 4.2) is a joy to use. A lot of flexibility is provided, along with a number of interesting features. The downside is that it might be overwhelming for some consumers. SSH access is available. This provides us an avenue to get information about the unit without a full-length teardown.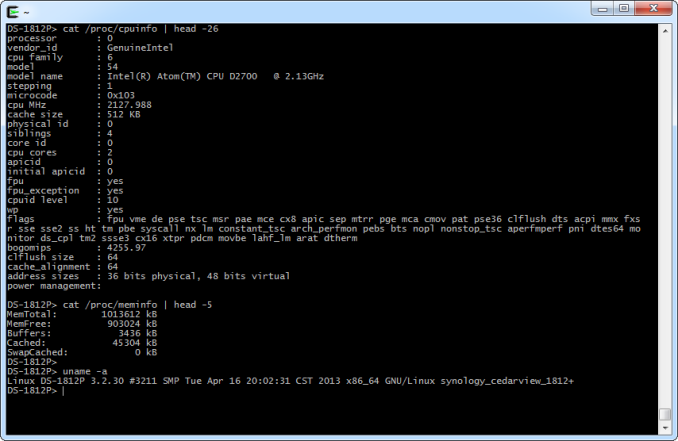 Synology provides support for Disk Groups (a collection of hard drives in the NAS). Each Disk Group can be configured in either SHR (Synology Hybrid RAID - an automatic RAID management feature providing for single or dual disk failure resiliency) or with a manual RAID level. The available RAID levels for manual configuration are dependent on the number of disks in the disk group. Multiple volumes can be created in a given disk group, but users are forced to use the same RAID level for all the volumes.
An overview of the various setup options and other available features in the firmware are provided in the gallery below.