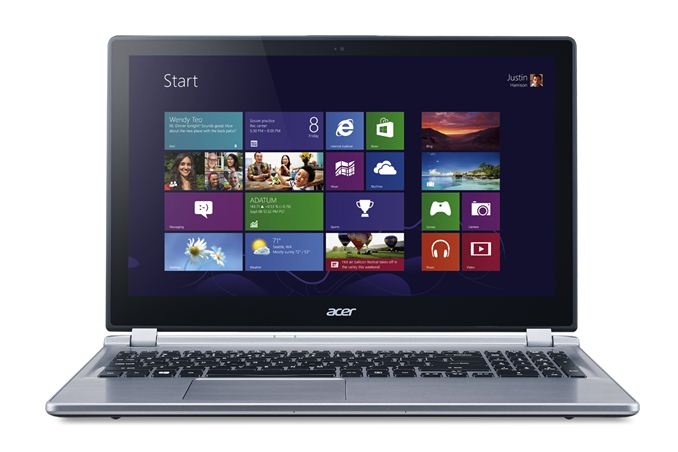 With the summer now half over, all of the major OEMs are beginning to launch their back-to-school lineups. Acer just sent word that they have a new model available at Best Buy that includes a touchscreen and a Haswell Core i5 processor for $700. Intel hasn't launched their standard voltage dual-core Haswell processors yet, so naturally this is a ULV part, specifically the i5-4200U beats at the heart of the new M5-583P-6428. That processor has a base clock of 1.6GHz and a maximum Turbo Boost of 2.6GHz, which should be plenty for the typical student. Where performance may fall short is in the graphics department; the HD 4400 has 20 EUs clocked at up to 1GHz, but in practice it's no faster than the previous generation HD 4000.
Other specifications are certainly going to draw some groans from our enthusiast community. While the display is a 15.6-inch touchscreen with 10-point capacitive input, the resolution is the painfully low 1366x768 that we've come to know and loath over the past several years. Other details are somewhat light; we know it has a 500GB hard drive (no solid state storage), 8GB RAM, a touchscreen LCD, and 802.11n wireless networking. What we don't know is whether it's a dual-band networking solution or not (probably not, and probably single-stream as well), and whether the LCD is decent quality or not (probably another low contrast TN panel). Acer does mention a "premium sound system" and enhancements to improve the microphone quality, but otherwise it sounds like the typical update every time a new CPU platform is launched. If we get one in for review, we'll of course provide full details.
The saving grace with laptops like this is their pricing, and with a price at Best Buy of $700 this is probably the lowest price we're going to see on a Haswell touchscreen notebook in the short term. However, it's also $200 more than what you might pay for similar Ivy Bridge laptops (e.g. ASUS VivoBook), and again about $200 more than touchscreen offerings with AMD E-series APUs (e.g. Toshiba Satellite). On the other hand, it has more memory and performance should be better than those types of laptops. Haswell has also impressed us with the battery life it's able to achieve, and the Acer M5 looks to continue that pattern with a rated 6.5 hours of battery life (it's only a 4-cell battery, so that tempers our expectations). If you're interested in getting one, the M5 is available as of yesterday; we expect we'll see quite a few similar laptops in the coming weeks.
Source: Acer PR