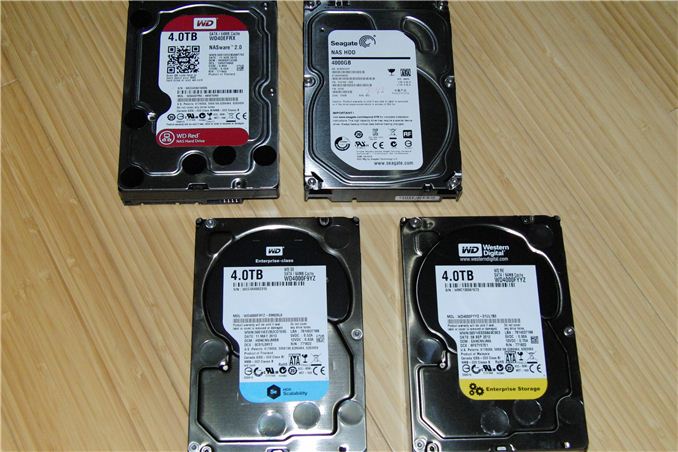 Introduction
The SMB / SOHO / consumer NAS market is expected to experience good growth over the next few years. With declining PC sales and increase in affordability of SSDs, hard drive vendors have scrambled to make up for the deficit and increase revenue by targeting the NAS market. Hard drive models specifically catering to 1-5 bay consumer NAS units have been introduced by both Western Digital and Seagate. Seagate took the lead in the capacity segment with the launch of the 4 TB NAS HDD in June 2013. Western Digital achieved parity with the launch of the second generation WD Red models yesterday.
The higher end SATA DAS/NAS storage segments have been served by 4 TB models for quite some time now. The WD Re (targeting applications where durability under heavy workloads is important) has been available in a 4 TB version since September 2012, while the WD Se (targeting applications where scalability and capacity are important) was introduced in May 2013.
The correct choice of hard drives for a NAS system is influenced by a number of factors. These include expected workloads, performance requirements and power consumption restrictions, amongst others. In this review, we will discuss some of these aspects while evaluating four different hard drives targeting the NAS market:
Western Digital Red 4 TB [ WDC WD40EFRX-68WT0N0 ]
Seagate 4 TB NAS HDD [ ST4000VN000-1H4168 ]
Western Digital Se 4 TB [ WDC WD4000F9YZ-09N20L0 ]
Western Digital Re 4 TB [ WDC WD4000FYYZ-01UL1B0 ]
While the WD Red and Seagate NAS HDD compete against each other in the same market segment (consumer / SOHO NAS units with 1-5 bays), the WD Re and WD Se are portrayed as complementary offerings for higher end NAS units. We will also try to determine how they differ in the course of this article.
Western Digital provided us with at least two drives each of the WD Red, WD Se and WD Re, but, Seagate came forward with only one disk. Readers of our initial WD Red 3 TB review would have found us evaluating the disks in multiple NAS units with multiple RAID configurations. Unfortunately, Seagate's sampling forced us to rethink our review strategy for these NAS drives. We will start off with a feature set comparison of the four drives followed by a look at the raw performance when connected directly to a SATA 6 Gbps port. A 2-bay Intel Atom-based NAS (LenovoEMC PX2-300D) with single-bay occupancy is then used to evaluate performance in a networked environment. Power consumption numbers and other factors are addressed in the final section with the networked configuration as a point of reference.
We used two testbeds in our evaluation, one for benchmarking the raw drive performance and the other for evaluating performance when placed in a NAS unit.
SATA Drive Benchmarking Testbed Setup
Processor
Intel i7-3770K CPU - 4C/8T - 3.50GHz, 8MB Cache
Motherboard
Asus P8H77-M Pro
OS Hard Drive
Seagate Barracuda XT 2 TB
Secondary Drives
Corsair Performance 3 Series™ P3-128 128 GB SSD
WD40EFRX / ST4000VN000 / WD4000F9YZ / WD4000FYYZ
Memory
G.SKILL ECO Series 4GB (2 x 2GB) SDRAM DDR3 1333 (PC3 10666) F3-10666CL7D-4GBECO CAS 7-7-7-21
Case
Antec VERIS Fusion Remote Max
Power Supply
Antec TruePower New TP-550 550W
Operating System
Windows 7 Ultimate x64
Our NAS testbed was built for evaluating NAS units when subject to access from multiple clients (virtual machines). We ran the benchmarks presented in this review on one of the twenty five available Windows 7 VMs.
AnandTech NAS Testbed Configuration
Motherboard
Asus Z9PE-D8 WS Dual LGA2011 SSI-EEB
CPU
2 x Intel Xeon E5-2630L
Coolers
2 x Dynatron R17
Memory
G.Skill RipjawsZ F3-12800CL10Q2-64GBZL (8x8GB) CAS 10-10-10-30
OS Drive
OCZ Technology Vertex 4 128GB
Secondary Drive
OCZ Technology Vertex 4 128GB
Tertiary Drive
OCZ RevoDrive Hybrid (1TB HDD + 100GB NAND)
Other Drives
12 x OCZ Technology Vertex 4 64GB (Offline in the Host OS)
Network Cards
6 x Intel ESA I-340 Quad-GbE Port Network Adapter
Chassis
SilverStoneTek Raven RV03
PSU
SilverStoneTek Strider Plus Gold Evolution 850W
OS
Windows Server 2008 R2
Network Switch
Netgear ProSafe GSM7352S-200
The hard drives under the scanner were placed in a single-drive configuration in the Intel Atom D525-based LenovoEMC PX2-300D. The network links of the PX2-300D were bonded in LACP 802.3ad mode, but that shouldn't have any bearing on the results since we are looking at a single client scenario with a single GbE link.