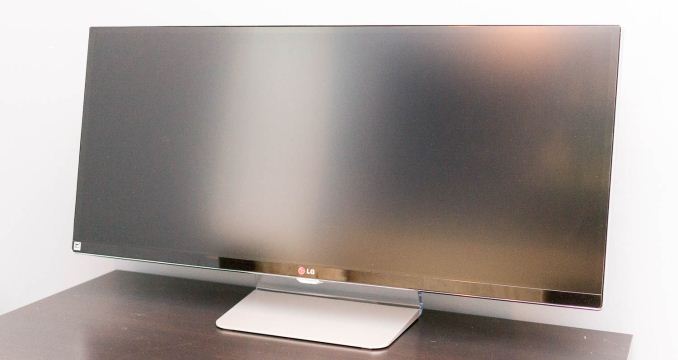 21:9 monitors have done a good job of filling a couple niche positions in the marketplace. For someone that wants a single display to watch movies and use with the PC, the aspect ratio can work well. With many games, the wider field-of-view enhances games with more information on screen at once and a more immersive experience. Where they have fallen short is with their vertical resolution of 1080 pixels. Running two applications side-by-side makes everything feel cramped. For regular office work a 27" display for the same price has provided a better user experience.
Now we have the first 21:9 aspect ratio monitor with 1440 pixels of vertical resolution, the LG 34UM95. That provides the same vertical area as a 27" display but 3440 horizontal pixels instead of 2560. The larger size makes running two programs side-by-side equivalent to dual 20" displays at 1720x1440, or a 6:5 aspect ratio. Furthermore, the additional real estate makes it much easier to use for non-gaming or movie use. From spreadsheets to word processing, image editors to web browsers, the additional vertical space makes a large difference.
The LG 34UM95 is also the first non-Apple display to include Thunderbolt support. With three integrated USB ports you can use a single cable to drive the 34UM95 display and connected devices from a Thunderbolt equipped computer. An additional Thunderbolt connection allows you to connect another device directly to the 34UM95 as well. Unlike the Apple display there isn't an Ethernet port, but there is integrated audio.
For traditional video cards the display includes a DisplayPort input and two HDMI ports. The HDMI ports are still revision 1.4a so they cannot support 60Hz refresh rates at the monitor's native resolution, but DisplayPort will run at 3440x1440 at 60Hz without any issues, including audio support. The monitor includes a full color management system with a 1-point white balance. As with previous LG displays, I have found that the CMS doesn't work well and should be avoided. It improves the 100% readings but makes everything below that worse.
The 34UM95 includes two "Reader Modes" designed to make reading documents on-screen easier. In use what they do is pump up the red in the white balance. Since most displays ship with an overly-blue image by default, and people are used to that, this will help those people. If you have the display calibrated correctly, you wind up with an image that is very red and large errors in gamma and grayscale. Since these are easy to enable and disable in the menu system, if you like them it is easy to utilize it.
LG 34UM95
Video Inputs
2x HDMI 1.4a, DisplayPort
Panel Type
IPS
Pixel Pitch
0.2325mm
Colors
1.07 Billion
Brightness
320 cd/m2
Contrast Ratio
1000:1
Response Time
5ms GtG
Viewable Size
34"
Resolution
3440x1440
Viewing Angle (H/V)
178 / 178
Backlight
LED
Power Consumption (operation)
56W
Power Consumption (standby)
1.2W
Screen Treatment
Anti-Glare
Height-Adjustable
No
Tilt
Yes, -5 to 15 degrees
Pivot
No
Swivel
No
VESA Wall Mounting
Yes, 100mm VESA
Dimensions w/ Base (WxHxD)
32.7" x 18.5" x 6.8"
Weight
17 lbs.
Additional Features
3.5mm stereo out, 2x Thunderbolt, 2x USB 2.0, 1x USB 3.0, 2x7W speakers
Limited Warranty
1 year
Accessories
DisplayPort Cable, HDMI Cable
Price
$999