In a move that will mark a mild shake up in how AMD operates, AMD has announced that they will be undergoing a company reorganization next month. Come July 1st, AMD will be consolidating their various business groups into just two groups, and overseeing those groups will be Dr. Lisa Su, who will become the company's new Chief Operating Officer (COO).
AMD is citing the reorganization as the latest step in their efforts to transform the company, a process that started in earnest over two years ago in 2012. Since then the company has been making changes to move away from its traditional cost-heavy PC CPU and GPU roots and towards a structure that is focused on mobile (x86 and ARM), semi-custom silicon, and other market areas with lower margins but also lower costs that are more sustainable for a company of AMD's size and capabilities. AMD is nearing the end of that transformation – after years of losses they're now approaching profitability at their desired margins – with AMD realigning their business groups ahead of some of their final steps, including becoming a fully ambidextrous company through designs such as the K12 CPU.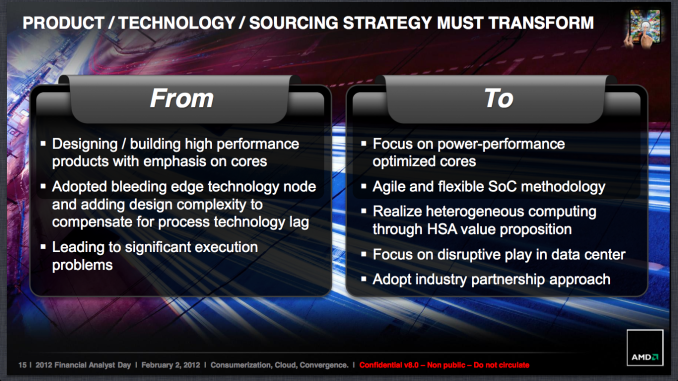 As part of that general transformation AMD's business groups have already begun to overlap some, so now AMD is taking the next step by making it official and consolidating the relevant groups. AMD's client, consumer graphics, and professional graphics groups will now be combined under a single group, the Computing and Graphics Business Group. By bringing together those three groups like this, this change effectively consolidates all of AMD's core technology teams in to the same group, CPU and GPU alike. In this case in particular the lines between CPU and GPU have already been blurring for some time, with the bulk of AMD's "CPU" business having shifted to APUs (CPUs with integrated graphics), so in a sense this is the formalization of the fact that AMD cannot build complete CPUs without technology from their graphics group.
Meanwhile AMD's second group will be the Enterprise, Embedded and Semi-Custom Business Group. This group consolidates the server, embedded, and semi-custom groups under one roof. This structure does mean CPUs are essentially split – an Opteron sale is now an Enterprise sale rather than being kept with the Computing group CPU sales – but otherwise this marks the combining of AMD's "fringe" groups such as SeaMicro and the semi-custom groups, which in contrast to the core technology focused Computing group are focused on building designs and applications around AMD's core technologies.
Both of these new groups will also see their relevant sales appendages integrated into them. AMD currently has a separate sales division, which will no longer be the case after the reorganization.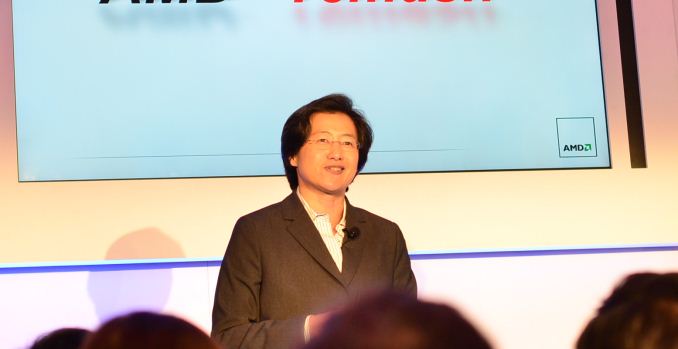 Heading up these groups both directly and indirectly will be Dr. Lisa Su, who is getting a promotion from Senior VP and GM of Global Business Units to the C-level position of Chief Operating Officer (COO). AMD has not had a COO for a few years now, so this marks the return of that position to AMD's executive organization and arguably makes Lisa AMD's second-in-command. Meanwhile AMD's Chief Sales Officer, John Byrne, will also be getting a promotion of his own, which will see him move up to SVP and GM of the Computing group.
In regards to AMD's new structure, Lisa will be taking direct control of the Enterprise group on an interim basis. Meanwhile Lisa will have indirect oversight of the Computing group, with John serving as GM of that group and reporting to Lisa. Lisa in turn will now report directly to CEO Rory Read.
Ultimately the consolidation of AMD's businesses is not unexpected, especially on the core technology side where APUs and AMD's HSA initiative has greatly worn away the distinctions between CPUs and GPUs. Meanwhile the shifts in leadership bring with it new mangers and new reporting structures, so although things will be changing at AMD it doesn't sound like AMD's development processes will be affected on the whole – though management shifts often come with smaller internal changes.
But perhaps the single most visible change from this may end up being how AMD reports their financials. Currently AMD separates their CPU and GPU businesses as the Computing Solutions and Graphics Solutions respectively, with Graphics also including semi-custom business and game console royalties. If AMD changes their financial reporting to match their new businesses then we'd be able to more easily see how AMD's semi-custom and console businesses stack up, but AMD's CPU and GPU businesses would be indistinguishable. AMD hasn't commented on the matter in their press release, so we'll have to see what they do for their Q3'14 results later this year (where the combined groups will have been in effect for a whole quarter). Update: AMD tells us that we can expect an update on how they'll be reporting financials in their Q2 earnings call next month.
Source: AMD