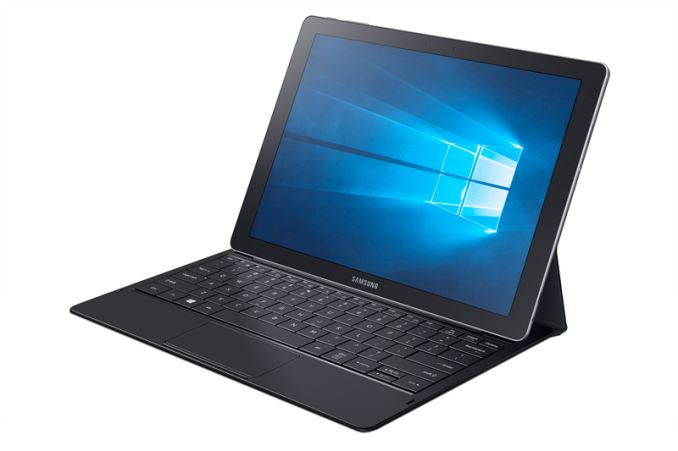 During Samsung's CES press conference the company announced a brand new 2-in-1 tablet. While it was initially thought to be an Android tablet to take on the likes of the Pixel C and the iPad Pro, it turns out that the TabPro S is really a full blown Windows 10 convertible tablet. Below are its specs.
Galaxy TabPro S
SoC
Intel Core m3
RAM
4GB
NAND
128/256GB SSD
Display
12" 2160x1440 AMOLED
Dimensions
290.3mm x 198.8mm x 6.3mm; 693g
Camera
5MP Rear Facing
5MP Front Facing
Battery
5200 mAh (39.5Wh)
OS
Windows 10 Home/Pro
Connectivity
802.11 a/b/g/n/ac, Bluetooth 4.1, GPS/GNSS, Micro USB 2.0
Network
2G / 3G / 4G LTE Category 6
Since the TabPro S is larger than the average tablet and runs a full version of Windows, we're looking at different specifications than one would typically find in an Android device. On top of that, Samsung is able to source components from their different child companies, allowing for features that don't exist on many other tablets.
Internally, the TabPro S is powered by Intel's Core m3 CPU, which is a Skylake-Y part. That CPU is paired with 4GB of RAM, and a 128GB or 256GB SSD. Samsung actually advertises it as an SSD, and given its size it's probably safe to assume that we're looking at an actual SSD rather than an eMMC solution.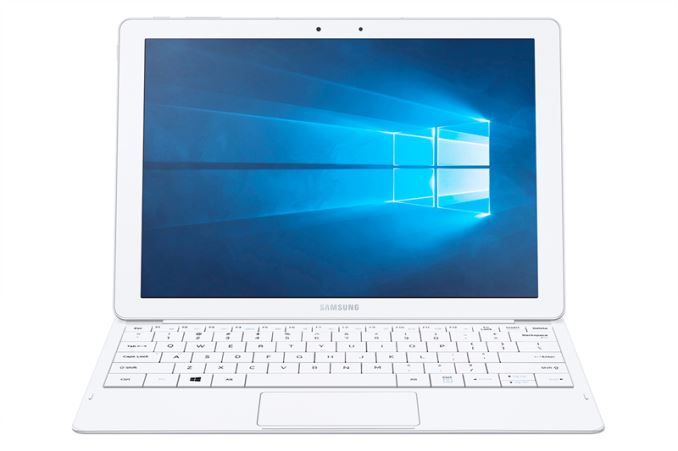 The TabPro S uses a 12" 2160x1440 AMOLED display. The prospect of a Samsung tablet with an AMOLED display running Windows interests me greatly, because it opens up the possibility of manual calibration and different gamma targets like BT. 1886 which would greatly improve the movie watching experience.
Like many of the productivity focused tablets that have launched recently, the TabPro S includes support for a keyboard and a digital pen. The keyboard connects to the tablet directly using pogo pins, while the pen works over Bluetooth. In addition to those accessories, there will also be an adapter that allows for the connection of USB Type A, Type C, and HDMI devices.
The Galaxy TabPro S will be launching this February in both white and blue. The keyboard cover and Bluetooth pen will be available separately. Pricing for the TabPro S and accessories is currently unknown.