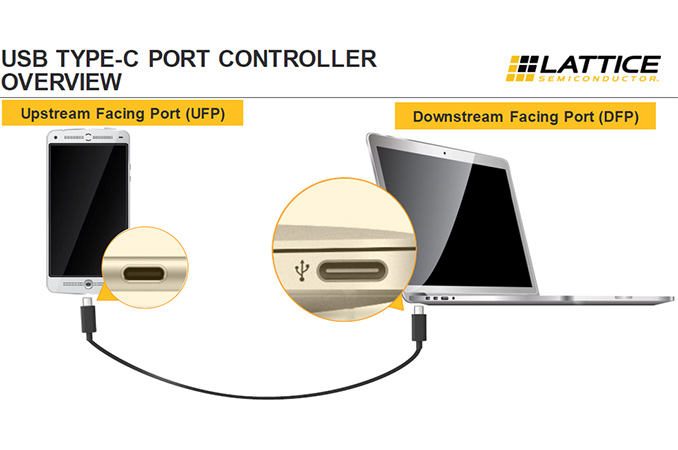 Lattice Semiconductor and MediaTek have joined forces to create reference smartphones with 4K video outputs using USB Type-C connectors and cables. The outputs will use the superMHL technology and will thus be compatible with various other superMHL devices such as TVs. The companies have already built a reference phone that supports a superMHL output over USB-C using previously announced chips from Lattice and hope that makers of smartphones will embrace the solution.
The USB Type-C technology and connectors are rapidly gaining traction across many industries. A number of modern notebooks, mobile devices and even desktops come with USB type-C ports. A good thing about USB-C is that it can be used to transfer alt mode data using a variety of protocols, including DisplayPort, Thunderbolt 3 and superMHL. Lattice (which acquired Silicon Image, a major developer of the MHL technology, about a year ago) clearly wants to capitalize on its expertise in the field of MHL and USB technologies by offering a reference implementation of single-lane superMHL over USB-C cables and connectors.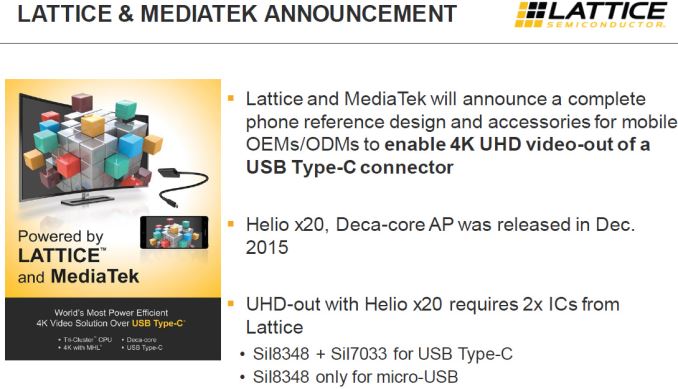 The simplified single-lane implementation of the superMHL used here for phones supports transmission of video in 4K (3840x2160) resolution with 60 fps over USB-C or even traditional MHL cables.
USB Type-C Alt Mode Display Standard Comparison
superMHL
DisplayPort 1.3
Resoluion
4Kp60, 4:4:4 @ 24bit
4Kp60, 4:4:4 @ 24bit
Type-C Lanes Required
1
2
Image Compression
"Visually Lossless" (Lossy)
No Compression
TV Interface
superMHL-over-HDMI (Passive)
HDMI (Active Conversion)
HDMI (Active Conversion)
Power Charging
USB-PD or MHL (legacy)
USB-PD
The superMHL over USB-C reference implementation by Lattice and MediaTek involves the Helio X20 system-on-chip (two ARM Cortex-A72, four Cortex-A53 at 2 GHz, four Cortex-A53 at 1.4 GHz, ARM Mali T880 MP4 graphics core, dual-channel LPDDR3 memory controller), the Sil8348 MHL transmitter as well as the Sil7033 port controller (which sets up MHL alt mode on USB-C and supports power data objects, which are needed to charge the phone). The superMHL implementation by Lattice and MediaTek supports best of both technologies' worlds: 10 Gbps USB 3.1 transfer rate, 4Kp30 video, power delivery (for up to 100W of power), ability to connect to TVs with MHL using appropriate adapters. What is notable is that thanks the to the Sil7033 chip, simultaneous MHL and USB 3.1 connectivity is also supported. Lattice also offers Sil7013 and the Sil9396 port controllers for docks and accessories to establish MHL alt mode and convert MHL to HDMI transmission respectively.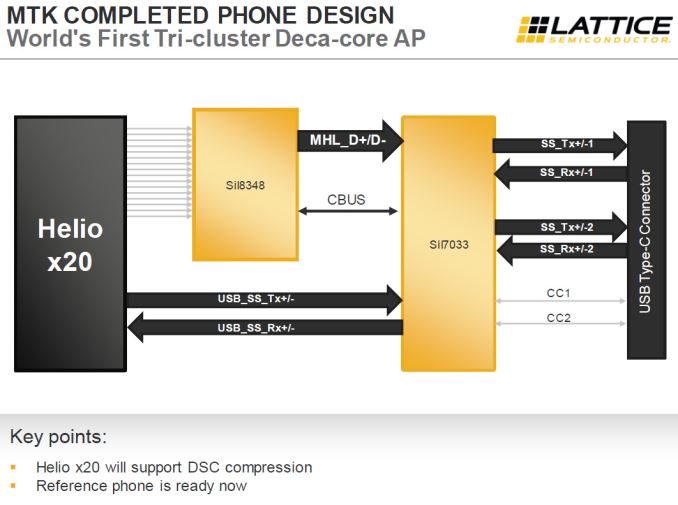 Update on March 24, 2016. Even though single-lane superMHL supports 4Kp60 (4:4:4 @ 24bit) video, the implementation developed by MediaTek and Lattice only supports 4Kp30. MediaTek opted for lower power and only wanted to drive 4Kp30 through the USB Type-C connector, which is why it selected the SiI8348 for this particular implementation. In a bid to support 4Kp30 over a single superMHL late, Lattice's SiI8630 should be used.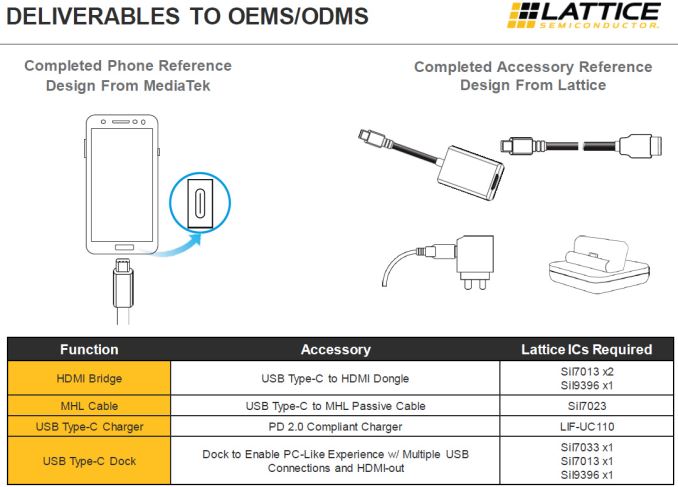 The creation of these reference devices is the latest salvo in the ongoing war Lattice is striking over the future of video out for mobile devices. MHL was decently common in previous generation devices, however with the switch to USB Type-C ports and the creation of alt modes, there is opportunity to start anew. Practically speaking, this is a war between superMHL and DisplayPort, which are the two major video out alt modes.
One thing that will be crucial for enablement of 4K outputs using USB-C interconnection are quality USB Type-C cables. It is not a secret that there are cheap USB 3.1 Type-C cables that do not work as advertised and simply lack conductors, which can be repurposed. Such cables will not be able to support 4K output using USB-C. Cheap USB type-C cables that do not comply with standards are an industry-wide problem. If today many people may simply not notice issues with them because they are only used for data transmission with USB 2.0 hosts, in the coming years the problem will get much worse.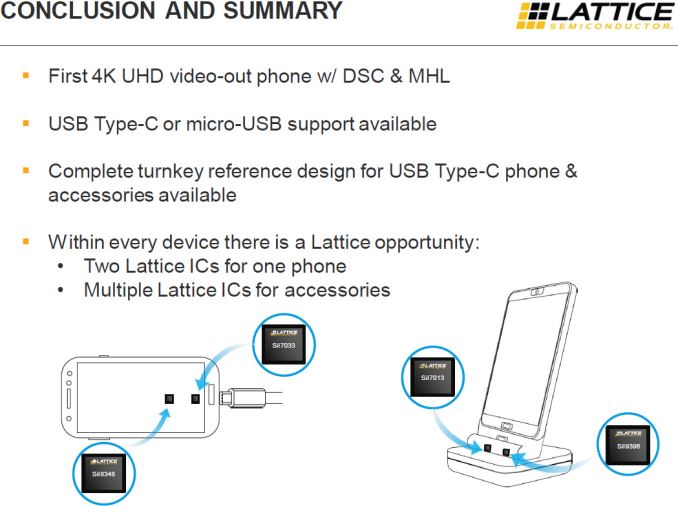 Finally, Lattice and MediaTek did not reveal whether their UHD output over USB-C reference platform has so far been adopted by any makers of smartphones.
Source: Lattice