Board Features
The C232 chipset is similar to the B150 chipset, allowing only a single PCIe 3.0 x16 slot from the CPU for PCIe cards and limiting the PCIe lanes from the chipset to eight. This means that adding in lots of functionality is difficult, especially if PCIe storage is to play a factor. ASRock eschews an M.2 slot and instead offers a PCIe 3.0 x4 PCIe slot and suggests using a converter, as this allows the secondary PCIe slot to be used for more than just storage. As we add in the NIC and three PCIe 3.0 x1 slots, this accounts for all eight lanes without switching, meaning no USB 3.1 and no additional storage controllers.
ASRock E3V5 Performance Gaming
Warranty Period
3 Years
Product Page
Link
Price
Amazon US
Size
ATX
CPU Interface
LGA1151
Chipset
Intel C232
Memory Slots (DDR4)
Four DDR4
Supporting 64GB
Dual Channel
Up to 2133 MHz
non-ECC and ECC UDIMM Supported
Memory Slots (DDR3L)
None
Video Outputs
None
Network Connectivity
Intel I219-V
Onboard Audio
Realtek ALC1150
PCIe Slots for Graphics (from CPU)
1 x PCIe 3.0 (x16)
PCIe Slots for Other (from PCH)
1 x PCIe 3.0 x4
3 x PCIe 3.0 x1
Onboard SATA
Six, RAID 0/1/5/10
Onboard SATA Express
None
Onboard M.2
None
Onboard U.2
None
USB 3.1
None
USB 3.0
4 x Rear Panel
2 via headers
USB 2.0
2 x Rear Panel
4 via headers
Power Connectors
1 x 24-pin ATX
1 x 8-pin CPU
1 x Molex for PCIe
Fan Headers
2 x CPU (4-pin)
4 x CHA/SYS (4-pin)
IO Panel
1 x Combination PS/2
2 x USB 2.0 (One Fatal1ty Mouse Port)
4 x USB 3.0
1 x Network RJ-45
Audio Jacks
Other Features
COM Header
TPM Header
Front Panel Header
Front Panel Audio Header
Due to the original OC nature of this motherboard, it does come with a 10-phase power delivery implementation. Any effect on overclocking this may have had is now moot, although it does present itself with a potentially long-lasting power delivery (by virtue of each phase being in use for a shorter amount of time and lower current through multiplexing). This is distinct from 'server grade' hardware which typically uses fewer phases but goes through more stringent testing before leaving the factory.
In The Box
We get the following:
Manual
Driver CD
Two SATA Cables
Rear IO Shield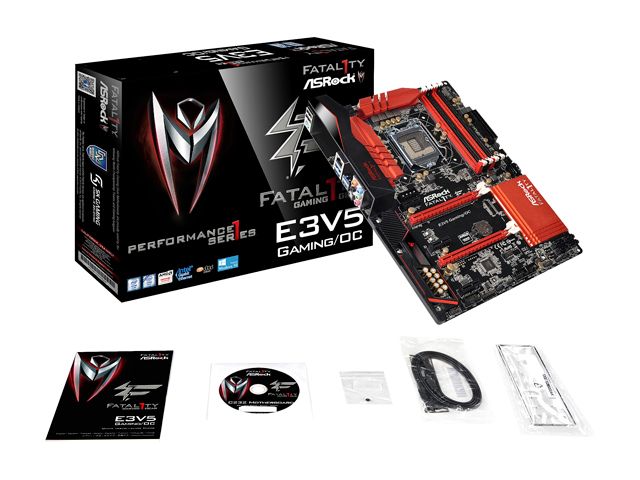 For $143, ASRock is between a rock and a hard place here. As part of the gaming brand, there should be some goodies to go along with the branding. But at a low price point, there might not be enough margin to add anything beyond the base SATA cables.
Visual Inspection
The reality of most of the gaming market in PCs is that the color schemes for most companies are geared towards red and black. For some reason it has become the prevailing aesthetic for 'gaming'. ASRock has been using the red and black scheme for a number of generations now, ever since their original affiliation with Jonathan 'Fatal1ty' Wendel to brand their gaming products with his name.
The affiliation has been going on for many years, about four years too long for my liking. Fatal1ty was arguably one of the first official 'best FPS player ever', winning over a dozen world tournaments back in the early 2000s. He currently resides in Las Vegas, running his Fatal1ty brand, running gaming competitions and licensing out the name to whoever will pay for it. In this case, ASRock has either had a continuing multi-year deal or they keep renewing it: Wendel has practically zero input in designing any of the ASRock products his name goes to, apart from firing any issues he has with the kit back up the chain like a reviewer would. Nevertheless, his name still appears: in previous generations so did his face in the BIOS, but that has now passed. Fatal1ty is no longer a known figure in the up and coming gaming community – many new eSports gamers weren't even alive when he started winning. However, ASRock has told me that as a brand, in certain regions, Fatal1ty still sells where people want to buy the branded goods.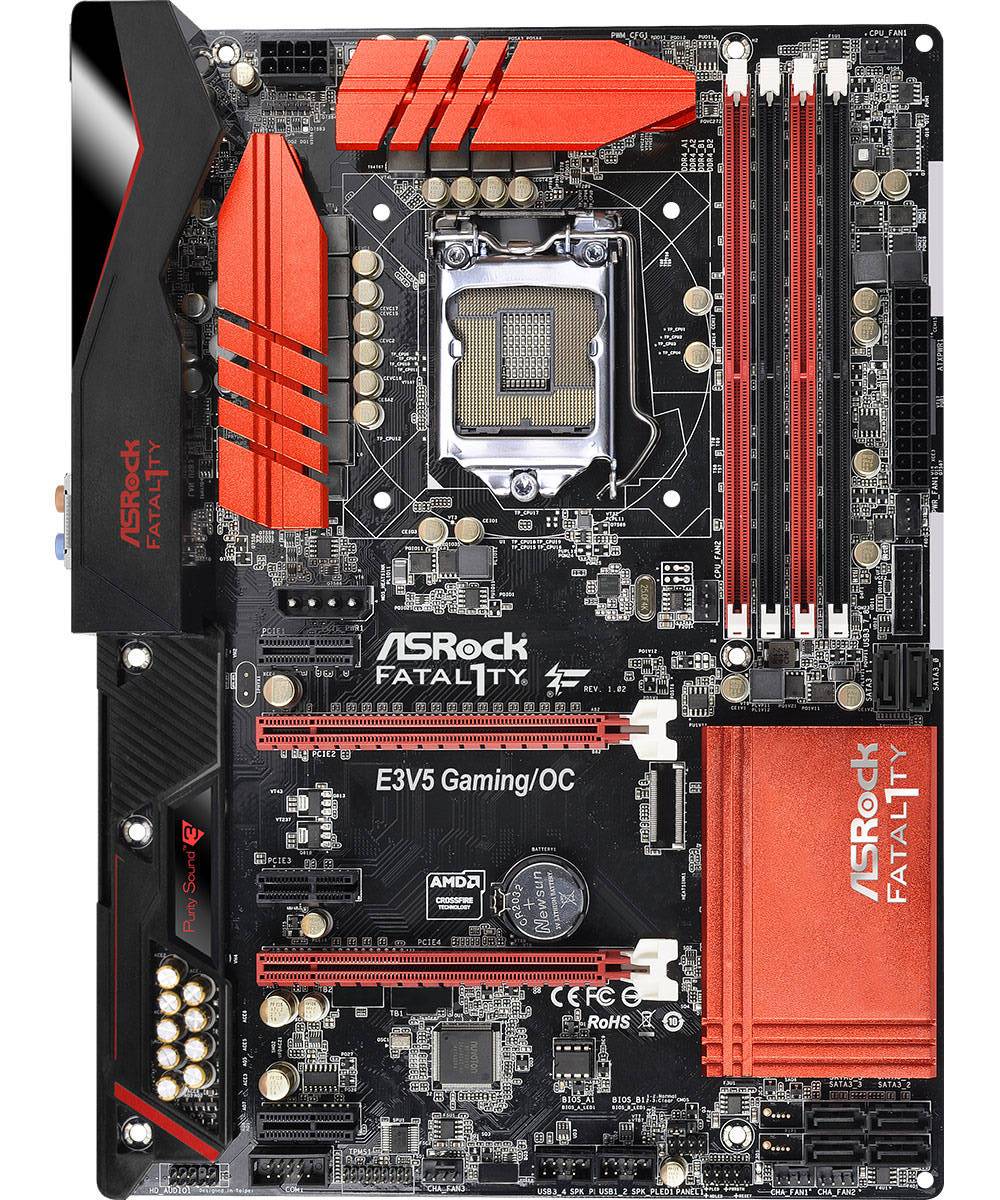 Naming aside, the red and black design on the E3V5 Performance Gaming is actually tastefully done, with plenty of both colors to provide a reasonable aesthetic. Both the power delivery heatsinks are big enough to feel of use, and the chipset heatsink is also larger than a standard base B150-style heatsink. To add to the look there is a rear panel cover that extends all the way down over the audio part of the PCB. This negates any silver reflection coming off of the rear panel ports and maintains the look.
ASRock's socket design gives a little bit more room than the Intel specifications, although users with large air coolers might find tall memory in the first slot a bit of a pain. By moving the first large PCIe slot down one, there shouldn't be any issue with large coolers and large graphics cards here, and makes it easier to remove the memory. ASRock decided to go with a single sided latch mechanism for the DRAM slots, making it easier to remove memory but users should be careful and apply enough force to make sure it is installed correctly on both sides.
The socket area has access to three of the motherboard fan headers: a CPU fan header in the top right on the other side of the DRAM slots, a second CPU fan header on the socket side of the DRAM slots further down, and a PWR header below the 24-pin power connector. The other three fan headers, all labeled as chassis headers, are at the bottom of the motherboard. All of these headers are 4-pin.
Next to the socket are the DRAM slots, alternating in red and black with the red slots being the primary slots. For users who read our last C236 review, I pointed out that the DRAM slots were irregularly spaced on that motherboard – for contrast here, we can see that they are evenly spaced.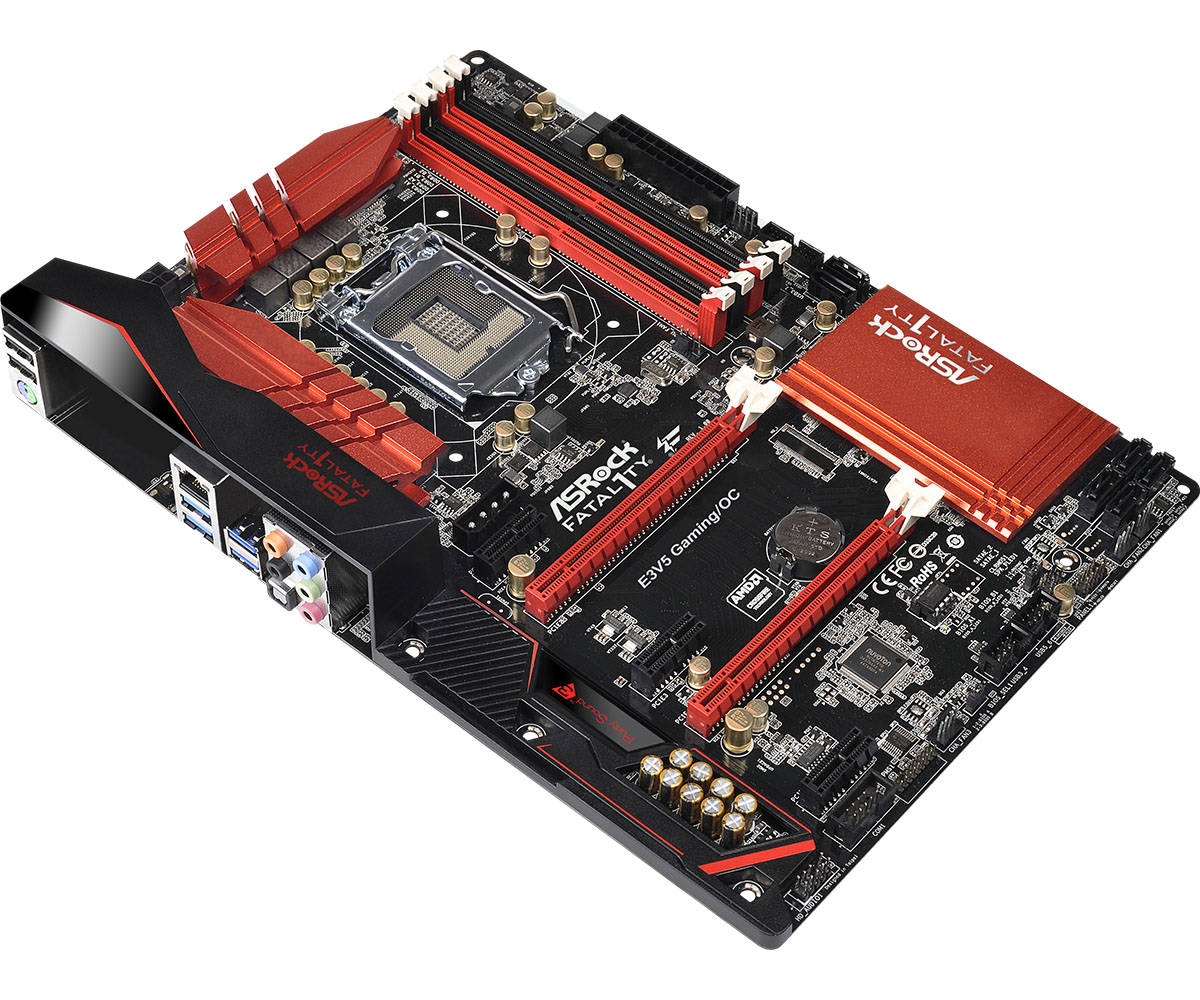 On the far right of the motherboard is our USB 3.0 header powered by the chipset, and the first two SATA ports. As with other cheaper motherboards, these ports are sticking out of the board rather than at 90 degrees to it, because this saves a few tenths of a cent in building costs. These ports face away from each other, making it easy to remove locking cables, but users with extra-long graphics cards might find these two ports blocked.
The other four ports are at the bottom of the motherboard, in a more familiar arrangement with this sort of motherboard. By being in line it does make locked cables harder to remove, but based on the PCB layout these ports are intended to be part of some SATA Express ports on another model, so this explains the arrangement. It's worth noting that between the two sets of SATA ports is the large chipset heatsink, which is certainly big enough for the TDP of the chipset, and comes all the way to the edge of the motherboard. This is because this motherboard is slightly thinner than the standard ATX, with no mounting points on the extreme right-hand side.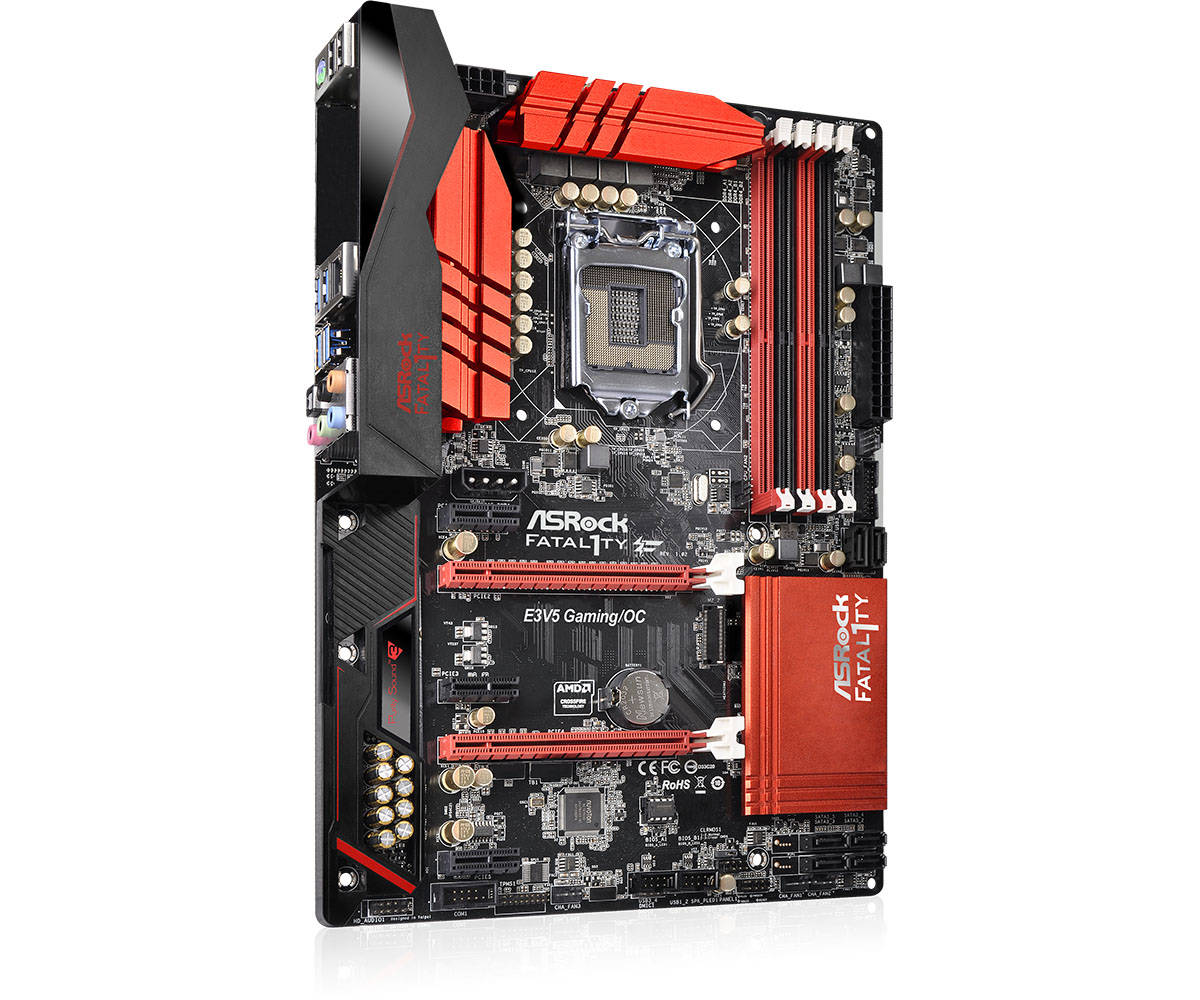 The PCIe lane arrangement oddly enough starts out with a 4-pin Molex connector. This is to provide extra power to the PCIe slots, however it is usually a feature we see on motherboards that can take 3-4+ large PCIe graphics cards and not on a smaller board like this. As a result I somewhat question the utility of the feature, as it isn't needed for proper performance. The big red PCIe slots are set such that the first is a PCIe 3.0 x16 from the CPU, and should be the port of call of any GPU. The next is a PCIe 3.0 x4 from the chipset, and technically capable of CrossFire but definitely no SLI here. The other three slots are PCIe 3.0 x1 slots from the chipset, and these are all open ended and thus will support x2, x4 and x8 cards fairly easily at reduced bandwidth (technically x16 cards as well, although the physical support of an x1 slot might not be sufficient).
The bottom of the motherboard holds the COM header, a TPM header, two USB 2.0 headers, the front panel connector and our internal audio header. There's no header here for an add-in Thunderbolt card though, and there are no power/reset buttons or two-digit debug. This makes diagnosing errors a little frustrating.

The rear IO is somewhat bare given that ASRock has chosen not to put any video outputs here. We also don't have reset buttons or USB 3.1 to add in, meaning that this is probably the extent to which a C232 chipset based motherboard is capable. What we do get however is a combination PS/2 port, two USB 2.0 ports, four USB 3.0 ports in blue, the Intel I219-V network port, and the audio jacks.
Test Setup
Readers of our motherboard review section will have noted the trend in modern motherboards to implement a form of MultiCore Enhancement / Acceleration / Turbo (read our report here) on their motherboards. This does several things, including better benchmark results at stock settings (not entirely needed if overclocking is an end-user goal) at the expense of heat and temperature. It also gives (in essence) an automatic overclock which may be against what the user wants. Our testing methodology is 'out-of-the-box', with the latest public BIOS installed and XMP enabled, and thus subject to the whims of this feature. It is ultimately up to the motherboard manufacturer to take this risk – and manufacturers taking risks in the setup is something they do on every product (think C-state settings, USB priority, DPC Latency / monitoring priority, overriding memory sub-timings at JEDEC). Processor speed change is part of that risk, and ultimately if no overclocking is planned, some motherboards will affect how fast that shiny new processor goes and can be an important factor in the system build.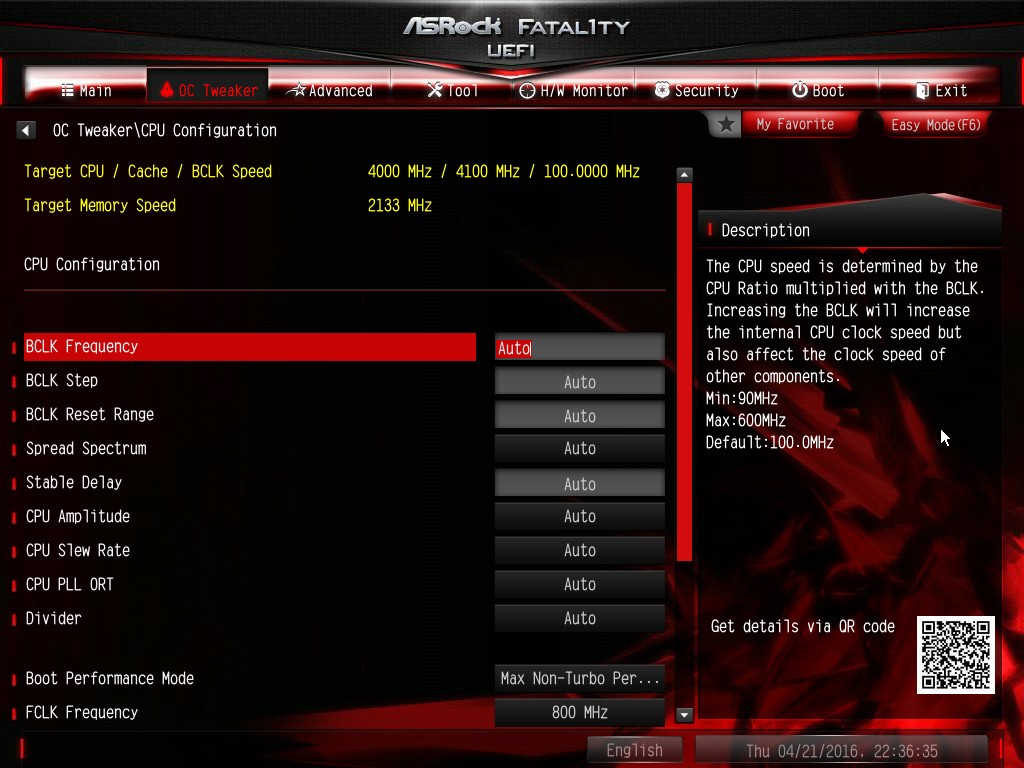 For reference, the ASRock E3V5 Performance Gaming, on our testing BIOS 1.11, MCT was not enabled by default. Also, the FCLK 10x ratio was present in the BIOS tested at the time of testing.
Many thanks to...
We must thank the following companies for kindly providing hardware for our test bed:
Thank you to AMD for providing us with the R9 290X 4GB GPUs.
Thank you to ASUS for providing us with GTX 980 Strix GPUs and the R7 240 DDR3 GPU.
Thank you to ASRock and ASUS for providing us with some IO testing kit.
Thank you to Cooler Master for providing us with Nepton 140XL CLCs.
Thank you to Corsair for providing us with an AX1200i PSU.
Thank you to Crucial for providing us with MX200 SSDs.
Thank you to G.Skill and Corsair for providing us with memory.
Thank you to MSI for providing us with the GTX 770 Lightning GPUs.
Thank you to OCZ for providing us with PSUs.
Thank you to Rosewill for providing us with PSUs and RK-9100 keyboards.