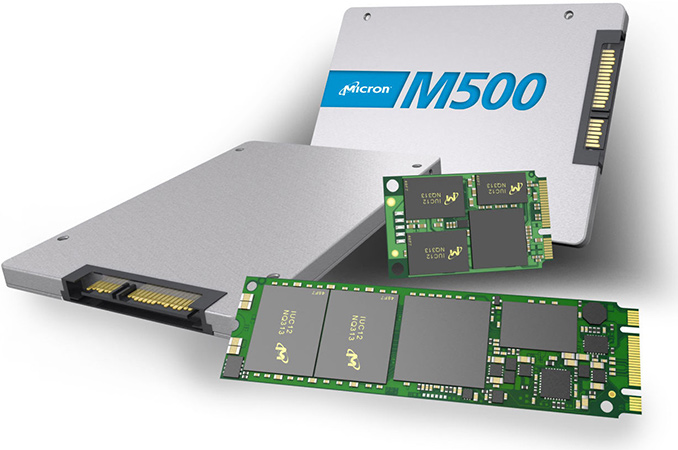 Shipments of SSDs in the first quarter of 2016 were up 32.7% compared to the same period a year ago, according to findings of TrendFocus*, a storage market tracking company. Sales of all types of SSDs, including those for client and server systems, were up sequentially and year-over-year, which indicates that NAND-based storage devices are taking share away from traditional hard drives.
30.777 Million SSDs Shipped in Q1 2016
The industry sold a total of 30.777 million SSDs in Q1 2016, up 32% from 23.190 million in the same period of 2015, according to data by TrendFocus. By contrast, shipments of PCs dropped to 60.6-64.8 million units (according to Gartner and IDC), or by around 10% year-over-year (YoY); whereas shipments of HDDs collapsed by 20% YoY, based on data from hard drive manufacturers. The growth of SSDs has been consistent despite slowing sales of PCs and HDDs for several quarters now, therefore, a minor sequential increase (~4%) of their shipments in Q1 2016 was not surprising.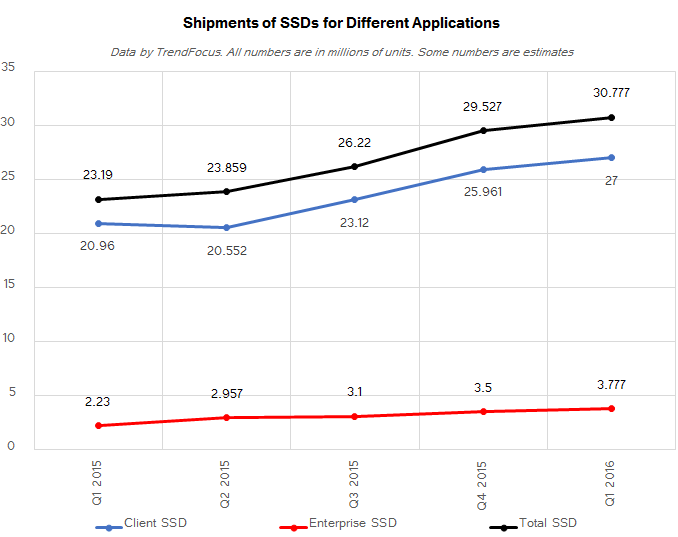 Of nearly 31 million SSDs sold in the first quarter, approximately 27 million drives were designed for client PCs, whereas about ~4 million were aimed at servers. In the PC space, sales of SSDs grew about 29% over the first quarter of last year, but in the enterprise space shipments of SSDs skyrocketed by 69% compared to the same period in 2015.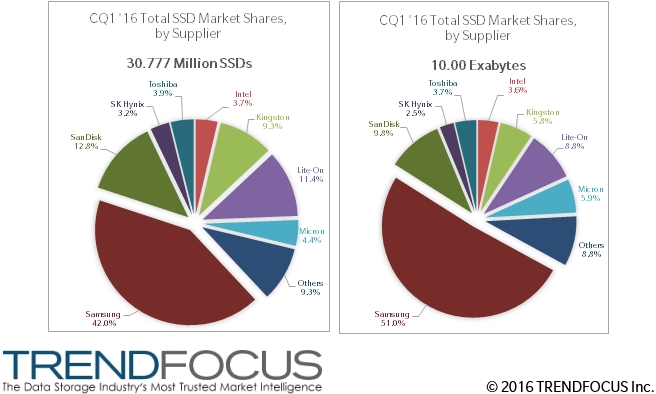 TrendFocus estimates that the total capacity of SSDs shipped in Q1 2016 was around 10 Exabytes, up from 5.65 EB in Q1 2015, an increase of nearly 77%. The average capacity of one SSD also grew from approximately 245 GB in the first quarter last year to roughly 325 GB in the first quarter of this year (or by 33%).
Due to speedy development of solid-state drives, there are multiple trends, which help to speed up adoption of NAND flash storage across the whole spectrum of the market. Rapid per-GB price declines thanks to TLC NAND help to reduce prices of entry-level SSDs. As a result, 120 GB solid-state drives now cost only around $40 in retail, which is why many PC makers use them instead of HDDs. In addition, major performance improvements thanks to NVMe and new controllers are driving adoption of SSDs by high-end client computers.
Samsung Remains No. 1 SSD Maker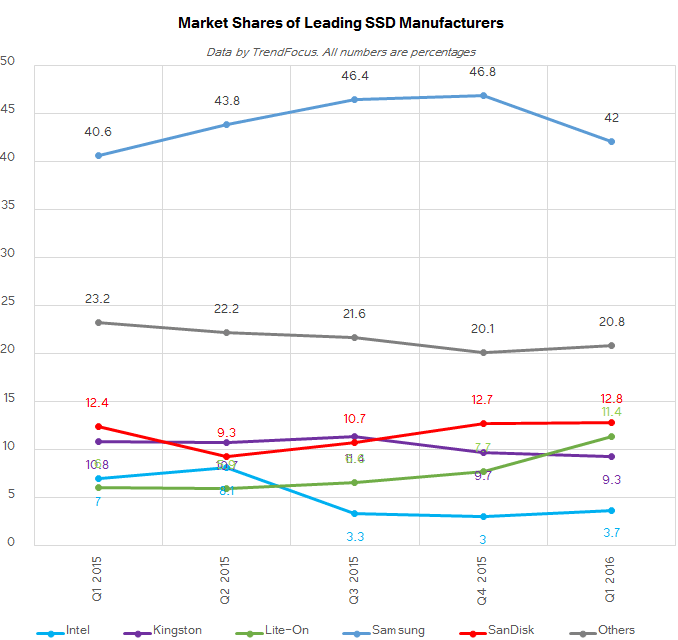 Samsung is the world's largest maker of NAND flash and is also the largest manufacturer of SSDs. The company has been controlling over 40% of the market for a while now and its unit shipments increased from 9.42 million in Q1 2015 to 12.93 million in Q1 2016. Samsung supplies SSDs to such large PC makers as Apple, HP and Lenovo, therefore, its success is well expected.
The second largest supplier of SSDs in Q1 2016 was SanDisk, which shipped 3.94 million drives and controlled 12.8% of the market. It is noteworthy that while SanDisk and Toshiba operate the world's largest NAND flash manufacturing complex, the latter is not a major maker of SSDs. In Q1 the company only sold 1.2 million of SSDs, whereas its market share was 3.9%.
The world's third largest supplier of SSDs in the first quarter of 2016 was Lite-On, which sells drives under Plextor and Lite-On brands. The company not only increased shipments of its SSDs from 1.39 million units in Q1 2015 to 3.51 million units in Q1 2016, or by 152% year-over-year, but also gained a significant amount of market share. In the first quarter Lite-On controlled 11.4% of the global SSD shipments.
Kingston, which is the world's No. 1 independent supplier of DRAM modules, is also a significant maker of SSDs. The last 12 months were not exactly good for Kingston in comparison to others. Unit sales of Kingston's SSDs only increased by around 14% year over year, but its market share dropped from 10.8% in Q1 2015 to 9.3% in Q1 2016.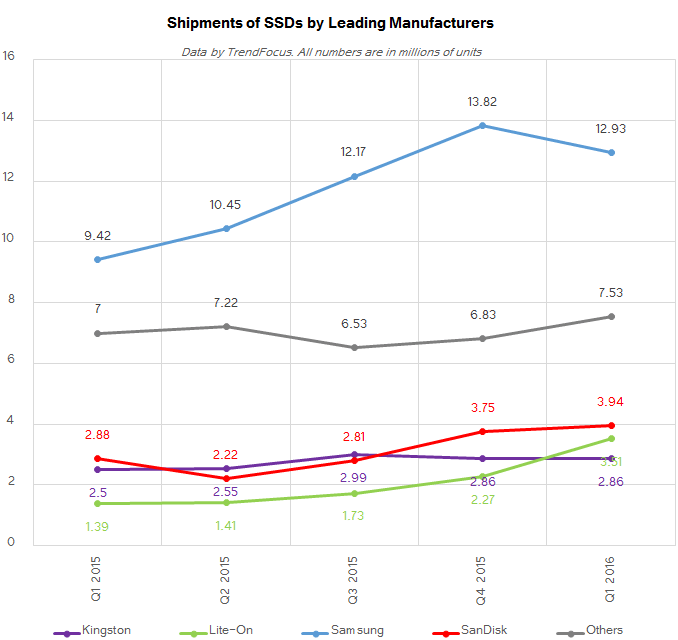 It is noteworthy that shipments and market shares of Intel, Micron and HGST dropped year-over-year. The reasons for that are unclear, but it is possible that the three companies focused on high-capacity enterprise-class SSDs, which is why their unit sales declined.
Shipments of PCIe and SAS Enterprise SSDs Are Growing, But Unit Numbers Are Not High
When it comes to data-centers, multiple companies are replacing their 10K/15K HDD-based mission critical deployments with SSDs at a very rapid pace. Since one high-end enterprise SSD offers higher IOPS and throughput than multiple hard drives, volume shipments of PCIe and SAS solid-state drives are not high. In the first quarter only around 164 thousand of PCIe enterprise SSDs were shipped, whereas sales of SAS-based SSDs grew to 590 thousand units. By contrast, the industry sold 2.95 million SSDs with a SATA interface.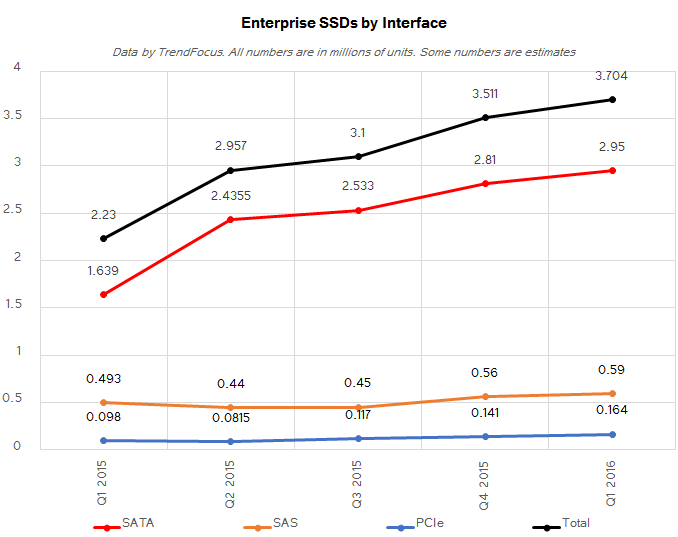 TrendFocus believes that Samsung, Intel and HGST control the lion's share of enterprise SSDs (approximately 80%). HGST is also a leading supplier of enterprise-class HDDs, which is why the transition from HDDs to SSDs by various owners of data-centers does not hurt the company, but rather allows it to capitalize on its SAS expertise.
The Future Looks Bright for SSDs
If sales of PCs drop in Q2 2016, shipments of SSDs and HDDs will decline as well. Earlier this year Western Digital already predicted a slight decrease of the HDD TAM (total available market) in the second quarter, which is a bad news for storage market in general. On the other hand, shipments of PCs usually increase in the second half of the year, which means that not only HDDs 'should' rebound, but SSDs will have good chances to set a new record in terms of unit shipments (we say should, as various reports have mixed predictions).
There are several positive trends for the solid-state storage in general. Firstly, NAND flash is getting cheaper to manufacture and companies like Intel and Micron are about to ramp up production of their 3D NAND. More affordable memory helps to build cheaper SSDs. Secondly, the share of mobile PCs that can only house SSDs is increasing as computers are getting thinner and lighter. Thirdly, Seagate no longer wants to aggressively participate in the market of affordable notebook storage. All-in-all, the future looks good SSDs, but the question is whether all market participants are ready to take advantage of the current situation.
*Please note that some of the numbers mentioned in this news story were not directly revealed by TrendFocus as a part of the company's press release on the matter, which is why we fetched them from previous announcements, or estimated based on previously released numbers by the company. If you need precise numbers for business decisions, you should acquire the full report from TrendFocus.
Source: TrendFocus