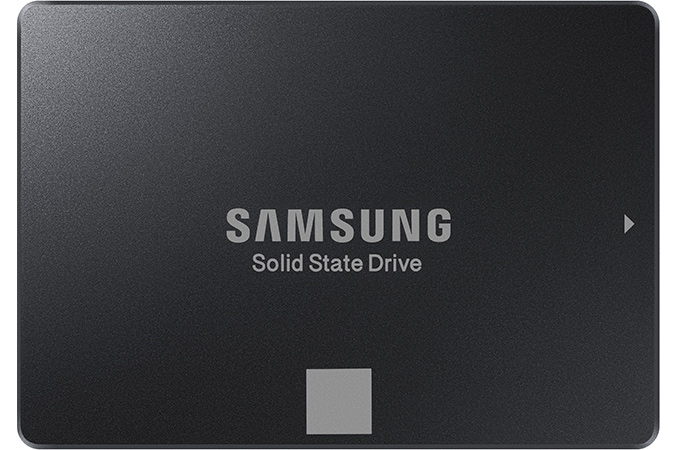 When Samsung released its 750 EVO lineup of SSDs based on planar TLC NAND flash memory earlier this year, it seemed like a big surprise, as the company was first to ramp up production of 3D NAND memory and to use it for SSDs. Apparently, Samsung not only decided to expand the lineup with a 500 GB model, but also to make such drives available worldwide and even change their positioning.
Earlier this year Samsung introduced its 750 EVO drives with 120 GB (MZ-750120BW) and 250 GB (MZ-750250BW) capacities, which are based on simplified version of the company's MGX controller with only two cores and TLC NAND chips produced using 16 nm fabrication process. The drives are equipped with 256 MB of DRAM cache, AES-256 encryption, and support various performance improving technologies typically found in TLC-based SSDs, such as pseudo-SLC cache and so on. Samsung's 750 EVO 500 GB drive (MZ-750500BW) is based on the company's 16 nm TLC NAND and offers similar levels of performance as already released SSDs — up to 540 MB/s sequential read and up to 520 MB/s sequential write speed. Besides, the higher-capacity version is rated for 100 TB total bytes written (TBW) endurance.
Samsung TLC SATA SSD Comparison
Drive
750 EVO 120 GB
750 EVO 250 GB
750 EVO
500 GB
850 EVO 120 GB
850 EVO 250 GB
850 EVO
500 GB
Controller
dual-core MGX
MGX
MGX
NAND
Samsung 16nm TLC
Samsung 32-layer 128Gbit TLC V-NAND
DRAM
256MB
256 MB
512 MB
1 GB
Sequential Read
540 MB/s
Sequential Write
520 MB/s
4KB Random Read
94K IOPS
97K IOPS
97K IOPS
94K IOPS
97K IOPS
4KB Random Write
88K IOPS
4KB Random Read QD1
10K IOPS
10K IOPS
4KB Random Write QD1
35K IOPS
40K IOPS
Encryption
AES-256, TCG Opal 2.0, IEEE-1667 (eDrive)
Endurance
35 TB
70 TB
100 TB
75TB
150 TB
Warranty
Three years
Five years
Initially, Samsung positioned its 750 EVO SSDs as inexpensive solutions primarily designed for system builders in select markets, but with the addition of a 500 GB model into the family, the company also changes positioning of the lineup. Starting from early June, the 750 EVO family of SSDs will be offered in 50 countries, including the U.S., Europe, China, Korea, and other regions. Moreover, the drives will be marketed not only to system builders, but also to end-users.
The 750 EVO SSDs are positioned just below the V-NAND-based 850 EVO and replace the discontinued 840 EVO, which faced writing performance degradation scandal and caused some troubles for Samsung. Despite formal positioning, performance levels of the 750 EVO are very similar to those offered by the 850 EVO drives. However, endurance of the planar TLC-based drives is unsurprisingly somewhat lower compared to the 850 EVO (which uses 3D V-NAND). Besides, the more advanced drives also come with a five-year warranty.
The 750 EVO 500 GB's MSRP is $149.99 and the drive is covered with a three-year warranty (or 100 TB TBW). By contrast, the 120 GB version costs $54.98, whereas the 250 GB model is priced at $83.99 at Amazon.
Source: Samsung