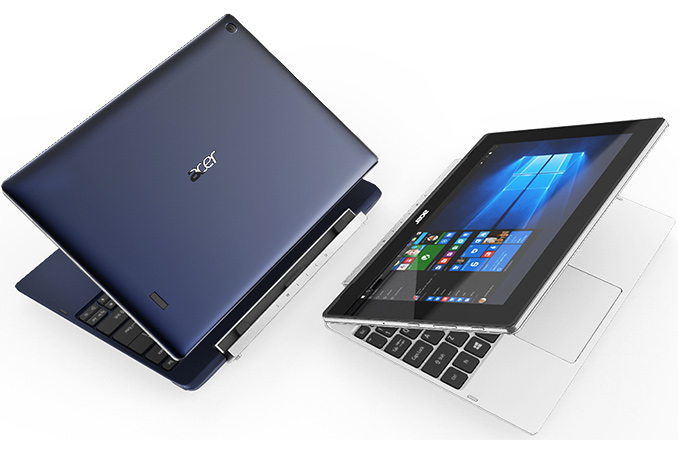 Acer has introduced two new affordable 2-in-1 hybrid PCs ahead of Computex trade show. Both systems are based on Intel's quad-core Atom processors, feature 10" multi-touch IPS displays and run Microsoft Windows 10. The new Switch V10 and Switch One computers from Acer will be available next quarter and will cost $199 – $249 in North America.
Sales of hybrid 2-in-1 hybrid computers are growing rapidly these days, particularly in well-developed countries. Last year Intel said that shipments of 2-in-1 PCs (which it calls convertibles) were up 1.5 times year-over-year in North America and this year Intel expects this growth to continue, making the product category an interesting target for system builders. Since many people these days would like to have convenience of a tablet (e.g., compact sizes, touchscreen, etc.), but would like to retain physical keyboard, 2-in-1s are a way to go for PC makers, particularly in the entry-level segment as there are only a few convertibles on the market today. The new Acer Switch V10 and Switch One PCs will be among the first low-cost 2-in-1s, when they hit the market in Q3.
Both Switch V10 and Switch One systems are based on quad-core Intel Atom processors (four Airmont cores, 2 MB cache, 1.44 GHz and higher clock-rates, built-in Gen8 Intel HD Graphics core with 12 or 16 execution units, 2 W TDP, etc.) and will feature 10" multi-touch displays with IPS panels and unknown resolution (given the prices, it is likely 1366x768). The two convertibles use Acer's Snap latch-less magnetic hinge design and can be used in various modes, including notebook, tablet and tent. It is unclear whether the two PCs actually share the same common platform, but it certainly seems so.

The Acer Switch V10 (SW3-017) is a more advanced of the two convertibles introduced by the company as it seems to be a little slimmer, it comes with five colorful metal covers of white, black, aquamarine, red, and dark blue, and has a fingerprint reader on the back. The display of this 2-in-1 hybrid notebook is covered by Antimicrobial Corning Gorilla Glass, which protects the panel and has a special antimicrobial agent, which promises to protect against a variety microorganisms. The device comes with 32 or 64 GB of solid-state storage, front- and back-facing cameras as well as dual-band MIMO 802.11ac Wi-Fi. Besides, the convertible also features a USB Type-C port, which is used for data transfer at likely USB 3.0 speeds, video output and charging.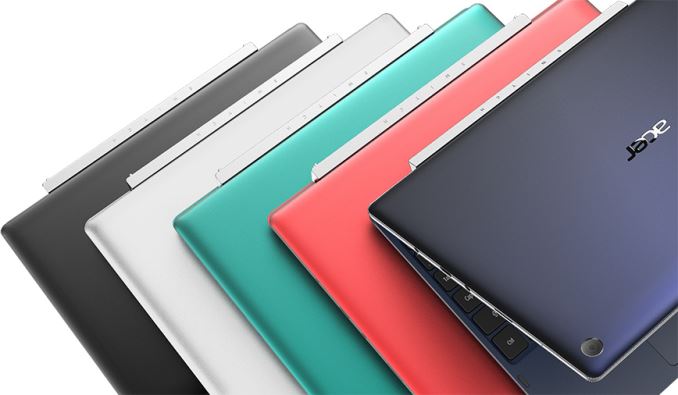 Out-of-the-box, the Acer Switch V10 comes with a slim keyboard, but those, who need additional 500 GB of storage and two USB Type-A ports will be able to buy an appropriate accessory from Acer. The price of this accessory is unknown.
The Acer Switch V10 will be available in North America in Q3 starting at $249 and will reach EMEA and China (starting at ¥2,599) in September and August, respectively.
Next up is the Acer Switch One 10 (SW1-011), which is basic solution that features a dark grey brushed-metal cover and a little thicker design compared to the Switch V10. The device naturally integrates everything one would expect from a convertible, including flash storage, Wi-Fi, front- and back-facing cameras, a micro-SD card reader, USB ports, an HDMI output and so on.
Being aimed at kids and price-conscious buyers, the Acer Switch One 10 is set to cost $199 in North America and €249 in EMEA, when it is available in these regions in July. In China, the product will cost ¥2,299, starting from September.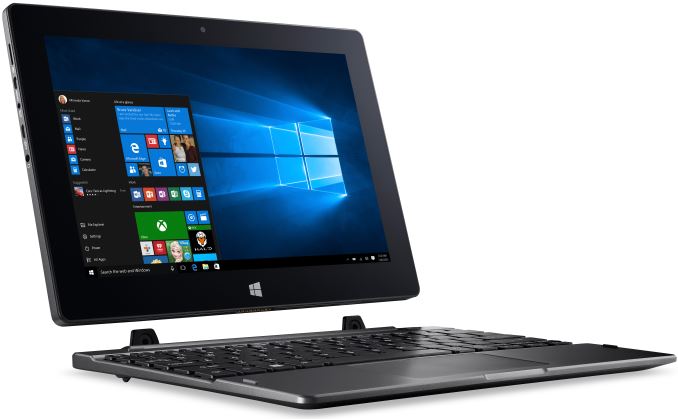 Back in April, Intel introduced its new Apollo Lake platform for low-cost PC, which supports a number of tablet-oriented features (e.g., solder down Wi-Fi, eMMC, MIPI interface for camera) and could be used to build a variety of products, including convertibles, notebooks and tablets. Therefore, expect other PC makers to follow Acer with low-cost 2-in-1 designs later this year.
Source: Acer