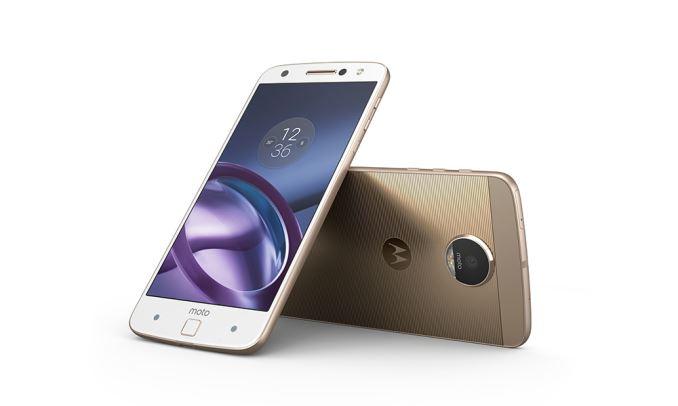 Today Motorola and Verizon announced the availability and pricing details for the Moto Z Droid Edition and the Moto Z Force Droid Edition, the Verizon exclusive versions of Motorola's Moto Z smartphones. The Moto Z Droid with 32GB of internal storage costs $26 per month for 24 months using Verizon's device payment plan or $624 total. The Moto Z Force Droid costs $30 per month for 24 months or $720 total. Both phones will also be available with 64GB of NAND through Motorola's Moto Maker website for an extra $50. The new Moto Z Droids are up for preorder online starting today and will be available for purchase in Verizon stores beginning July 28.
Pricing for the Moto Mods, the modular accessories that snap onto the back of the phones using strong magnets, was also revealed. The JBL SoundBoost speaker, which includes two speakers, a kickstand, and an additional 1000mAh battery, costs $79.99. The Moto Insta-Share DLP projector, which outputs a 854x480 WVGA image at 50 lumens nominal and also includes an 1100mAh battery, is $299.99. Incipio, Kate Spade, and TUMI offer several 2200mAh Power Packs that range in price from $59.99 to $89.99. Each design comes in both standard and wireless charging versions, with the latter supporting the Qi and PMA standards.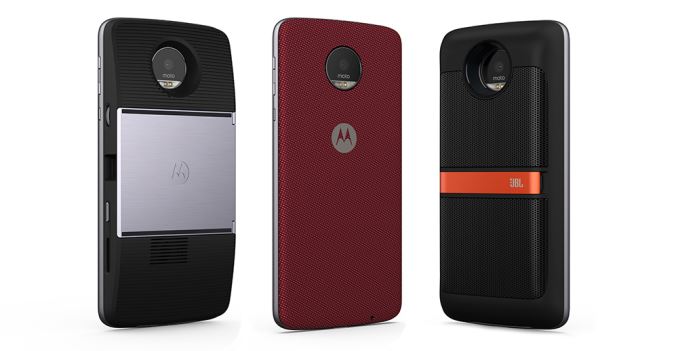 Moto Insta-Share Projector, Style Shell, JBL SoundBoost speaker
Just like with past Motorola phones, there are several decorative back plates that allow you to customize the look and feel of the new Droids. These come in several colors and materials, including real wood, leather, and fabric, and sit flush with the rear camera when snapped into place. The decorative Style Shells start at $14.99, with the nylon fabric and wood versions costing $19.99 and the leather-covered plates costing $24.99. All of the Moto Mods and back plates will be available the same day as the phones.
Motorola first announced the Moto Z and Moto Z Force at Lenovo's Tech World event in June. These new phones replace the Moto X family as the company's flagship devices. Both phones have a 5.5-inch QHD (2560x1440) AMOLED screen and come with Qualcomm's Snapdragon 820 SoC, 4GB LPDDR4 RAM, and either 32GB or 64GB of internal storage that's expandable via microSD.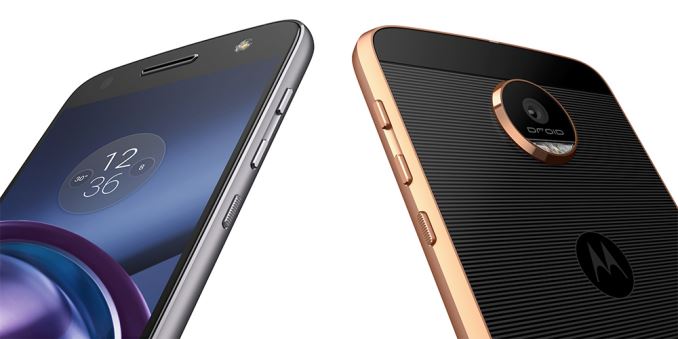 Moto Z Droid (left) and Moto Z Force Droid (right)
There are a few notable differences between the two models. The Moto Z Droid comes with a smaller 2600mAh battery packed inside an especially thin all-aluminum chassis. The Moto Z Force Droid bumps battery capacity to 3500mAh and increases rear camera resolution to 21MP versus 13MP for the Moto Z Droid. It also includes a hybrid autofocus system that combines PDAF with a laser, which should be a step up from the standard Z's laser autofocus. Both cameras have f/1.8 apertures and OIS.
While the Moto Z Droid's screen is covered edge to edge with Corning Gorilla Glass, the Moto Z Force Droid uses Motorola's second-generation Moto ShatterShield technology, which should improve the screen's resistance to cracking or shattering if dropped.
For more information about these phones, including a full list of specifications and additional pictures and discussion, please see our original Lenovo Tech World article.