Surveillance Support (NVR Features)
Network Video Recorders (NVR) have become very popular in the last few years, with hard drive vendors actually releasing hard drives with specific firmware features for this particular market. The growth has mainly been due to the advent of IP cameras that has resulted in cheaper and easier to install surveillance end points. As mentioned in the introduction, NAS vendors often have dedicated NVR lineups. However, for casual surveillance needs of home users, a NAS unit can often double up as a NVR.
The main requirements in the area include IP camera support (almost all vendors support ONVIF cameras, but, specific model support is always better to make use of all the available features in the camera), ease of use when it comes to live view, recording set up, and access to archived footage. Since this feature is not needed by all customers, it often comes as an add-on to the OS. NAS vendors also have extra revenue potential in this segment. By default, a NAS comes with support for 1 to 4 IP cameras. The exact number varies from vendor to vendor. Consumers wishing to add more cameras need to buy extra licenses from the vendor. Vendors often supply a mobile app to complement the surveillance features in the OS. The mobile app support aspect is not covered in this section.
In order to evaluate the surveillance support features, we used two Amcrest IP2M-841 Pro HD 1080p Wi-Fi IP cameras. They were connected in the same subnet as the NAS unit under test. Since these cameras came in as part of the Synology - Seagate - Amcrest surveillance bundle, we used the Synology DS416j for testing out the Synology features (though they are essentially the same as what one would get with the DS216+ that we have been using for the evaluation of Synology's DSM in this series of articles).
The surveillance support features of the OS from each vendor is discussed in detail in this section. Vendors are covered in alphabetical order. Readers interested in jumping ahead to a particular vendor can use the list below.
Asustor
Asustor's Surveillance Center is an add-on that needs to be installed from the App Center. One of the unique points about Asustor's IP camera support is that they include licenses for four channels out of the box. As we shall see further down, there is no other vendor offering recording and control of four cameras from a single NAS without forking out cash for additional licenses. After installation of the add-on, we find that an additional Windows program needs to be downloaded for managing the surveillance setup. The absence of native control capabilities via a browser is disappointing, as the surveillance management is essentially restricted to specific nodes where the software can be installed. This is acceptable for most use-cases, though.
At first sight, the Windows program (which can thankfully be launched from within a browser), appears quite comprehensive.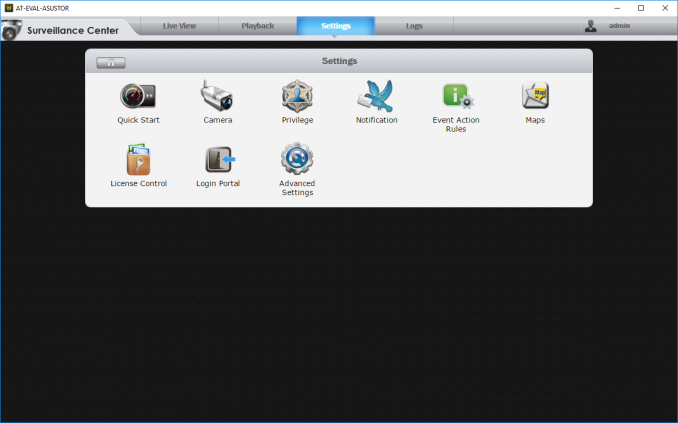 The user experience, however, is an altogether different story. The UI seems to have all the necessary options, as shown in the gallery below - including split views for viewing live streams from the IP cameras, pan-tilt-zoom control etc. However, the first problem we had was that Asustor doesn't support the Amcrest cameras natively. We had to configure them as generic ONVIF cameras. This only allowed a recording resolution of 480p, though we had options later to enable a 1080p stream. Recording schedules could be set up, and storage space allocations for each camera could be made.
Privileges and maps (for setting up camera locations) could be configured. E-mail and SMS notifications, as well as push notifications and user-defined actions, could also be set up for specific events such as camera disconnects and non-availability of storage space. Other settings included enabling of a RTSP server with a URL for the feed from each camera (with the data flowing through the NAS for that stream instead of coming directly from the camera). The live view itself could be configured for streaming from the camera direct or via the NAS.
Unfortunately, our experience with the Asustor Surveillance Center was not very satisfactory. Even though we could set up previews and recordings did turn up in the shared folders, the live view and playback of stored recordings through the Surveillance Center was not successful. While the four free camera licenses are very attractive, we wouldn't suggest using Asustor NAS units for managing IP cameras unless you have one of the cameras that is in the supported compatibility list.
Netgear
Netgear's ReadyNAS Surveillance is an add-on first-party app in ReadyNAS OS 6.6.0. As one can see from the UI in the screenshot below, it is clear that this package's interface is reminiscent of the ReadyNAS OS from the early 2010s. It has not been updated to be consistent with the current ReadyNAS web UI. On the topic of available camera licenses, we find Netgear providing support for one free camera.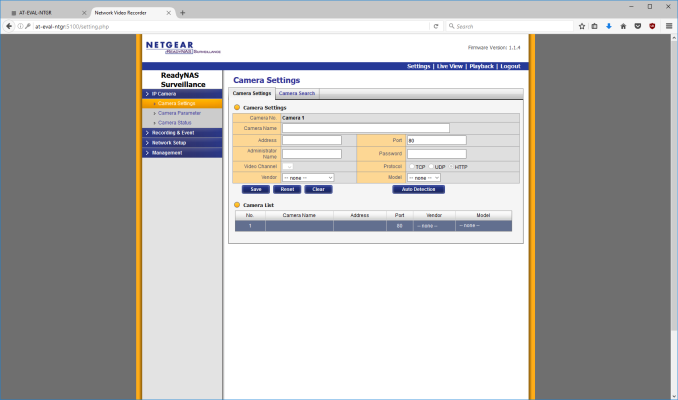 The gallery below takes us through the setup and usage process. The Amcrest camera had to be manually added, and it was clear from the Camera Status page even without the preview that the camera was streaming in data to the NAS. Recordings could be configured to loop around depending on either amount of storage space or a pre-defined number of days. Event action rules (such as the action that needs to be performed when, say, a camera connection is lost) can also be configured. The app can also send e-mails if a SMTP server is configured. User and license management options are available.
The issues in the app started surfacing when we tried to exercise the live view and playback options. Both need a plugin to be installed for display (Java, supposedly). However, no amount of switching browsers (even using Internet Explorer!) and installing plugins could help activate the live view or playback functionality. Apparently, this is a common issue and many consumers have just decided to use software on the PC for recording IP camera feeds while using the ReadyNAS unit as just a dumb storage area. Netgear definitely needs to revamp the ReadyNAS Surveillance app in order to keep up with the competition.
QNAP
QNAP's Surveillance Station was the first NAS package that we evaluated which could successfully display a live view and play back recordings from the IP camera. We believe that it has got a lot to do with the fact that the Amcrest IP cameras are in the official support list from QNAP, and, the surveillance package is more robust compared to the ones discussed above. QNAP provides two free IP camera recording licenses with each NAS purchase.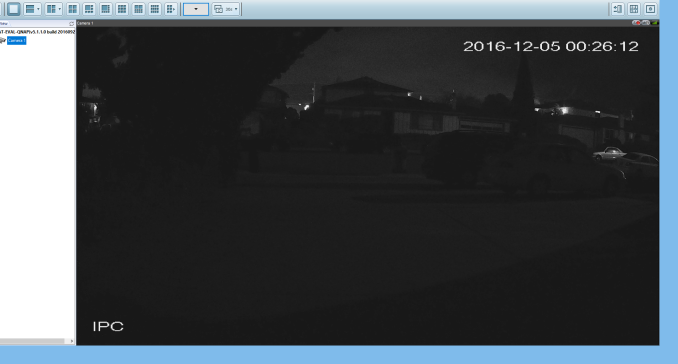 Despite being able to successfully use the Surveillance Station package, we believe QNAP can do a lot to improve the user experience. Our first complaint is that Surveillance Station playback and recording requires an external Windows program to be installed. This leads to the same issues that we discussed in the Asustor sub-section. The gallery below takes us through the setup and usage experience.
The two Amcrest IP cameras had to be manually added, but, they were in the support list, and the experience was essentially seamless (with just the IP address and the login credentials for the camera being needed). The video settings could be configured along with the audio recording. Recording durations and schedules could also be configured during the setup process. Event management, privilege settings, and the other usual NVR options are available from the web UI. The live view / playback Windows program allows pan-tilt-zoom capabilities. Overall, the Surveillance Station package provides an acceptable experience, though there is enough scope for improvement - Getting rid of the requirement of an external Windows program would be a nice start.
Synology
Synology has been devoting a lot of attention to the NVR features of the DSM OS in the last few years. It shows clearly, as Surveillance Station has moved from a rather plain UI to its own desktop-inspired UI similar to the main DSM. These updates have come with Surveillance Station 7.2, and Synology is justifiably proud of their efforts. Synology, like QNAP, provides two free IP camera licenses with each NAS.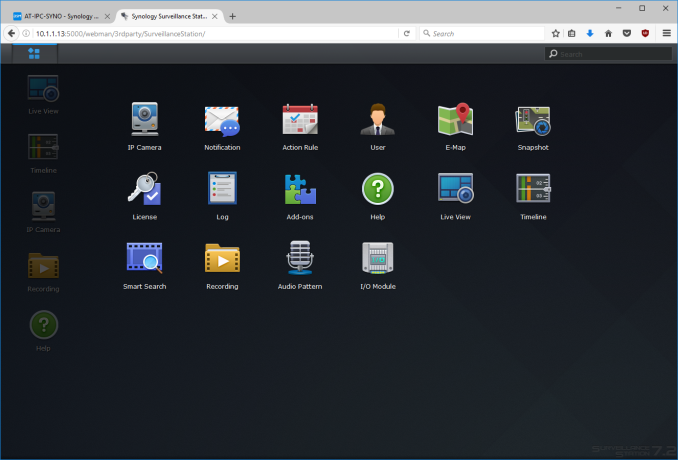 The camera addition wizard is simple and straightforward, though network configuration issues might prevent automatic recognition of cameras. In our case, it was simpler to just set up the cameras manually, as we had the IP address and login credentials in hand. After the initial set-up, the editing option allows users to finely tune the settings for the stream to be recorded (resolution, frame rate, image quality etc.). Keyframe intervals can also be set (though that depends on the camera's capabilities also). Recording settings such as schedules, duration of each video and limits for archives (space as well as number of days) can also be configured.
Live view settings (whether the stream comes from the NAS or direct from the camera, multicast settings etc.) can also be edited on a per-camera basis. Event detection can be configured with the detection source being the camera itself, or the NAS. Various other camera parameters can also be altered from the settings section.
Notifications are handled with settings on the DSM side. E-mail, SMS, and push services are supported. The list of events is quite comprehensive compared to what we have seen from other vendors. These events can also be set to trigger actions such as automatic panning or streaming particular audio files (a barking dog, for example) to the IP camera's speakers. These action rules can also be set to operate on specific schedules.
Similar to other NVR packages discussed in this section, Surveillance Station 7.2 also allows e-maps (for ease of understanding camera locations). Detailed logs are also vailable for information regarding camera status as well as changes to the Surveillance Station settings.
Despite Surveillance Station itself being an add-on to DSM, it also has its own plug-in architecture. This is particularly attractive to users who don't need to be confused with functionality they probably don't need. By default, the Device Pack add-on is pre-installed. This allows Synology to add cameras to the compatibility list without the need to update Surveillance Station itself. Other available add-ons include a central management system (for multi-site NVR deployments), VisualStation (for display output of surveillance view and control on certain NAS units with video outputs), Joystick (alternative to a mouse for PTZ control) etc.
The live view and playback capabilities of Synology's Surveillance Station are very user-friendly. Unlike Asustor and QNAP, a separate Windows program is not needed, but, a NPAPI plugin needs to be installed. Unfortunately, this means that certain browser / OS combinations are out of luck. It appears that Synology is moving towards a desktop client similar to QNAP and Asustor, though we are not sure that is a good approach. Native browser capabilities with HTML5 should also remain an option so that the current user interface can be maintained without the need of a plugin. However, one must definitely give credit to Synology for having moved on from a Java plugin.
The live view interface offers PTZ (pan-tilt-zoom) capabilities, and also has alert management settings on a per-camera basis. The Timeline view offers playback capabilities and can easily indicate periods of activity to the user. There is also support for a 'Smart Search' in the Live View that can be used to track regions of interest in the feed. The Recordings option in the desktop UI presents a list of files that have been finalized or currently being recorded to. These files can be played back from the web UI. They can also be downloaded to the client, if needed.
On the whole, Synology's Surveillance Station 7.2 is one of the best native NVR packages in the commercial NAS OS space. We would like Synology to focus on a fully browser-based cross-platform solution moving forward in addition to their current plans for a dedicated desktop program in the upcoming Surveillance Station release.
Western Digital
Western Digital's My Cloud OS focuses on the core features, and leaves important value-additions like surveillance capabilities to third-party solutions. In this case, the third-party solution is not a completely hands-off approach. Rather, WD has partnered with Milestone Systems to allow users of their multi-bay NAS units to take advantage of the tried and tested Arcus VMS (video management software). We had evaluated Milestone's Arcus VMS back in 2013, and had come away impressed. In the WD My Cloud DL4100, the surveillance solution maintains its reputation. Users of the My Cloud DL4100 are allowed two free camera licenses, though it is not clear if that number varies based on the model.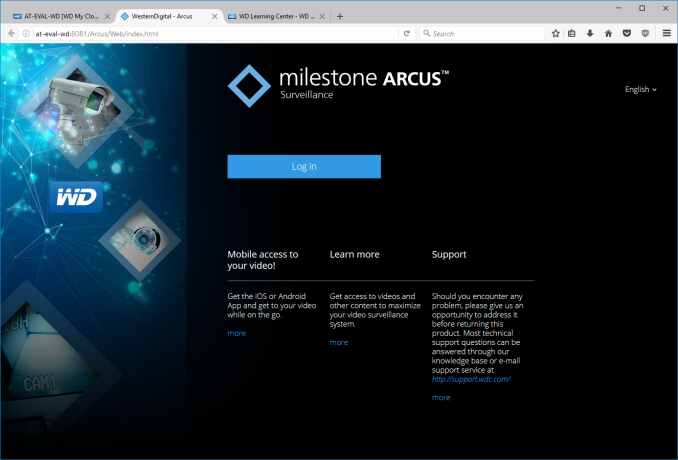 The user interface has been slightly updated with a more modern look compared to what we saw in 2013. However, the core features are still available. Camera addition is seamless - just the IP address and the login credentials are needed, and the VMS does the rest. In fact, it is even more user-friendly compared to the addition process in QNAP's and Synology's Surveillance Station packages. Stream configuration and recording triggers can be set up at a later point in time. Retention time and maximum disk usage can be configured on a per-camera basis. We also have grid setups for motion detection to track regions of interest. Detection adjustments (depending on the amount of movement) can be made, and the VMS helpfully points out impact on the system performance.
The VMS maintains a user list separate from the one used in the My Cloud OS. Similar to other NVRs, Arcus also allows event notifications with a comprehensive trigger list (as shown in the gallery below). Remote access is an aspect that we have not covered in this section so far, but, since the Arcus VMS essentially operates in isolation compared to the My Cloud OS, it has its own port forwarding settings that need to be set for access to the VMS over the Internet. Export views (for creating videos of recorded streams between two particular timestamps) and features are also similar to what we looked at in 2013. Export files are in MKV format and are basically remuxed versions of the feed from the cameras.
We are impressed by Western Digital's willingness to allow their My Cloud DL-series NAS units to act as NVRs for no extra cost (particularly considering that the VMS is not in-house). Milestone Arcus is regarded highly in the industry, and we can see from our frictionless experience that the reputation is well-deserved.
ZyXEL
Zyxel has no native or third-party surveillance solutions for their NAS lineup. Given that they focus only on non-x86-based NAS units, it is not surprising. That said, tech-savvy users can always create FTP or SMB shares, and set up the shared folder as the recording destination in the IP camera's UI (if supported). Otherwise, a PC-based VMS can be used with the ZyXEL NAS share as the storage area.