Test Results
To test overclocked stability, we used the very demanding Gun Metal 2 — Benchmark 2, which pushes systems with its DX9 routines. To be considered stable for test purposes, Gun Metal, our Quake3 benchmark, UT2003 Demo, and Super PI had to complete without incident. Any of these 4, and in particular Super PI and Gun Metal, will crash a less-than stable memory configuration.
Corsair TwinX1024-4000PRO — 2 x 512Mb Double-Bank
Speed
Memory Timings
& Voltage
Quake3
fps
Sandra UNBuffered
Sandra Standard
Buffered
Super PI 2M places
(time in sec)
400DDR
800FSB
2-3-3-5
2.65v
322.33
INT 2847
FLT 2832
INT 4847
FLT 4806
130
500DDR
1000FSB
2.5-3-4-6
2.75v
395.9
INT 3282
FLT 3312
INT 5920
FLT 5973
105
539DDR
1078FSB
3-3-4-7
2.85v
422.00
INT 3559
FLT 3543
INT 6311
FLT 6313
99
The new Corsair 4000 PRO performed significantly better than its rated 3-4-4-8 specification. In fact, at DDR400, it allowed the fastest timings we have seen with DDR500 memory, which is a remarkable accomplishment.

According to information provided by Corsair, the SPD on the XMS4000PRO modules sets the best timings for the memory speed settings. While the Corsair SPD settings at DDR500 and 539 provided performance that was similar to our tests, the Corsair timings for DDR400 were far too relaxed. For best performance at DDR400 to DDR450 range, you should manually set memory timings.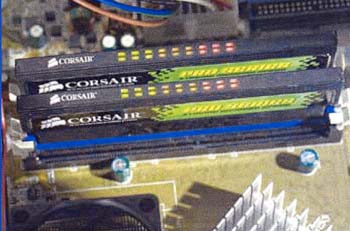 We do not know whose memory modules Corsair is using in these new 4000 PRO modules. The new cast aluminum heatsink is glued to the memory modules using thermal adhesive. There is also the added complexity of the top LED's, which makes it very difficult to look at the memory chips without destroying the module. Corsair has not told us the chips used, and it appears they do not want end-users snooping at what many in the memory industry regard as trade secrets.