Hot Test Results
Even though they complied with the design power quality guidelines, earlier SFX PSU designs displayed poor power quality figures. More recent models, like the powerful SilverStone SX700-LPT that we reviewed last year, were greatly improved.
The Enermax Revolution SFX also delivers good voltage regulation and reasonable power quality figures. Voltage regulation on the 3.3V/5V lines is at about 2.2%, with the 12V line doing much better and maintaining a regulation of 1.5% within the nominal load range. Filtering is good on the 12V line, with our instruments recording a maximum voltage ripple of only 30 mV under maximum load. This figure is exceptional and comparable to that of the best ATX PSUs, yet the designer seems to have neglected the 3.3V and 5V lines, the filtering of which is much worse. The 3.3V and 5V lines recorded a maximum of 30 mV and 38 mV respectively with the PSU nominally loaded. With the PSUs voltage lines cross-loaded, the 5V line almost reached the design limit of 50 mV.
Main Output
Load (Watts)
131.34 W
326.08 W
487.26 W
646.35 W
Load (Percent)
20.21%
50.17%
74.96%
99.44%
Amperes
Volts
Amperes
Volts
Amperes
Volts
Amperes
Volts
3.3 V
1.64
3.37
4.09
3.36
6.13
3.33
8.18
3.3
5 V
1.36
5.07
3.41
5.02
5.11
4.99
6.82
4.96
12 V
9.82
12.11
24.54
12.03
36.81
11.99
49.08
11.93
Line
Regulation
(20% to 100% load)
Voltage Ripple (mV)
20% Load
50% Load
75% Load
100% Load
CL1
12V
CL2
3.3V + 5V
3.3V
2.1%
16
20
22
30
20
38
5V
2.2%
18
22
28
38
28
48
12V
1.5%
20
24
26
30
34
26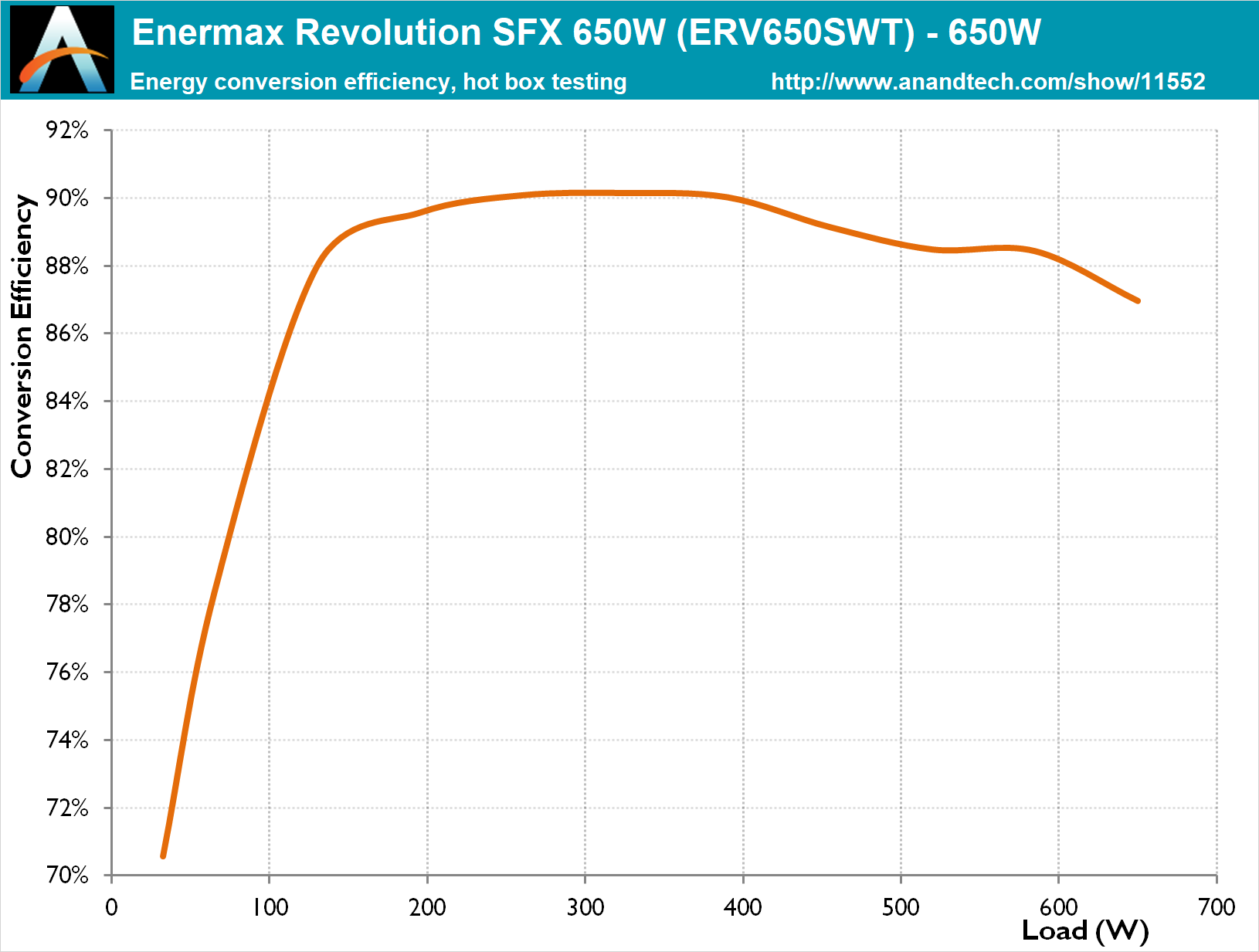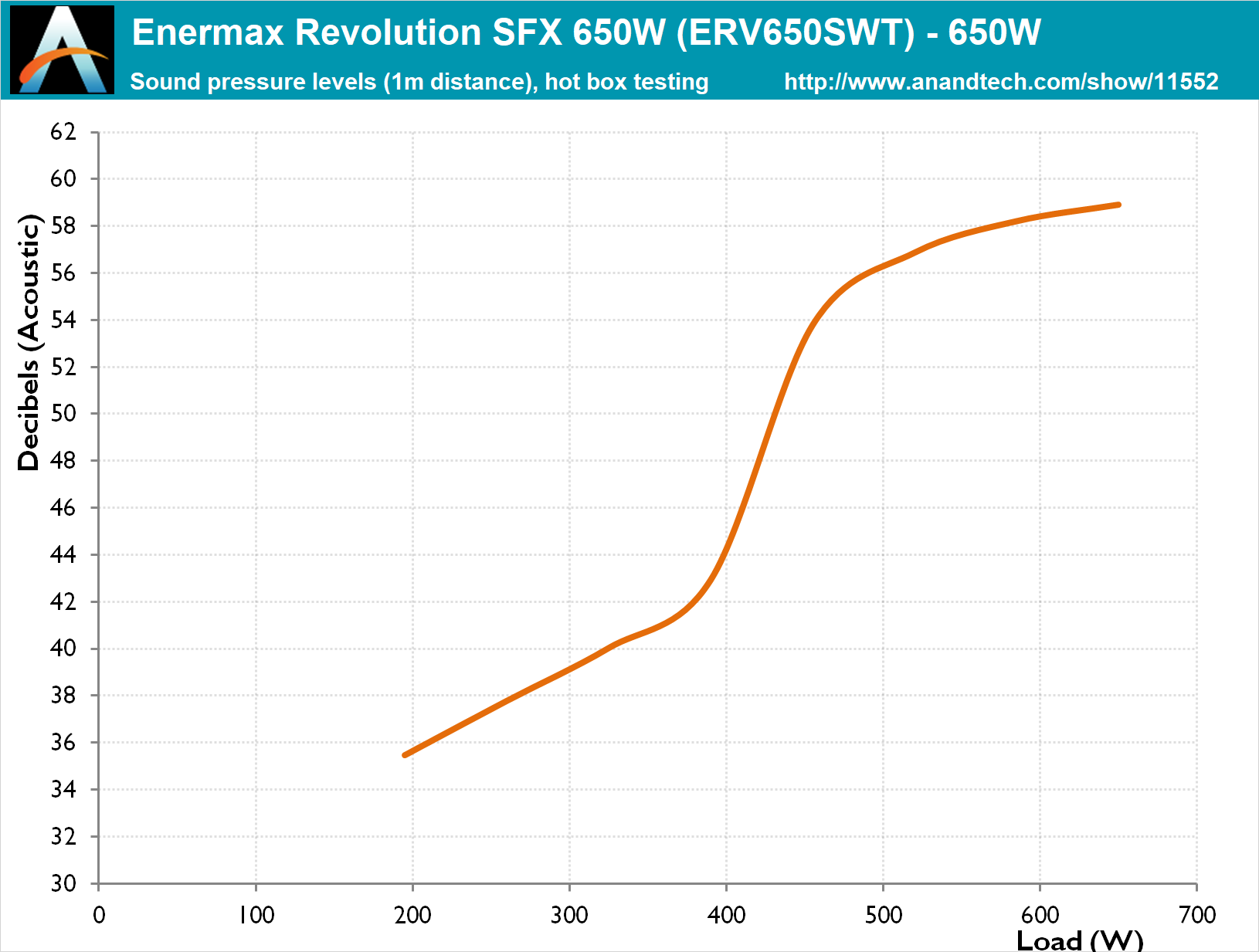 The energy conversion efficiency of the Revolution SFX 650W PSU takes a major hit with the unit operating inside our hotbox, suggesting that the small PSU is heavily thermally stressed. The cooling fan once again started when the load was above 150 Watts and the internal temperatures got uncomfortably high, yet not to the point that the thermal protection of the PSU would kick in. The average efficiency reduction is 2.3%, with a drop of 2.6% at 100% load, suggesting very high thermal stress.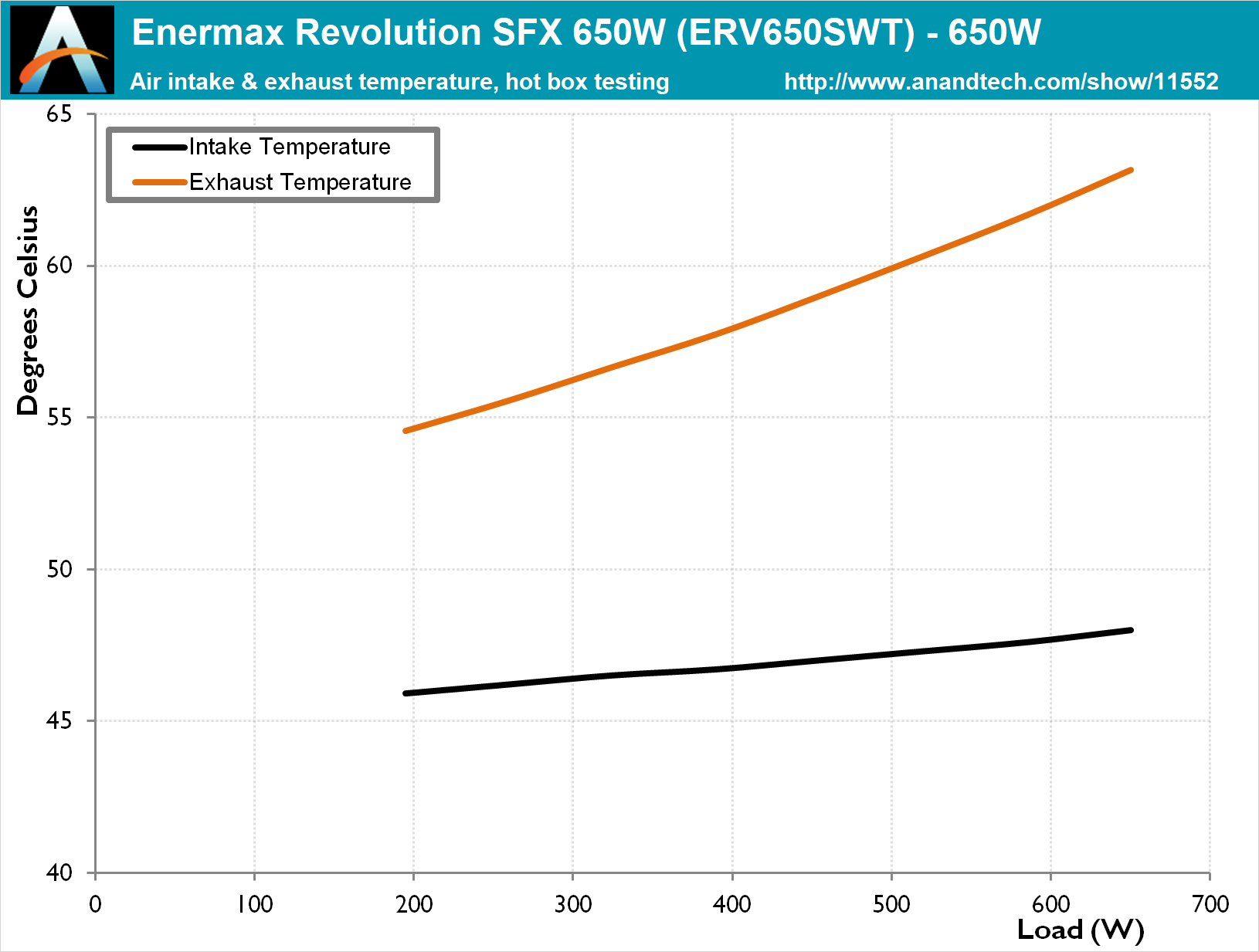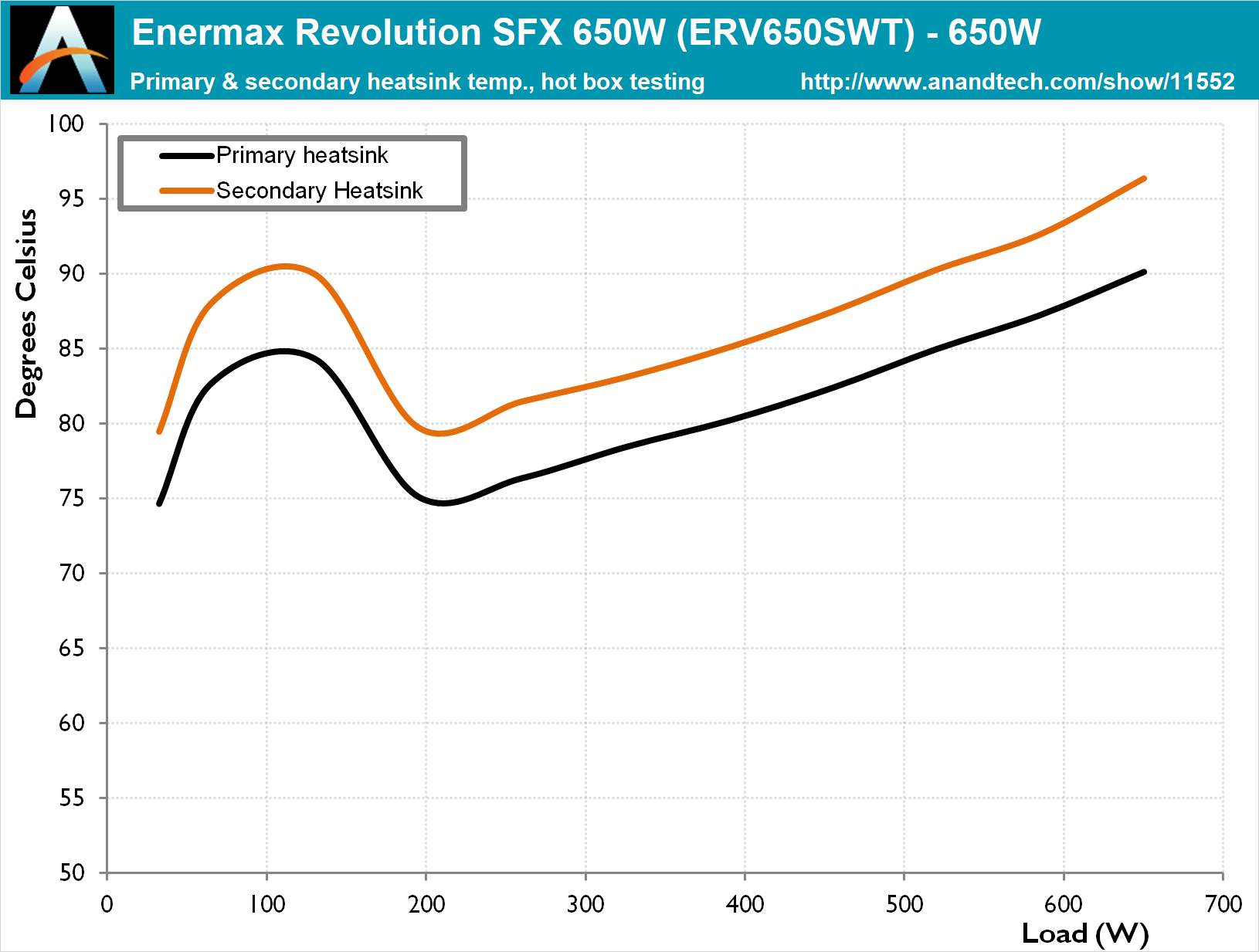 Once again, the small cooling fan started when the PSU's load had almost reached 200 Watts. Initially the noise levels are relatively low, yet this time the fan's speed increases exponentially in relation to the load, with the small fan struggling to provide enough airflow for the PSU to remain operational. Although it manages to do so, the noise coming from the fan when the load is above 400 Watts is overwhelming, with a high-pitch whine that would probably be audible even through headphones. This clearly is not a typical everyday use scenario and is unlikely that the PSU will survive such abuse for prolonged periods of time, but it will remain operational under very adverse conditions should it need to.