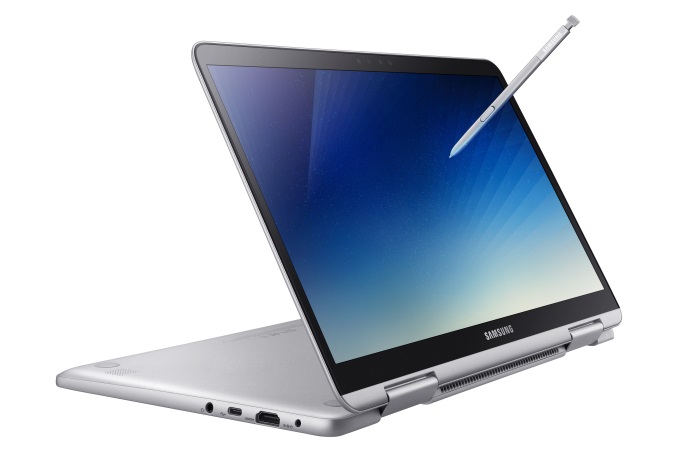 Just in time for, or before CES 2018, Samsung unveiled three new laptops in their Notebook 9 family, starting with the Notebook 9 Pen. The Pen is a 13.3-inch 2-in-1 notebook with a 360-degree convertible hinge, includes the built-in S-Pen for mixed laptop/tablet functionality. The other new laptops are updates of its Notebook 9 devices, the 13.3 and 15-inch models. They, like the Pen, will include 8th Generation Intel Core i7 processors and enhanced graphics capabilities as well as a larger battery for extended use while mobile. The new Notebook 9 models have exterior changes as well and are built out of a magnesium-aluminum alloy which Samsung calls "Metal12" which should give the laptops a more premium look and feel fitting for the updated internals inside.
A Microsoft Surface rival, the Notebook 9 Pen and its full metal alloy chassis provide a durable and lightweight shell with the unit weighing in at a mere 2.2 pounds. The convertible 360-degree hinge gives users the flexibility to convert from a tablet to a laptop by simply rotating the keyboard behind the screen. The Notebook 9 Pen, as its namesake surely implies, includes a built-in S-Pen for digitizing doodles, writing, sketching, and more. The S Pen is a battery-free device with a 0.7mm tip and able to recognize 4096 levels of pressure for a smooth writing/drawing experience. When the pen is removed from the notebook (its home is a hole in the front), the Air Command software will launch providing S Pen shortcuts for Samsung Notes and Autodesk Sketchbook to create immediately.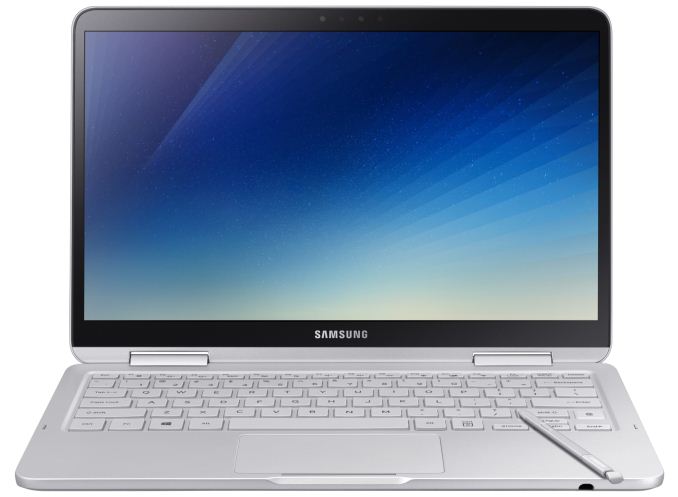 Hardware wise, the Samsung Notebook 9 Pen, will use a quad-core 8th generation Intel Core i7 Processor with up to 16GB of DDR4 RAM. Storage options are listed up to a 512GB NVMe PCIe SSD. Graphics duties are handled by Intel HD Graphics. The integrated GPU sends the pixels to a 13.3" Samsung RealViewTouch FHD (1920x1080) monitor able to display 95% of sRGB with a maximum brightness of 450 nits. This is the only screen option; no 4K UHD is available.
The 2-in-1 also includes integrated 720p and IR cameras supporting Windows Hello and facial recognition, two 1.5W speakers, as well as a fingerprint sensor for access security. Keeping the device powered on is a 39Wh battery and a 45W adapter. Last, external connectivity on the 9 Pen includes a USB 3.0 Type-C and Type-A port, HDMI for video, an SD Card reader, as well as a microphone. The Metal12 shell comes in one color, dubbed Light Titan which appears to be a lighter silver/white.
The Notebook 9 variants are updates from the previous version and include upgrades to 8th Generation Intel Core i7 quad-core processors and a much larger 75Wh Hexacell battery (up from 39Wh). It supports always-on power and fast charging for quick power ons and shorter charging times (no details given). The 13.3" models (900X3T & 900X3U) use the integrated Intel HD Graphics from the CPU to drive the RealViewDisplay monitor. The panel is able to display 95% sRGB coverage with a maximum brightness of 500 nits.
The ultrabook is 15.4mm thick making it one the thinnest notebook devices in its class. It also has a thin bezel measuring a small 6.2mm on the sides. The 15" models (900X5T, 900X5U, Discrete Graphics 900X5T) ups the ante for graphics and has an optional NVIDIA GeForce MX150 (GDDR5 2GB) for increased performance. The Notebook 9's external connectivity will vary by model. The 13.3-inch has USB 3.0 Type-C and 2x Type-A ports, an HDMI port for video, a universal SD card reader, and audio ports. The 15-inch model adds Thunderbolt 3 support through the Type-C port. Exterior color options on the Notebook 9 (2018) are Titan Silver or Crush White.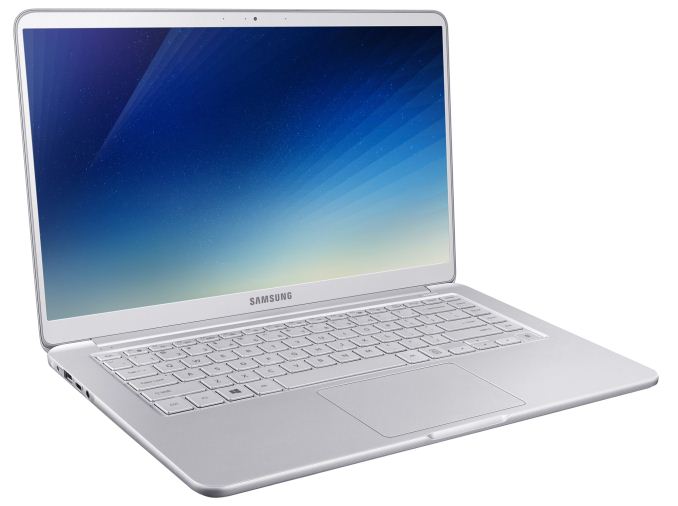 The Notebook 9 and Notebook 9 Pen will be available in select countries starting in Dec 2017 in Korea, with the U.S availability during the 1Q 2018. Pricing was not listed. The new devices will be displayed at CES 2018.
Samsung Notebook 9 and Notebook 9 Pen
Notebook 9 (2018) 13.3"
Notebook 9 (2018) 15"
Notebook 9 Pen 13"
Warranty Period
1 Year Warranty
Product Page
N/A
Price ($US)
N/A
Type
Ultrabook
2-in-1
Processor Family
8th Generation Intel Core i7
Processors
N/A
Memory
Up to 16GB DDR4
Network Connectivity
Wireless Only
Internal Storage
Up to 1TB SSD (NVMe PCIe)
Up to 512GB (NVMe PCIe)
Graphics
Intel HD Graphics
Intel HD Graphics /
NVIDIA Geforce MX150 (2GB GDDR5)
Intel HD Graphics
Display
13.3" or 15" RealViewDisplay, FHD (1920x1080)
13.3: RealViewTouch, FHD (1920x1080)
Camera
720p
IR camera, 720p
Battery
75Wh
39Wh
Speakers
2x 1.5W
Ports and Connectors
1 x USB Type-C
2 x USB 3.0
1 x HDMI
1 x Univiseral SD Card Reader
1 x HP/Mic
1 x DC-in

Thunderbolt 3 or USB Type-C




2 x USB 3.0




1 x HDMI




1 x Univiseral SD Card Reader




1 x HP/Mic




1 x DC-in

1 x USB Type-C




2 x USB 3.0




1 x HDMI




1 x Univiseral SD Card Reader




1 x HP/Mic




1 x DC-in

Dimensions / Weight
309.4 x 208 x 14.9mm / 995g (2.19 lbs)
347.9 x 229.4 x 15.4mm / 1250 - 1290g (2.75 - 2.84 lbs)
310.5 x 206.6 x 14.6-16.5mm / 995g (2.19 lbs)
Related Reading:
Source: Samsung