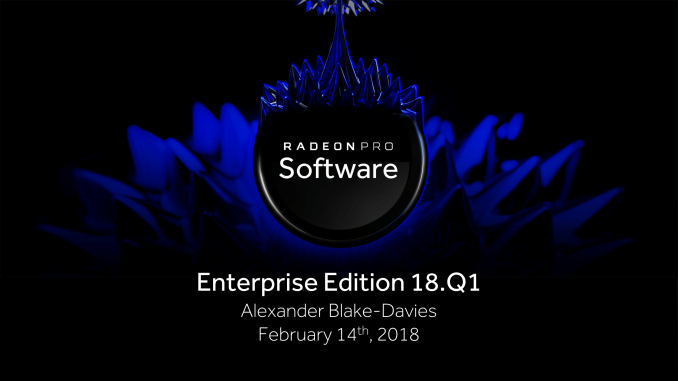 This week AMD has released the first quarterly Radeon Pro Software Enterprise Edition driver drop of the year, aptly numbered 18.Q1 WHQL. Coming on the heels of December's major driver update on the consumer side, this is the first enterprise package based on Adrenalin Edition Pro drivers. As such, 18.Q1 incorporates new Adrenalin Pro ReLive enhancements, Pro Overlay, Pro-oriented Connect Tab, and ProRender plugin updates. Likewise, as the first post-Windows 10 Fall Creators Update enterprise driver, 18.Q1 is intended for Fall Creators Update and formally supports Mixed Reality. Rounding out this quarterly release are performance optimizations for professional applications, VDI & graphics virtualization updates, and a number of bug fixes.
First things first, AMD is implementing a slight rename from Radeon Pro Software "Enterprise Driver" to "Enterprise Edition," making it consistent to the overall Radeon Software naming. This streamlining has not been extended, however, to the latest gaming driver now supported by 18.Q1 Driver Options, which remains "Radeon Software Adrenalin Edition for Radeon Pro 18.2.1."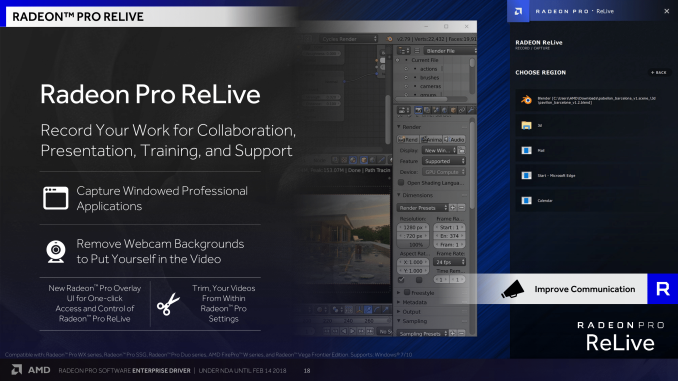 Touching on the highlights of Adrenalin Pro features, AMD referred to new Pro ReLive features like borderless region capture, microphone track separation, and chroma key background transparency, as well as Radeon Pro Overlay for Pro ReLive. This also includes the several ProRender plugin updates introduced with the inaugural Adrenalin Pro 17.12.1 Meanwhile, for performance improvements, AMD is citing year-over-year uplifts compared to 17.Q1 using SPECapc and SPECviewperf testing, notably a 47% improvement in Autodesk 3ds Max and 25% improvement in Siemens NX.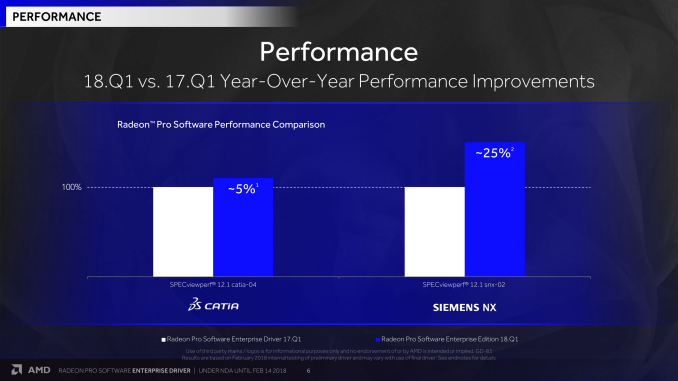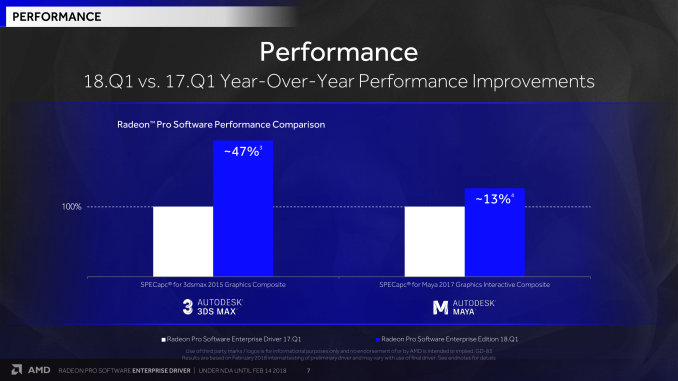 Moving on to AMD's MxGPU, their hardware-based SR-IOV virtualized graphics solution, 18.Q1 is coupled with the January technical preview host driver for Citrix XenServer MxGPU, while production-level XenDesktop and XenApp guest drivers have been updated with 18.Q1 binaries for cloud-deployed 64-bit Windows 10, 7, Server 2016, and Server 2008 R2 platforms. The packages and compatibility notes can be found on AMD's Citrix Pro Driver page.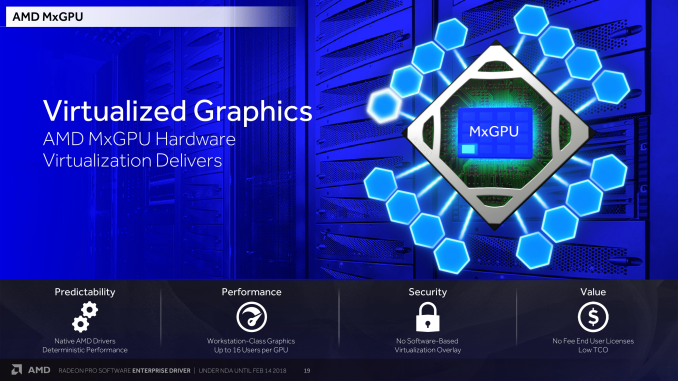 In a similar vein, their Guest Interface Manager (GIM) open source KVM host OS driver remains available on GitHub as a technical preview, though the guest drivers have not been updated since Adrenalin Pro 17.12.2.
Wrapping things up, 18.Q1 comes with a list of bug fixes and documented issues typical of professional and enterprise drivers.
Bug Fixes & Resolved Issues
[Pro Application] Viewport in Modo may hang when using lighting set to scene on normal map.
[Pro Application, Vega] Unexpected behavior in Adobe Premiere Pro CC 8K playback when resuming from sleep and hibernate on Radeon Pro SSG.
Intermittently, only one display per GPU is selectable for setting Timing-Client.
Radeon Settings may crash when opening Global Settings using Radeon Software Crimson ReLive Edition for Radeon Pro 17.9.1 driver.
ReLive toolbar may not appear using Radeon Software Crimson ReLive Edition for Radeon Pro 17.9.1 driver.
Advanced Radeon Pro Settings may not open for mobile platforms.
Known Issues
AMD notes that Multi-GPU Single Large Surface on Windows 10 is not currently supported on any hardware for 18.Q1.
[Pro Application] SOLIDWORKS Viewport may appear black during resizing of the camera view of the assembly.
[VDI] When more than three 2K displays are connected in Horizon View 7.1 and Horizon View 7.4, VDI may fail to resize the desktop.
[VDI] VM may disconnect when upgrading the driver and unable to connect until reboot.
[VDI] Extended monitor configuration may not function as intended in VDI environment with Windows 10 Fall Creators Update and Windows 7 using Citrix XenDesktop.
[VDI] VM may disconnect to Horizon View client during driver un-install and cannot connect until reboot on blast.
[VDI] Radeon Pro Settings may crash on initial VM launch with Citrix XenDesktop.
[Vega] Unexpected behavior when resume from sleep on Radeon Pro SSG.
[Vega] The user may experience unexpected behavior creating 4x1 or 6x1 AMD Eyefinity display configurations with 5K displays for "Vega"-based hardware.
[Vega] Application profiles may not be automatically created for "Vega"-based hardware.
Workstation features may not appear in Advanced Radeon Pro Settings such as 10-bit, Stereo 3D, SDI and EDID for mobile platforms.
User may see Radeon branding when uninstalling the driver in Professional Mode, if a Radeon Software Crimson ReLive Edition for Radeon Pro gaming driver is installed.
User may see Radeon Pro Settings icon in taskbar to be red instead of blue.
Radeon Pro Settings may become unresponsive when user clicks "Restore Factory Defaults".
Sun Temple application (Unreal Engine demo) may crash when launched in Vulkan mode in Windows 7.
D2D applications may hang when switching to fullscreen using LiquidVR.
Radeon Pro Overlay may not appear during clone mode with 2 displays.
BSOD may be triggered while running Nuke Benchmark on Windows 7 OS with AMD FirePro W9100 and AMD FirePro 8100.
Blank screen may be seen with hot unplug and plug of 8K display.
Radeon Settings may crash when opening "Global Settings" using Radeon Vega Frontier Edition with the Radeon Software Crimson ReLive Edition for Radeon Pro 17.9.1 gaming driver.
User may encounter difficulties switching to older gaming drivers.
Radeon Software branding may be observed with driver un-install from control panel during un-installation process in professional mode, if at least one gaming driver is installed.
Device Manager may show yellow bang after installation and error message when opening Radeon Pro Settings.
ISV Certification Notes
Due to Maya-MtoA software issue "Trac #3142," some Viewport Draw modes for stand-ins draw an infinite line. Workaround is to toggle the Viewport Draw Mode of the stand-in in the Attribute Editor.
Autodesk Maya 2017/2018 may show gray patch in playback in certain models due to Maya issue "Maya 41945." Workaround is to click on a different frame on timeline or to click on first frame.
For Linux support, details can be found in the release notes for Radeon Pro Software Enterprise Edition 18.Q1 for Linux.
The updated drivers for AMD's professional workstation GPUs are available online at the AMD's professional graphics driver download page. More information on this update and further issues can be found in the Radeon Pro Software Enterprise Edition 18.Q1 release notes and Radeon Pro newspost on 18.Q1.
New Radeon Pro Software Enterprise Editions are released on the 2nd Wednesday of the 2nd month of the quarter. The next releases will follow on 5/9/18, 8/8/18, and 11/14/18.
Source: AMD